Hill College alumna spotlight: Michaela McCord
  Hill College alumna spotlight: Michaela McCord
  Wednesday, October 20, 2021 9:23 AM
  General Events
Hillsboro, TX
Counseling was never a career Michaela McCord thought she would pursue.
When she first enrolled in psychology courses at Hill College in 2013, it was to obtain a degree that would help her fulfill her longtime dream of becoming an animal trainer at SeaWorld.
"I was majoring in psychology at Hill for animal behavior purposes because that is the degree of choice for animal trainers," she said. "For 18 years of my life, I wanted to be a trainer at SeaWorld. I even did internship camps with SeaWorld over five summers where I engaged hands-on with all of their animals like orcas, sharks, walruses, dolphins, flamingos, and porcupines."
It was Dr. Pam Boehm, McCord's psychology teacher and academic advisor at the time and Hill College's current president, who suggested counseling as a possible career path during an advising meeting with McCord.
"Michaela was one of those students who was like a sponge," Boehm said. "She would research and ask questions to acquire as much information as possible. She had so much compassion and empathy for people, which are skills needed to be a good counselor."
Much to McCord's own surprise, Boehm's suggestion, coupled with her own life challenges and experiences, led her to change her academic focus to counseling.
"It was that one comment and Dr. Boehm's continued support that encouraged me to pursue the field I now know is my calling," McCord said. "I also struggled a great deal with my mental health during my time at Hill. I developed a desire to heal from my own difficulties and to help other people do the same because I know how scary and overwhelming our inner experiences can be."
Although her start to her college career presented challenges for McCord, she found comfort at Hill College because she already knew many of the faculty and staff due to her father, Larry McCord, who is a longtime music instructor at the college. To McCord, Hill College is "family."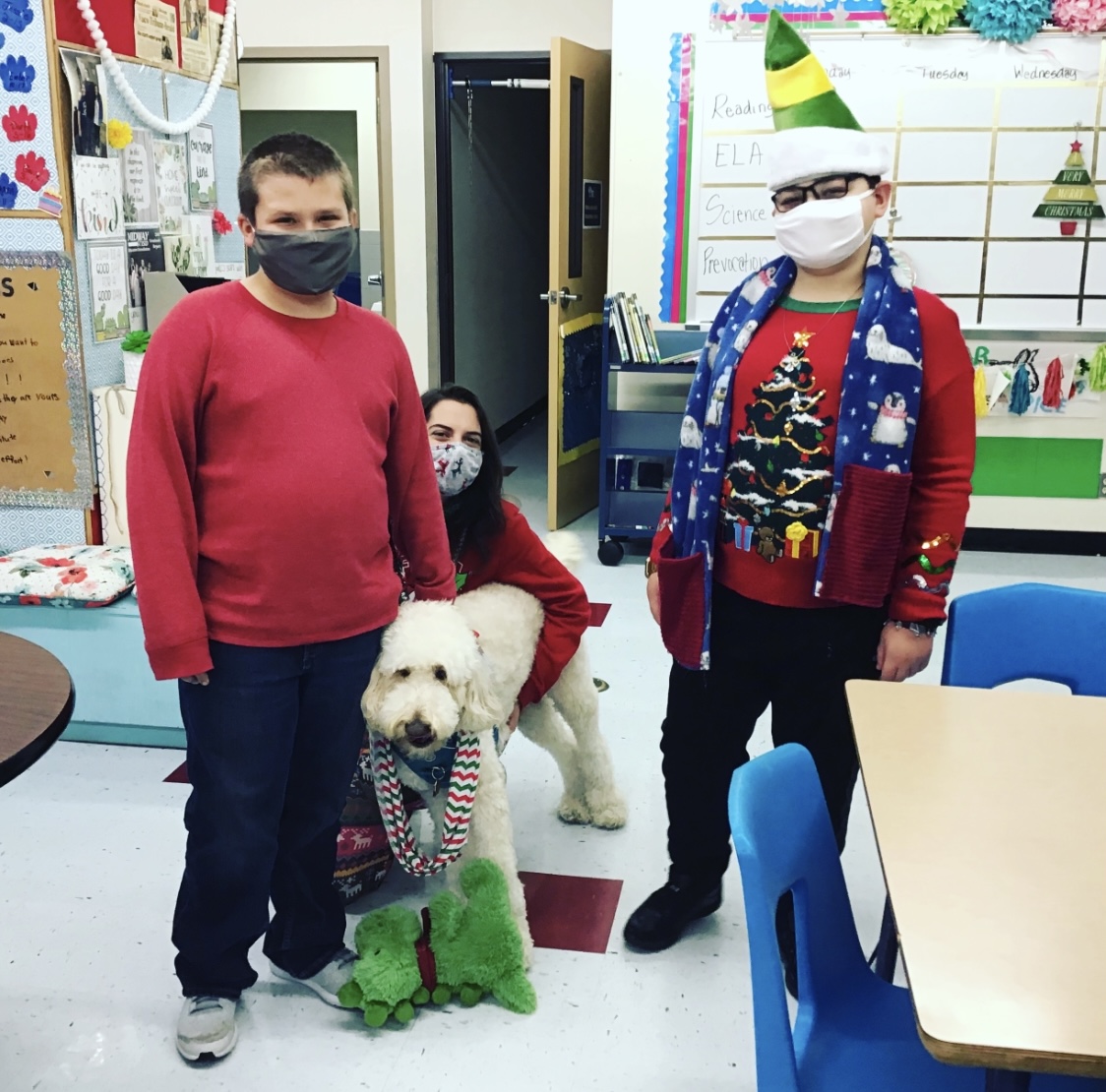 "Hill College represents a pivotal waypoint of my personal and professional growth," she said. "When I think of Hill, I think of the way I was set up for success with the academic programs and the faculty that mentored me with grace and compassion through difficult personal journeys. Just like a family, the faculty and my friends supported me in my successes and difficulties."
Hill College's smaller campus and class sizes, as well as her father's presence, provided McCord with a more personal experience that allowed her to thrive academically and personally.
"A smile comes to my face just thinking about how much having my father at Hill positively contributed to my time there," said McCord. "It was a lot less overwhelming of an experience to begin at a smaller university as a new adult emerging into the world. I was able to stand out and still get one-on-one help from professors. It was a great space to begin building confidence in myself and my abilities."
McCord only had her father as a teacher for one class during her time at Hill College, but the two were able to work together as Larry McCord oftentimes played the piano during the band, choir, and musical presentations she participated in.
"Getting to collaborate in these artistic endeavors was great fun," he said. "From the time Michaela started at Hill College, I have felt fortunate to be able to sit back and observe her growth and accomplishments, which have filled my days with a deep sense of pride and gratitude."
Hill College also prepared McCord for the academic demands and expectations at Tarleton State University where she continued her education to become a licensed professional counselor. After earning her bachelor's degree in psychology in 2018, McCord enrolled in the clinical mental health counseling master's program at Tarleton's Waco campus, which further exposed her to various aspects of counseling and inspired her to specialize in counseling children and adolescents and animal assisted therapy.
"I often giggle to myself at the things I said I would never do such as not getting a master's degree and not working with children," McCord said. "I don't know an exact point on my journey when I realized I wanted to work with children and adolescents. I think I just slowly realized I was meant for it through working with this age range in various settings. I connect to this population in a profound way, and I just roll with it."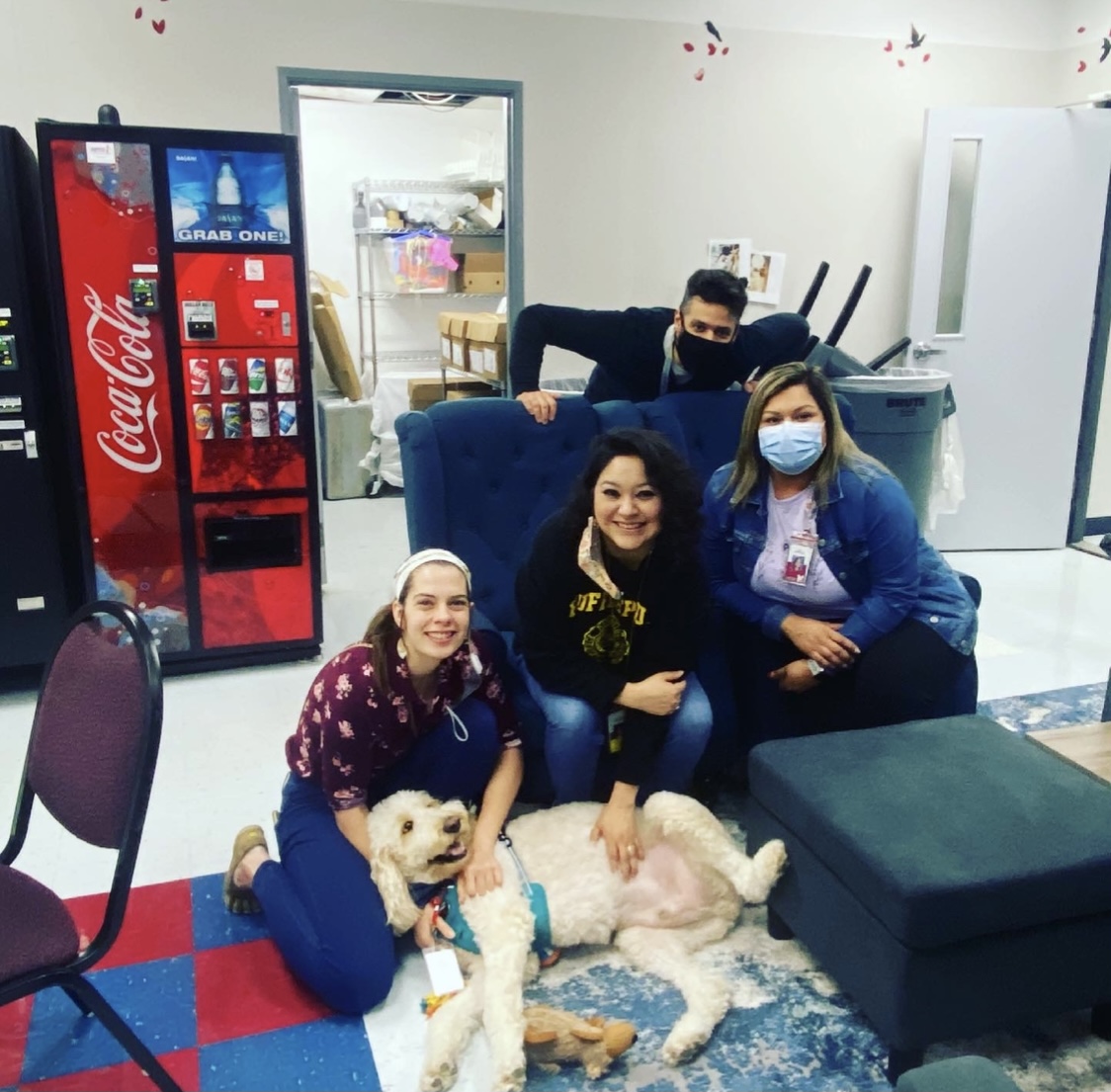 While working on her master's, McCord began looking for her four-legged therapy partner. It was love at first sight when she found her now three-year-old goldendoodle, Maslow, who she personally trained to assist in therapy sessions.
"I saw Maslow and knew he was the one," she recalled. "When he and his big litter were with a human, he was trying desperately to connect to the human while the other puppies were distracted by other things. Our breeder also did early temperament assessments on Maslow and his siblings, and Maslow always showed calm, inquisitive, confident and connected temperament."
Maslow has also proven to be "the one" for staff and students at Midway Middle School in Hewitt. For the last year, McCord and Maslow have used their training, education, and partnership to provide counseling services to staff and students through an internship program at the school, which initially only included McCord.
But having been interested in implementing a therapy dog program at the school for several years, Midway's assistant principal, April Harris, worked with McCord to make Maslow part of the internship.
"Today, more and more of our students are coming to us with adverse childhood experiences that often hinder their ability to optimize their social and academic success," Harris said. "Having a therapy dog has created a new way for kids to connect back to school."
Harris said McCord and Maslow's work has made a lasting impact campus-wide.
"Maslow's fun-loving and charismatic nature was a hit for all of our kids, even for our students with the highest emotional needs," said Harris. "Michaela's love for students shows in every interaction and conversation she has with them. Our students really have enjoyed their time with both Michaela and Maslow and their presence has been invaluable this year."
McCord completed the internship along with her master's program in May and began working full-time at Midway as a Mental and Behavioral Health Facilitator in August. Together, she and Maslow provide mental health support to students through a variety of outreach services including crisis intervention, educational presentations, and scheduled check-ins with students.
"Maslow is still very much a part of my job," said McCord. "I describe him as my co-therapist. I have seen the ways in which he affects my clients and intervenes in crises, often times more efficiently than humans alone."
McCord and Maslow continue to advocate for animal-assisted therapy through various public speaking opportunities, including regular appearances on her sister Katherine McCord's podcast, Career Launch Live, to help spread awareness about assistance animals and their benefits.
"It is rewarding to see your former students succeed in life," said Boehm. "I am very proud of Michaela and am confident that many people will benefit from her skills, capabilities, and compassion for others."