Hill College PTK chapter holds fall induction ceremony
  Jessyca Brown
  Wednesday, November 17, 2021 3:32 PM
  Academics, Student Activities
Hillsboro, TX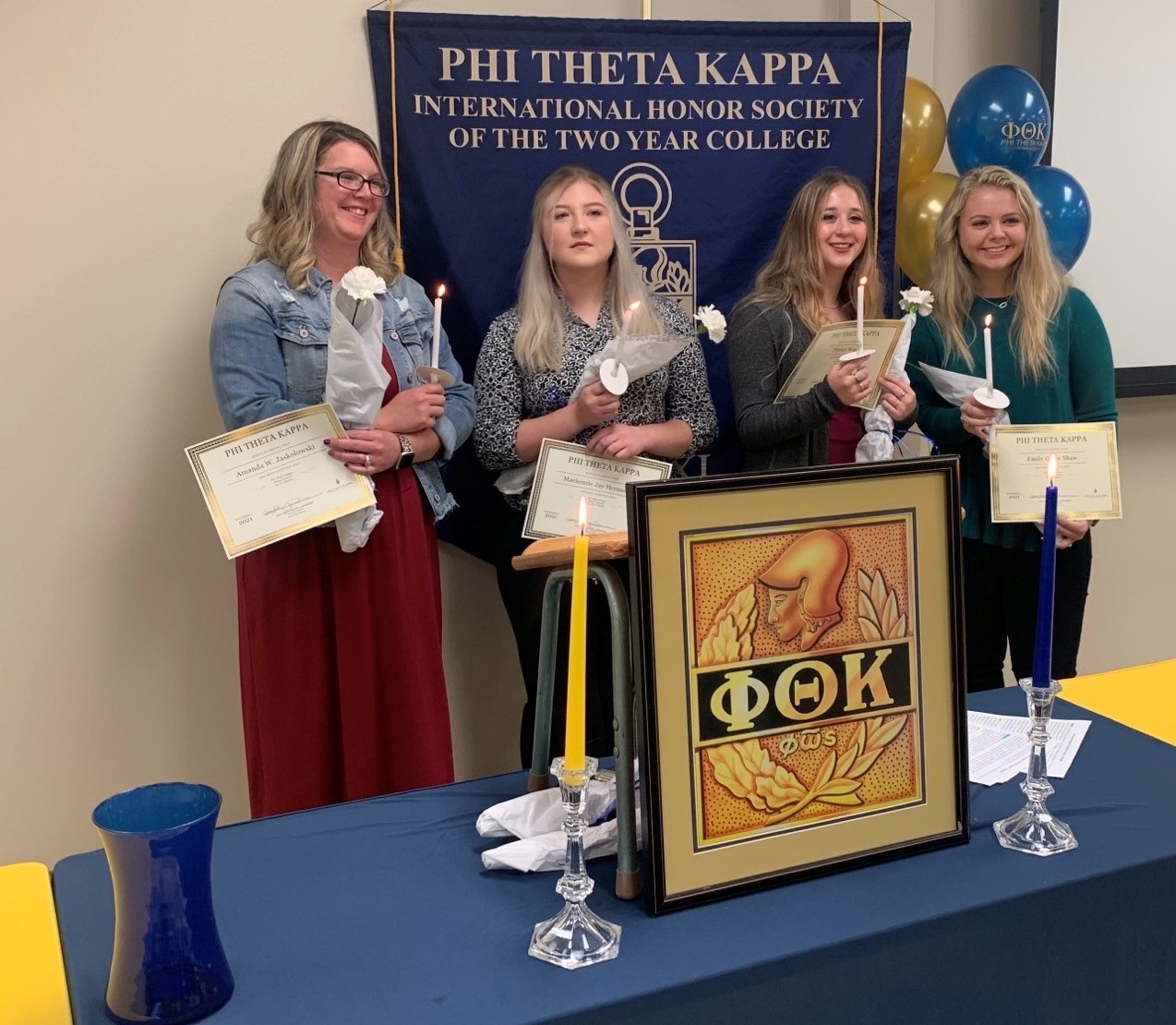 Hill College Phi Theta Kappa (PTK) held its fall induction ceremony last week. The Nu Xi Chapter inducted 17 new members and installed three new officers. Membership requires students to have a 3.5 minimum cumulative GPA in all coursework attempted at Hill College, be TSI complete, complete either 12 hours towards an AA, AAT, AS, or AAS degree or six hours towards a one-year certificate program.
PTK Five Star Advisor Jim Williamson kicked off the event with a welcome message and invocation to inductees and guests. Williamson and fellow Five Star Advisor Dr. Jenny Corder installed the following 2021-2022 PTK Officers:
Thess Mitchell, Chapter President
Julie Gonzalez, Vice President
Beckey McBroom, Recording Officer
The PTK advisors and officers presented Hill College English instructor, Dr. Patricia Davis, with a Stole of Gratitude, which a PTK chapter may award to an individual who has contributed to the success of its chapter and members.
"Dr. Davis is always a huge supporter of Phi Theta Kappa and the opportunities it creates for students," said Corder. "She encourages her students, both dual credit and traditional, to apply for membership in PTK and become involved as members and officers. The Stole of Gratitude was presented to her by our chapter for her support not only of the chapter, but of her students and their accomplishments."
The PTK officers and advisors also shared information about their annual Honors in Action project, "To the Seventh Generation:  Inheritance and Legacy." The chapter chose "Theme 1: The Heirs of Our Ways" from the options they were given.
Hill College president Dr. Pam Boehm, the guest speaker for the event, congratulated the chapter on their achievements in 2020-21, as well as provided an inspiring message for the new inductees. Corder concluded the event by applauding the group for their appointments and congratulating the new inductees.
"New members bring new ideas and a new dynamic to the chapter," said Corder. "It's always an exciting night because we love celebrating students' achievements and seeing the pride they have in themselves, as well as the pride their families and friends feel as well.  The advisors are looking forward to completing this year's HIA project, electing new officers, getting to know our new members, and continuing on our five-star chapter journey."
The Nu Xi Chapter students inducted were:
Charity Allen, Biology major from Lutz, FL
Jodi Bush, Behavioral Science major from Joshua, TX
Tania Cooper, Biology major from Marietta, PA
Jasmine English, Liberal Arts major from Burleson, TX
Corrin Ford, Liberal Arts major from Whitney, TX
Mackenzie Hernandez, Liberal Arts major from Itasca, TX
Sarah Hoffman, Echocardiography major from Venus, TX
Kaden Ingram, General Studies major from Burleson, TX
Amanda W. Jaskolowski, Child Development and Early Childhood Education major from Joshua, TX
Rebekah Lee, Echocardiography major from Cleburne, TX
LeeAnn Patterson, General Studies major from Alvarado, TX
Yulisa Rico, Elementary Education major from Hico, TX
Emily Grace Shaw, Business major from Grandview, TX
Gabriel Smith, from Walnut Springs, TX
Evan Soward, Liberal Arts major from Walnut Springs, TX
Miles Turnage, General Studies major from Fort Worth, TX
Presley Wood, Child Development and Early Childhood Education major from Waxahachie, TX
For more information about Hill College's PTK Nu Xi chapter, please visit https://www.hillcollege.edu/CampusLife/Student%20Activities/PTK.html or email the advisors at phithetakappa@hillcollege.edu.