Hill College continuing education opens new facility, offers new courses
  Jessyca Brown
  Monday, November 22, 2021 9:35 AM
  Academics
Cleburne, TX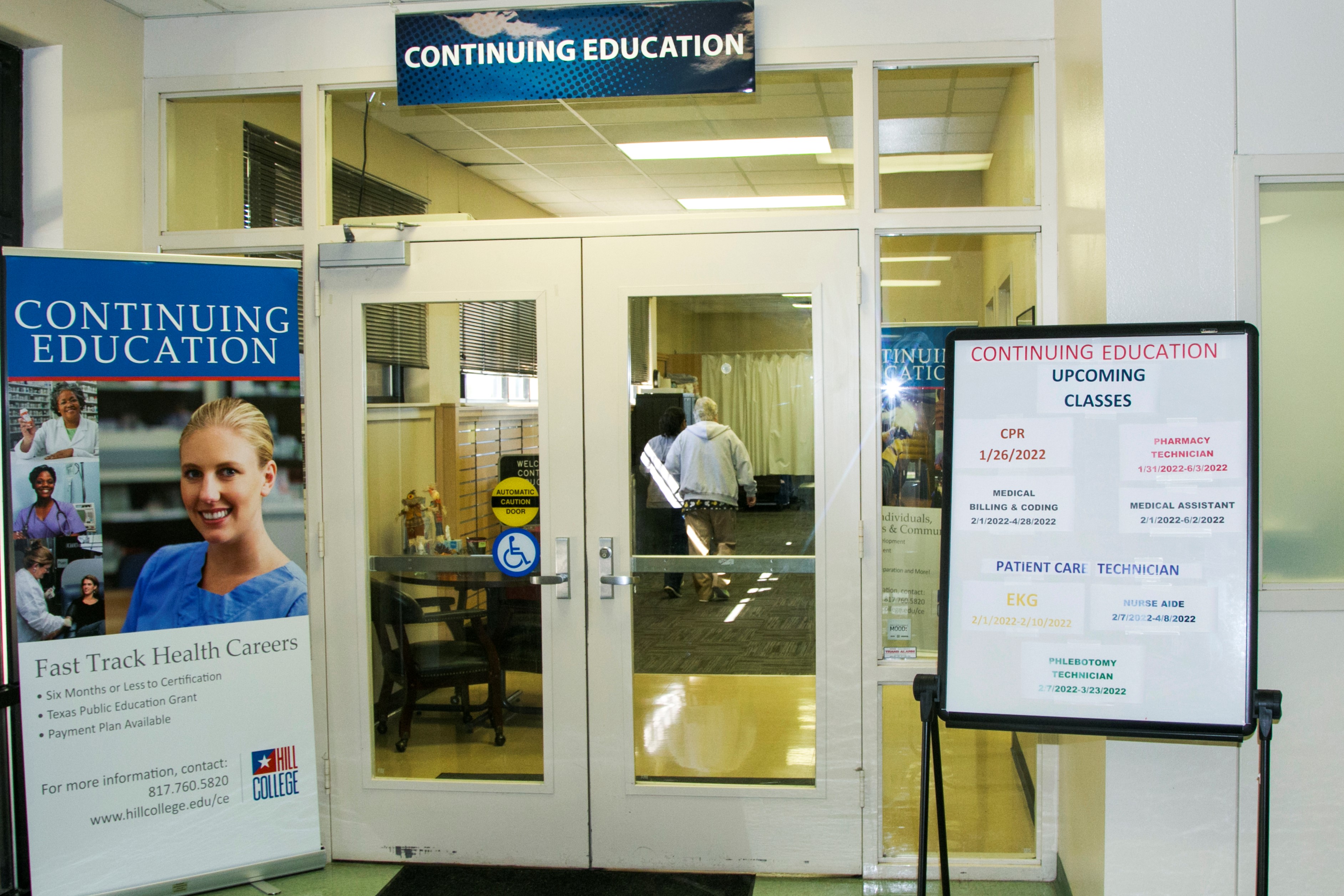 The Hill College Continuing Education (CE) office in Cleburne has moved to a new location.
The Cleburne facility is now located in the Johnson County Campus Student Center and officially opened for classes in September.
"The previous location in Cleburne was an offsite facility," said the program's executive director, Tammy Logan. "The new facility allows our students to feel part of the college and allows other students to see what we have to offer."
The facility features an office and two classrooms dedicated for CE use that are equipped with computers, projectors, and enough space for 12 students at a time in each classroom.
"One classroom is set up for the daytime Medical Assistant class, and Phlebotomy students will use the same space for night classes," Logan said. "The other classroom is set up for the daytime Medical Billing and Coding classes, and at night, Nurse Aide will use the same space."
In addition to its new facility, the CE program has also expanded its course offerings. This year, CE is offering a Patient Care Technician certification program, which provides certified nurse aides with the opportunity to complete certifications for Phlebotomy and Electrocardiology (EKG). Courses for the Patient Care Technician program begin in February 2022.
Certified Patient Care Technicians assist doctors, nurses and other healthcare professionals in providing direct patient care in a variety of healthcare environments. Although some duties are similar to a certified nurse aide, certified Patient Care Technicians also have the ability to administer specific medications, draw blood for lab work, and administer EKGs.
"Phlebotomy and Nurse Aide have been part of CE offerings for several years, and we added EKG as a stand-alone class in the early part of 2021," said Logan. "Now that all three classes are offered, it made sense to offer Patient Care Technician. Students who complete the entire program will earn four certifications. This allows students to broaden their career paths beyond just one specific area."
New computer courses being offered beginning in January 2022 include Computers for ESL Students, PowerPoint and Outlook.
"More people are working from home and require additional training," Logan said. "These classes will be beneficial not only to community members but also to local business and industry."
CE also offers a variety of enrichment courses beginning in January 2022. New gardening classes include Creating a Certified Wildlife Garden, Spring is Coming Get Your Garden Ready Now, Bluebird Trail – A Conservation Success Story, Propagation 101, The $10 Butterfly Garden and Red Wiggler Worm Composting Basics. Beginner photography will also be offered at the Johnson County and Hill County campuses.
For a full listing of CE health, business, technical and enrichment course offerings, spring start dates, and fees, visit www.hillcollege.edu/ce. Registration may be completed by visiting the Student Information Services offices in the Administration Buildings at either campus: Johnson County Campus at 2112 Mayfield Pkwy., Cleburne, or the Hill County Campus at 112 Lamar Dr., Hillsboro. Payment is due at the time of registration.
If you have questions or need assistance, please email ceinfo@hillcollege.edu or call 817-760-5820.