Hill College President bids farewell after 41-year career
  Jessyca Brown
  Thursday, June 16, 2022 9:24 AM
  General Events
Hillsboro, TX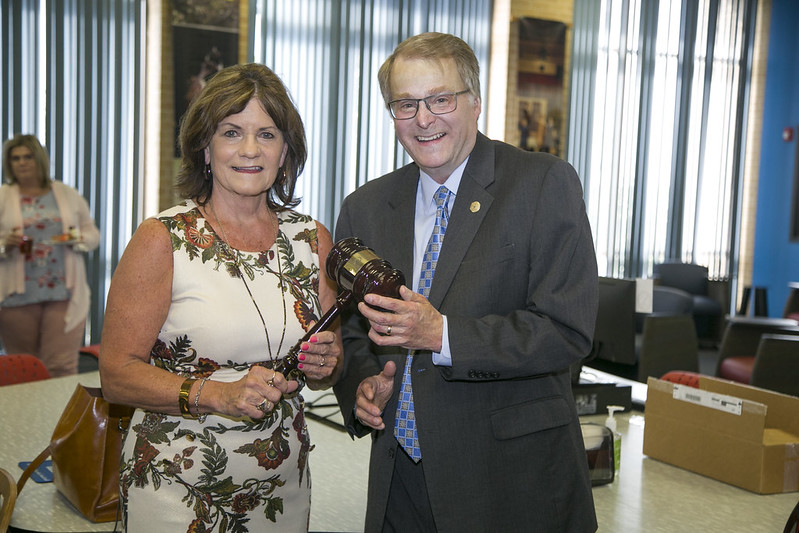 In May, Hill College President Dr. Pam Boehm officially retired after a 41-year career at Hill College. Search for the college's next president is currently underway.
Boehm's first role at Hill College was as the administrative assistant to the dean of instruction in 1978. Nearly 20 years later, she stepped up as the dean of students and then vice president of student services. Her passion for helping students succeed led her into the classroom 10 years later to teach behavioral sciences, a program she eventually became coordinator of. Boehm also taught psychology and served as a crisis counselor during this time. In 2014, she was named Hill College's 10th president.
Boehm's successful tenure as the college's president was shaped not only from her professional experiences through her various administrative and support roles the prior 36 years, but also from her own personal and educational experiences.
Boehm's own education started with earning a secretarial certification from Hill College. She continued her studies at McLennan Community College, Sam Houston State University, and University of Mary Hardin-Baylor prior to receiving her bachelor's degree and master's in education from Tarleton State University. She earned her doctoral degree in education from Texas A&M University-Commerce.
"Having been a non-traditional student with children helped me relate to students who had the sense that they could not achieve college at their age," Boehm said. "It helped me share my experiences and let students know how to keep persisting. I would caution them to not overload themselves and encourage them to go part-time if that helped them juggle working, going to school, and raising a family."
It was this understanding of a non-traditional student's life and her continued passion for student success that launched what would become Boehm's legacy of being a student-oriented president.
As a first-generation college student from her own family, Boehm took a special—and successful—interest in securing a variety of funding for special population students, low-income individuals, and first-generation college students, which included federal funding for TRiO programs three separate times.
She helped make four-year degrees more accessible to students through the Texas Tech University at Hill College program, as well as through agreements with more than 18 other university partners. Boehm was instrumental in increasing higher education and career opportunities for high school students through dual credit partnerships with local school districts.
She leveraged partnerships with local businesses and industries to bring high-quality, innovative programs to Hill College such as its cybersecurity, HVAC, welding, automotive, and industrial maintenance programs.
Boehm was responsible for developing the college's student testing center, peer mentoring program, and a Teen Forum program in partnership with Hillsboro ISD. She is an adamant supporter of the student resource rooms on each campus, which provide food, toiletries, supplies and other necessities for students in need, and worked to find additional funding to keep them stocked.
As a final tribute to Boehm's legacy, she was surprised during the last Boots & Suits event with the announcement that a grant was created in her honor, the Pamela J. Boehm Student Emergency Aid Grant. The grant will provide funding to help students with emergency financial needs (not tuition and fees), and students will not be required to repay funds they receive.
"Education has changed over the years, and more students are coming to college with more responsibilities than the past," she said. "This grant will allow students to apply for funds to help with unexpected emergencies such as an overdue childcare payment, gas, medical bills, and other expenses. This grant is designed to keep students from falling through the cracks or having to drop out for unexpected and unforeseen reasons. This grant is a reflection of my life's work in helping students achieve their educational goals."
Boehm's efforts and successes have been consistently recognized throughout the community. In 2008, she received the Hill College Spirit Award, as well as published an article in Community College Times titled "Promoting Academic Integrity in Institutions of Higher Education." She received the 2010 NISOD Teaching Excellence award and was nominated by her peers for the Minnie Stevens Piper Teaching award.
In 2017, Boehm was named Cleburne Times-Review Woman of the Year. She is a member of Hillsboro Lions Club, Cleburne Rotary Club, a board member of Johnson County Economic Development Board and the Johnson County Education Foundation. She is also an ex-officio director of the Burleson Area Chamber of Commerce and the Cleburne Chamber of Commerce. In March, Boehm was inducted into the Hillsboro Chamber of Commerce Hall of Fame.
Boehm served as vice president and president of the Texas Council of Chief Student Affairs association for two years and served on several on-line state testing committees over the years. She has also served on the Texas Higher Education Community & Technical College Leadership Council, as well as the Legislative Committee and 60x30 Strategic Plan Committee of TACC.
In the community, Boehm has served on the site-based management committee for Whitney High School, Hospice of the Heart Board Member, president elect of the Hillsboro Business & Professional Women's organization, and member of the Community Resource Coordination Group of Hillsboro. She has conducted numerous professional development workshops for Hill College and the community on topics such as stress management, grant writing, customer service, learning styles, ethics, compliance the Americans with Disabilities Act, wellness and leadership.
Boehm describes her departure from a place she's called home for more than half her life 'bittersweet.'
"I have raised kids and grandkids while at Hill College and met and lost my husband while at Hill College," she said. "My life's work has been helping others in whatever capacity I was in at Hill College. I will miss my administrators, faculty, staff and students and being a part of the 'family.'"
Boehm said she plans to remain involved with Hill College through giving opportunities and attendance at sporting or fine arts events. She also plans to continue to promote the college and its opportunities to anyone who will listen and hopes to find a way to put her state professional counseling license to use.
"I want to spend some time figuring out my new normal using the abilities and skills I have to help others," Boehm said of her new free time. "I also plan to travel a little and spend time with family, kids and grandkids. And of course, I am excited about fishing once a week!"