Hill College cross country program begins second full season with impressive outing at Saturday's UTA Invitational Meet
  Jessyca Brown
  Tuesday, September 13, 2022 3:53 PM
  Athletics
Hillsboro, TX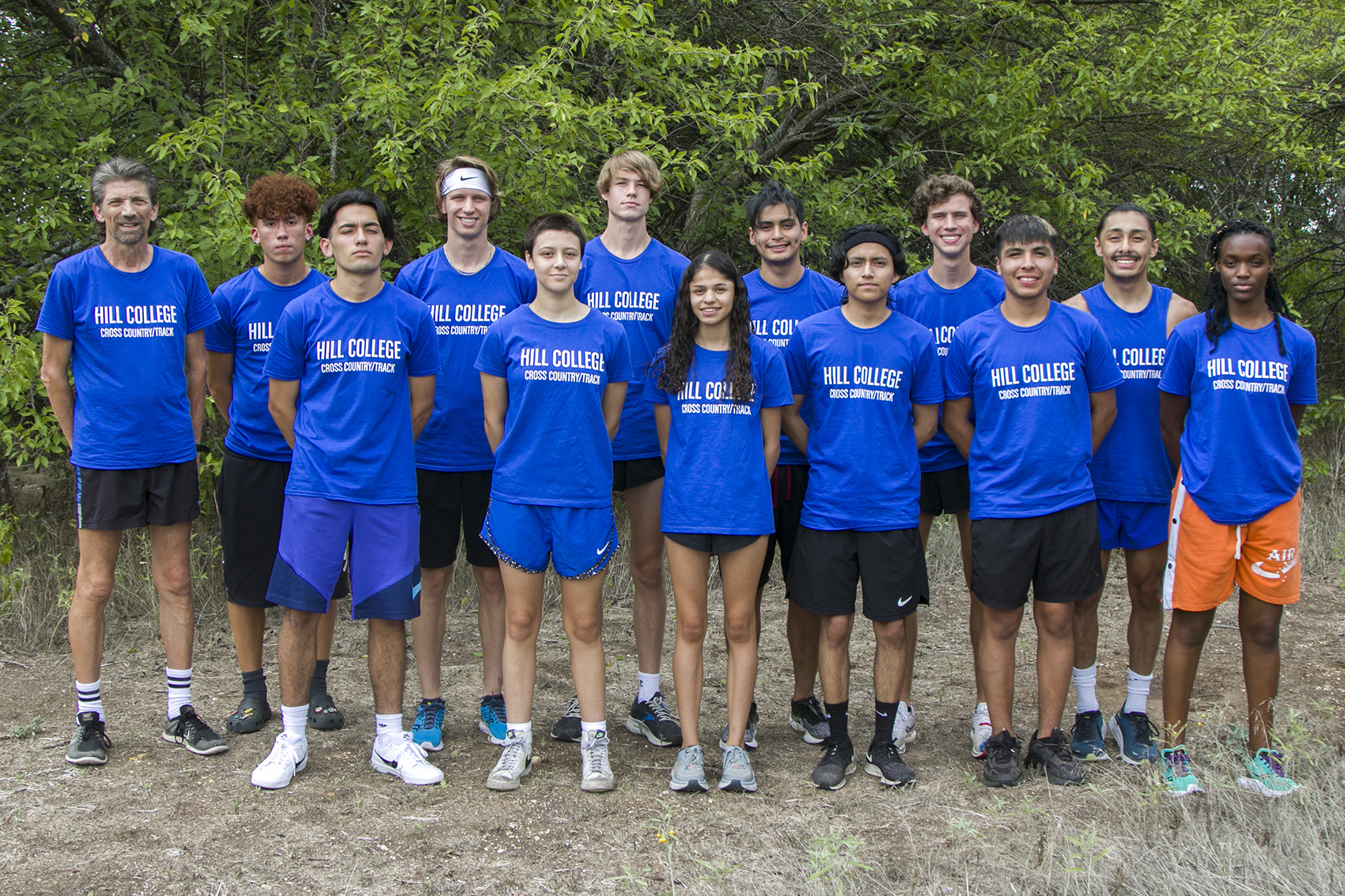 Hill College Cross Country and Track Head Coach Greg Lautenslager has placed last year's inaugural season behind his belt and looks for this year's teams to be regional contenders.
Lautenslager's persistence has paid off as both his men's and women's teams had great outings at Saturday's Gerald Richey UTA Invitational at Lynn Creek Park in Grand Prairie – a running event that featured mostly NCAA Division I runners from UT-Arlington, the University of North Texas, TCU, Tarleton State University as well as several smaller schools.
Kimberly Mata, a freshman from Alvarado, finished 43rd in Saturday's meet. Also her overall time of 23 minutes and 54.2 seconds shattered the previous Hill College women's 5 kilometer (3.1 miles) record.
Mata's teammate, Clarisse Yvette of Fort Worth, also finished 44th at the event.
"It was a good effort by Kimberly," Lautenslager said, "but I doubt her school record will last very long. She had been hobbled over the summer by a knee injury and is just now getting fit. I reckon she will blast her own record by a couple of minutes before the end of the season."
Lautenslager's son, Jared – a sophomore from Nelson, New Zealand – actually took the lead in the men's race before falling to fifth place at the end with a time of 15:26.4. However, Jared did establish a new Hill College Men's 5K record – not to mention coming very close to winning the first race in Hill College history.
"Jared got a little excited and admitted that he made his move too soon," Coach Lautenslager said. "He will learn from this, but I am encouraged by his first cross country race in three years."
Jared led Hill College to a third-place finish in the eight-team field with 86 points, only 32 points behind runner-up TCU. UT-Arlington won the meet with 17 points. Tarleton State University was fourth with 109 points; followed by Dallas Baptist University in fifth with 119 points.
Lyndon Orr, a freshman from Wylie, was Hill College's second runner. He finished his first college race placing 21st with a time of 16:28.3, followed by sophomores Shea Johnson in 25th place (16:35.5) and Cris Santana coming in 34th (17:01.2).
Adrian Moreno of Mesquite completed the Hill College scoring with his 42nd-place finish with a time of 18:08.3, followed by fellow freshmen Jesse Martinez in 43rd (18:27.5) and Joenniel Sanchez in 44th (18:43.4).
"Overall, I am happy with the effort from our women and men," Coach Lautenslager said. "Running well against NCAA runners shows that with continued hard work and a committed approach, we can run with anyone in our junior college region."
Hill College competes next at the Texas Concordia meet in Pflugerville on Sept. 23.
Season Outlook
Training runs on the rolling dirt roads out of Bynum and Abbott have hopefully prepared Hill College for a successful campaign this season.
Sophomore Jared Lautenslager will head up the men's team along with sophomore Ranger College transfers Cris Santana and Shea Johnson; and Wylie freshman Lyndon Orr. The fifth scoring member will emerge from a group of developing runners – namely former Mesquite High School runners Joenniel Sanchez and Adrian Moreno, and former Burkburnett runners Jesse Martinez and Eric Garza.
The women's team is comprised of freshmen Kimberly Mata of Alvarado, Clarisse Yvette of Fort Worth, and Jiylene Santiago of Keene.
"They are very fervent," Hill College Head Cross Country and Track Coach Greg Lautenslager said. "Some of them ran in excess of 70 miles per week during the hottest Texas summer I can remember. They quickly gelled upon arrival, and they have been working hard together to achieve their ultimate goal this season."
Lautenslager said his goal is for his teams to finish in the top three team spots at the NJCAA Region V Cross Country Championships late next month and to qualify for the NJCAA Nationals in Tallahassee, Florida.
"That will take many more runs from Bynum and Abbott," Lautenslager added, "but this group has the dedication and determination to achieve it."
2022-23 Hill College Cross Country / Track Roster
​​Eric Garza, Freshman (Burkburnett)
Shea Johnson, Sophomore (Marble Falls)
Jared Lautenslager, Sophomore (Nelson, New Zealand)
Jesse Martinez, Freshman (Burkburnett)
Kimberly Mata, Freshman (Alvarado)
Adrian Moreno, Freshman (Mesquite)
Lyndon Orr, Freshman (Wylie)
Ryan Salvador, Sophomore (Hillsboro)
Joennial Sanchez, Freshman (Mesquite)
Cris Santana, Sophomore (Mansfield)
Jiylene Santiago, Freshman (Keene)
Clarisse Yvette, Freshman (Fort Worth)
For more information about Hill College's cross country and track programs, please contact Lautenslager at glautenslager@hillcollege.edu, or feel free to call him at 254-479-9206. Additional information may be found by visiting the Hill College website at https://www.hillcollege.edu/Athletics/Cross-Country/index.html.
About Hill College Cross Country and Track Head Coach Greg Lautenslager
In New Zealand, Lautenslager coached his runners to 305 national medals and 12 national team titles in cross country and road relay. His runners set four national records, including one runner competing in the Olympic Games.
Also, 18 of his athletes received full scholarships to NCAA Division I Schools and 21 runners represented New Zealand overseas.
Lautenslager was named Sports Coach of the Year in Nelson, New Zealand an unprecedented five times and served as a New Zealand National Coach.
Lautenslager's coaching career began at the University of North Texas in 1998. In 3 1/2 years, his athletes won seven Big West and Sun Belt Conference titles in track and cross country. His men's cross country team won the 2000 Sun Belt Conference Cross Country title, and Lautenslager was named the Sun Belt Conference Men's Cross Country Coach of the Year. 
He also was inducted into the Texas Running Hall of Fame and in 2019 as well as the Mesquite Athletic Hall of Honor.
Lautenslager has written two novels, Following the Flame and Ghosts of the Gridiron, and is currently writing his third novel.