Hill College sophomore cross country runner makes school history by placing first in Concordia Classic in Pflugerville
  Jessyca Brown
  Tuesday, September 27, 2022 9:27 AM
  Athletics
Hillsboro, TX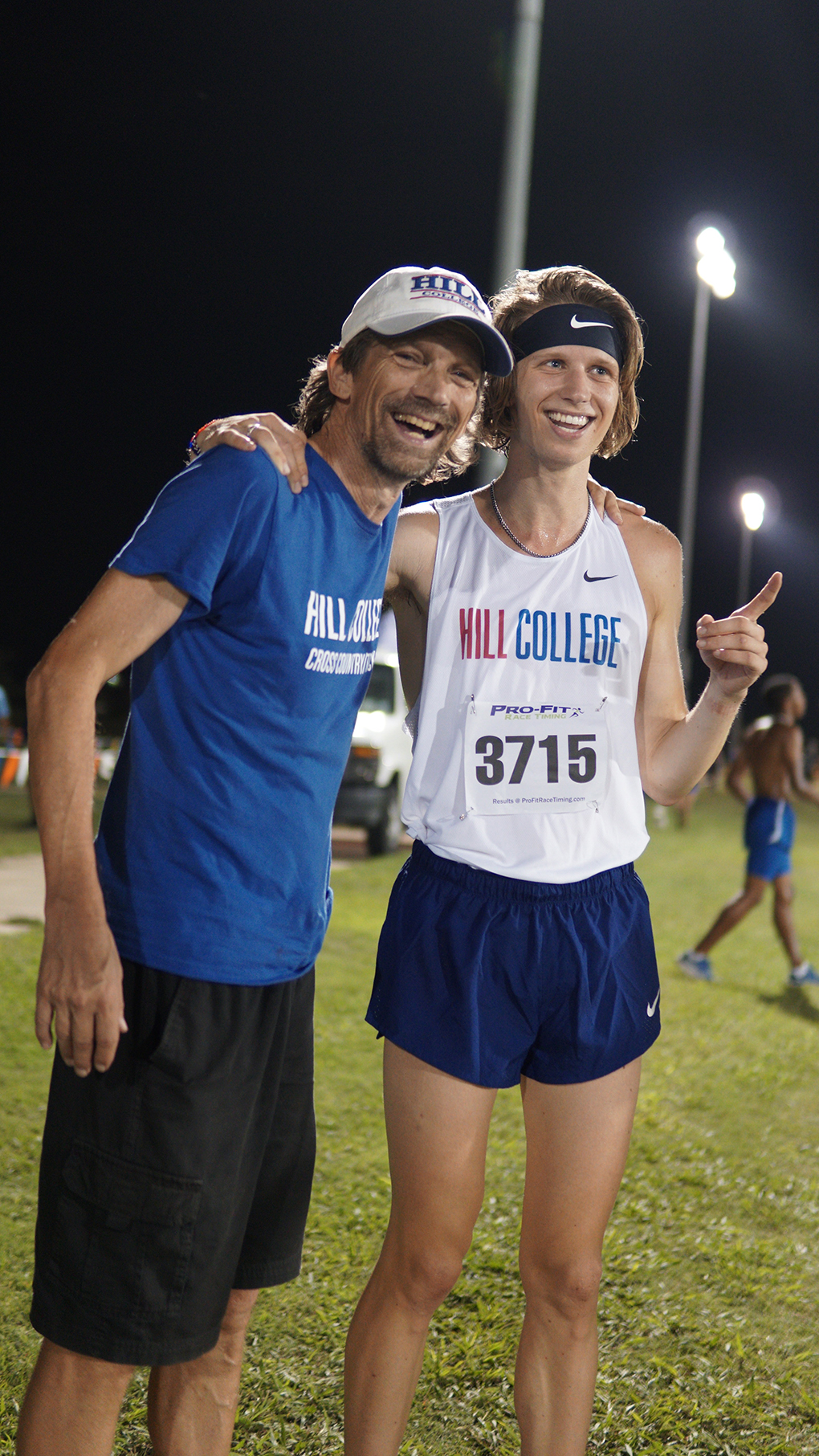 Hill College sophomore cross country student-athlete Jared Lautenslager sealed his name in the history books after winning the college's first cross country event in school history at the Concordia Classic in Pflugerville last week.
Lautenslager continued to pace himself before eventually rushing past his rivals about 500 meters from the finish line. He completed the 4.52-mile course with a first-place time of 23 minutes and 26 seconds.
"I went too early in my [Sept. 20] first race and died," Lautenslager said, a Dallas native who grew up in New Zealand. "This time I waited to make my move until I knew I could hold the lead until the end."
Lautenslager also helped lead the Hill College men's cross country team to an overall fifth-place finish (101 points) in the 14-team field comprised mostly established NCAA Division II, III, and NAIA programs.
Hill College's Lyndon Orr was the top freshman in the meet, finishing 10th with a time of 24:10 in his first race farther than 5K. Sophomores Shea Johnson (24:55) and Cris Santana (24:56) finished 25th and 26th, respectively, and were followed by Adrian Moreno in 53rd place, Jesse Martinez (63rd), Joenniel Sanchez (64th), and Eric Garza (107th).
"It was a monumental night in program history," Hill College Head Cross Country Coach Greg Lautenslager said (referencing his teams are only in the second year). "Last year, we placed last in 14th place with 370 points. So we improved nine places and 269 points."
Coach Lautenslager, who is also Jared's father, said the Hill College women's program made huge strides with Kimberly Mata taking 46th place over the 3.7-mile race with a time of 26:49.
"That's 25 places better than Hill College's first women's runner from the race last year," he added. Clarisse Yvette also placed 62nd in the meet and improved nine places over last year.
"It was a very good overall performance," Greg added, "and we are nowhere near top form yet."
Hill College will have three more weeks of training before participating in the Dallas Baptist Old Glory Gallop event and are just weeks away from the NJCAA Regional Meet.