Hill College sophomore earns first-ever All-American honors at Men's National Championship
  Jessyca Brown
  Wednesday, November 16, 2022 8:38 AM
  Athletics
Tallahassee, Florida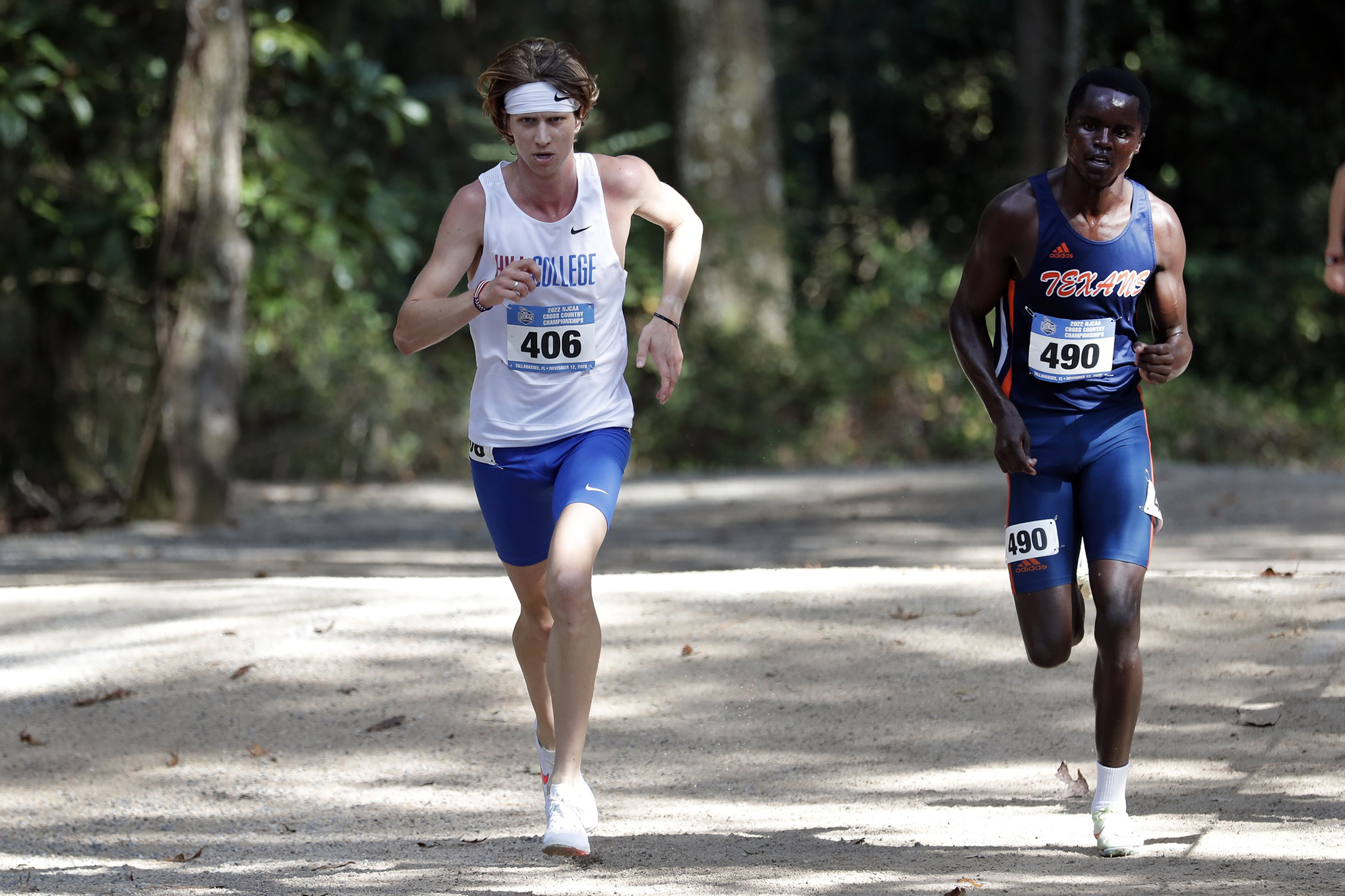 Hill College sophomore Jared Lautenslager became the first cross country All-American in Hill College history after finishing 14th in Saturday's NJCAA Men's Cross Country D1 National Championship at Apalachee Regional Park in Tallahassee, Florida.
Lautenslager crossed the finish line of the 8-kilometer course with a time of 25 minutes and 25 seconds and led Hill College to an overall 11th place team finish in a field of 29 teams and 227 runners. As a team, Hill College finished with a total of 299 points – just 43 points shy of placing in the Top 10.
Shea Johnson was Hill College's No. 2 runner, and came in 63rd with a time of 27:40. Cris Santana finished 72nd with a time of 27:50; followed by Lyndon Orr in 74th with a time of 27:55; Adrian Moreno in 96th with a time of 28:52; and Jesse Martinez placing 173rd.
"We ran as well as we possibly could," Hill College Head Cross Country Coach Greg Lautenslager said. "It was a tough course on a warm day, and we fought hard."
Jared stayed around 20th place for the first 6 kilometers of the rolling course that snaked through the woods flanked by hundreds of shouting spectators. A strong move in the 7th kilometer moved him into contention for All-American, which encompasses the first 15 finishers. He moved into 15th with 500 meters left in the race – and passed one additional runner in the home stretch to secure 14th place.
"Jared also was the first American finisher," Coach Lautenslager said. "Although most of the other runners were from Kenya, Jared was not deterred by the international component and never let an All-American finish leave his grasp."
Always one to insist his runners not rest on their laurels, Coach Lautenslager has turned his attention to next year's indoor and outdoor track seasons and will use the cross country season as a catalyst for fast performances on the oval.
"It was a great end to a great season," Coach Lautenslager said. "Our runners worked so hard to help this program turn the corner. There is a great future in store for Hill College Cross Country and Track."
For more information on the Hill College Cross Country program, please visit the team's website at https://www.hillcollege.edu/Athletics/Cross-Country/index.html.