Hill College women's soccer team wins opening round of NJCAA D1 National Tournament
  Jessyca Brown
  Monday, November 14, 2022 11:34 AM
  Athletics
Hillsboro, TX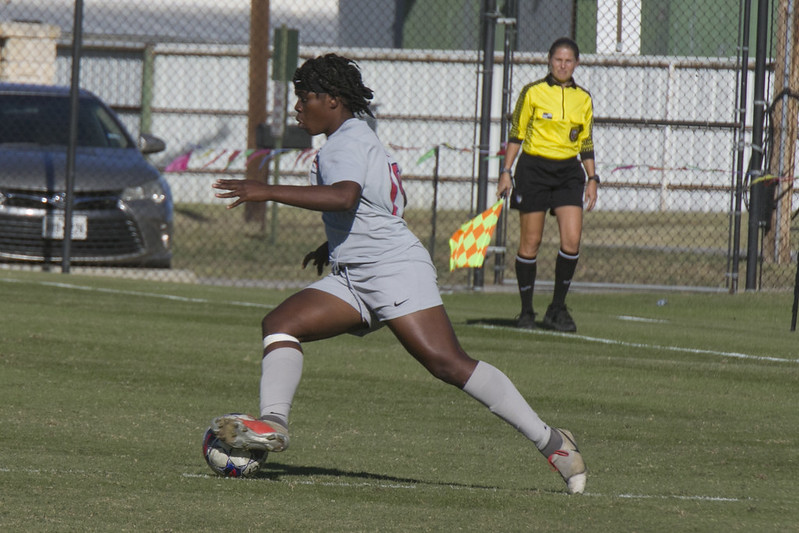 Sophomore Jamaican sensation Christina Salmon recorded a hat trick as the No. 2 seeded Hill College women's soccer team went on to defeat No. 11 seeded Laramie (Wyoming) County, 4-2, in the opening round of pool play in the NJCAA Division I Women's Soccer National Championship Sunday in Evans, Georgia.
Salmon scored the first three goals for Hill College (which is also ranked No. 3 in the nation) – two in the first half; and one in the second half. She also broke the single season scoring record at Hill College with 23 goals scored so far this season.
"It was nice just to get that game over with," Hill College Head Women's Soccer Coach Paul Davenport said. "We outshot them 12-5 in the game, and also limited them to only one shot on goal in the second half."
Hill College scored the first goal of the game as Salmon put the ball through the net in the 17th minute. However, Laramie countered with a goal 12 minutes later to tie the game.
"Although we actually led, 2-1, at the half, we were able to break the game open after scoring a pair of goals within the first five minutes of the second half," Davenport added. "That really settled us down."
Davenport said Hill College is scheduled to complete its pool play on Tuesday as his team is scheduled to face last year's defending champion Eastern Florida State College (EFSC) beginning at 11:30 a.m. (CST).
"We're going to rest and recover tomorrow," Davenport said, "and to be as physically healthy as possible for Tuesday's game."
Davenport also said Tuesday's matchup against EFSC will have live stats available by clicking HERE.
The only other potential challenge for Hill College could possibly be the weather. Sunday's opening round match could not be played on the premiere soccer field because of heavy rains over the course of the weekend. Currently, there is an 80 percent chance of rain on Tuesday.
For more information on the Hill College Women's Soccer program, please visit the team's website at https://www.hillcollege.edu/Athletics/Soccer-Women/W-Soccer.html.