Hill College men's basketball team looks to build off tough non-conference schedule
  Jessyca Brown
  Monday, December 5, 2022 8:29 AM
  Athletics
Hillsboro, TX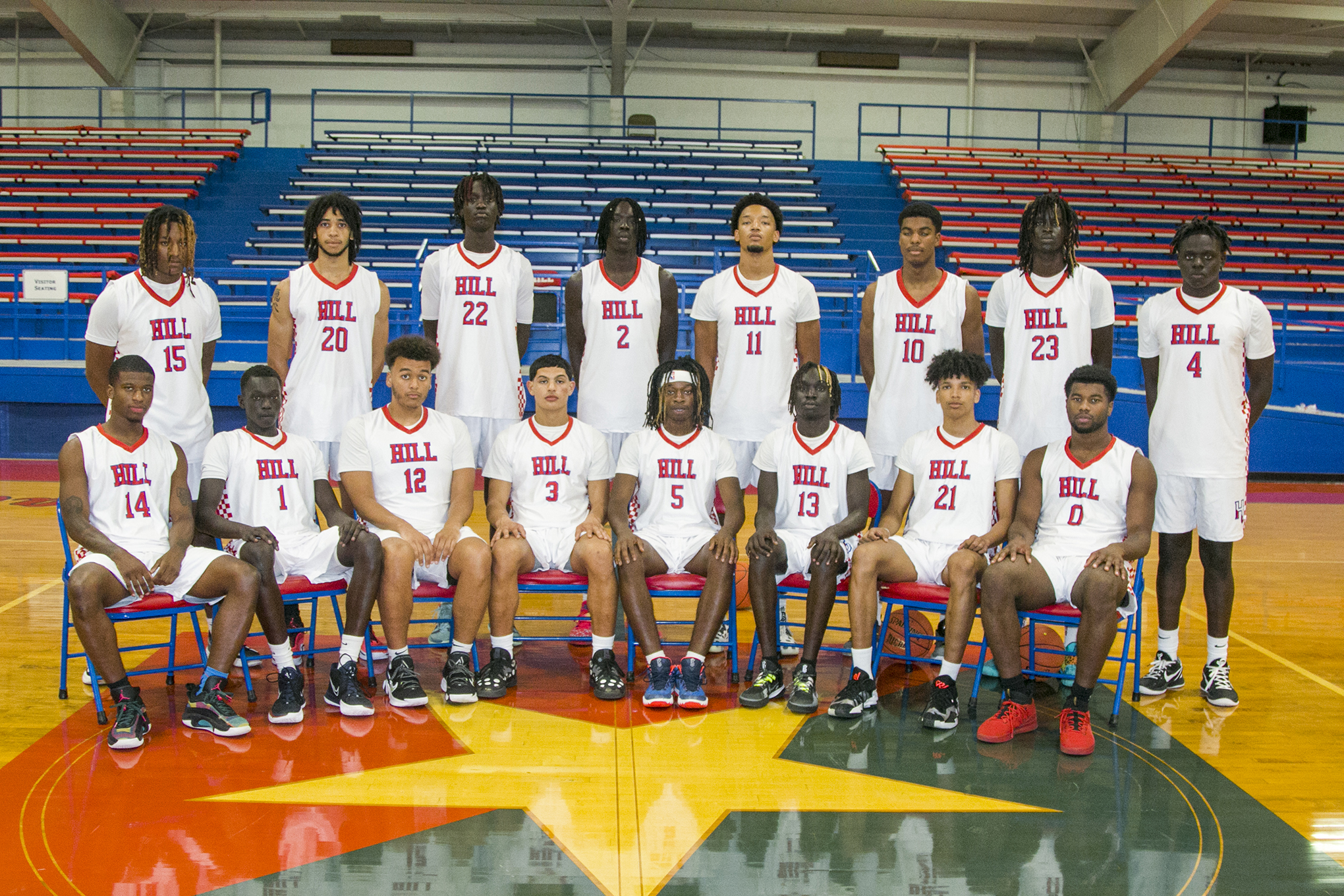 Hill College Head Men's Basketball Coach Swede Trenkle said he hopes his team's challenging non-conference schedule will help prepare his squad for what looks to be a competitive North Texas Junior College Athletic Conference (NTJCAC) lineup.
Although the men's team has won only four of its first 10 games, Trenkle said three of those early losses came against Top 25 nationally ranked opponents.
"We will be a good team by the end of the year," he said. "We might have a tough stretch early, but the freshmen will learn a lot – and I expect us to be a lot better down the stretch."
According to a recent 2022-2023 NTJCAC Preseason Poll, Hill College is ranked No. 2 in the conference behind McLennan Community College.
"We just finished a tough seven-game schedule that matched us up against Clarendon, Western Texas, Kilgore, Odessa, and South Plains," Trenkle added. "We will be better after playing against this kind of talent."
Some key players to watch this season include 6-foot-1 sophomore Muhamed Kante from Manchester, New Hampshire and freshman Julian Williams from Fayetteville, North Carolina.
"Julian can score from both the outside and the inside," Trenkle said. "He is big, strong, physical, and a very good rebounder."
Kante, the only returning player from last year's team, has averaged 12.4 points per game in the first 10 games this season and averaged 43.5 percent from the 3-point line.
"He [Kante] is a very good point guard who not only can score, but also distributes the ball well to his teammates."
Another key addition to this year's men's basketball program is new assistant coach Chris Howell.
"Chris is a very bright, young assistant," Trenkle said. "He works endlessly and tirelessly to help our program get better. We are blessed to have him as part of the Hill College family."
Hill College is currently undefeated at home (3-0), and its next home game is Dec. 8 against Dallas College Brookhaven beginning at 5 p.m. in the Bob Bullock Gymnasium.
Following a few games during the holiday break, Hill College will begin conference play Jan. 11, 2023 against conference rival McLennan Community College.
2022-2023 Hill College Men's Basketball Roster
0 – Isaiah Randolph, 6-4, freshman (Long Island, N.Y.)
1 – Gob Gob, 6-3, freshman (Manchester, NH)
2 – Solomon Kuol, 6-8, freshman (Melbourne, Australia)
3 – Kevin Rankin, 6-1, freshman (Victoria)
4 – Deng Atak, 6-4, freshman (Hurst)
5 – Muhamed Kante, 6-1, sophomore (Manchester, NH)
10 – Charles Okafor, 6-7, freshman (London, UK)
11 – Julian Williams, 6-7, freshman (Fayetteville, NC)
12 – Kory Terrell, 6-4, freshman (Vancouver, WA)
13 – Thour Puot, 6-2, freshman (South Sudan)
14 – Ricky Lacy, 6-1, freshman (Waco)
15 – D'Anthony Kimble, 6-5, freshman (Athens, LA)
20 – Anthony Whorton, 6-5, freahman (Milwaukee, WI)
21 – Derec Feggins, 6-4, freshmen (Gothenburg, SE)
22 – Chuil Bayak, 6-9, freshman (South Sudan)
23 – Sheer Akot, 6-7, freshman (Manchester, NH)
Follow the men's basketball team on the Hill College website by clicking HERE, or visit the official team's social media pages on Instagram or Twitter.