Hill College volleyball team looks to continue Region 5 dominance
  Jessyca Brown
  Monday, December 12, 2022 8:24 AM
  Athletics
Hillsboro, TX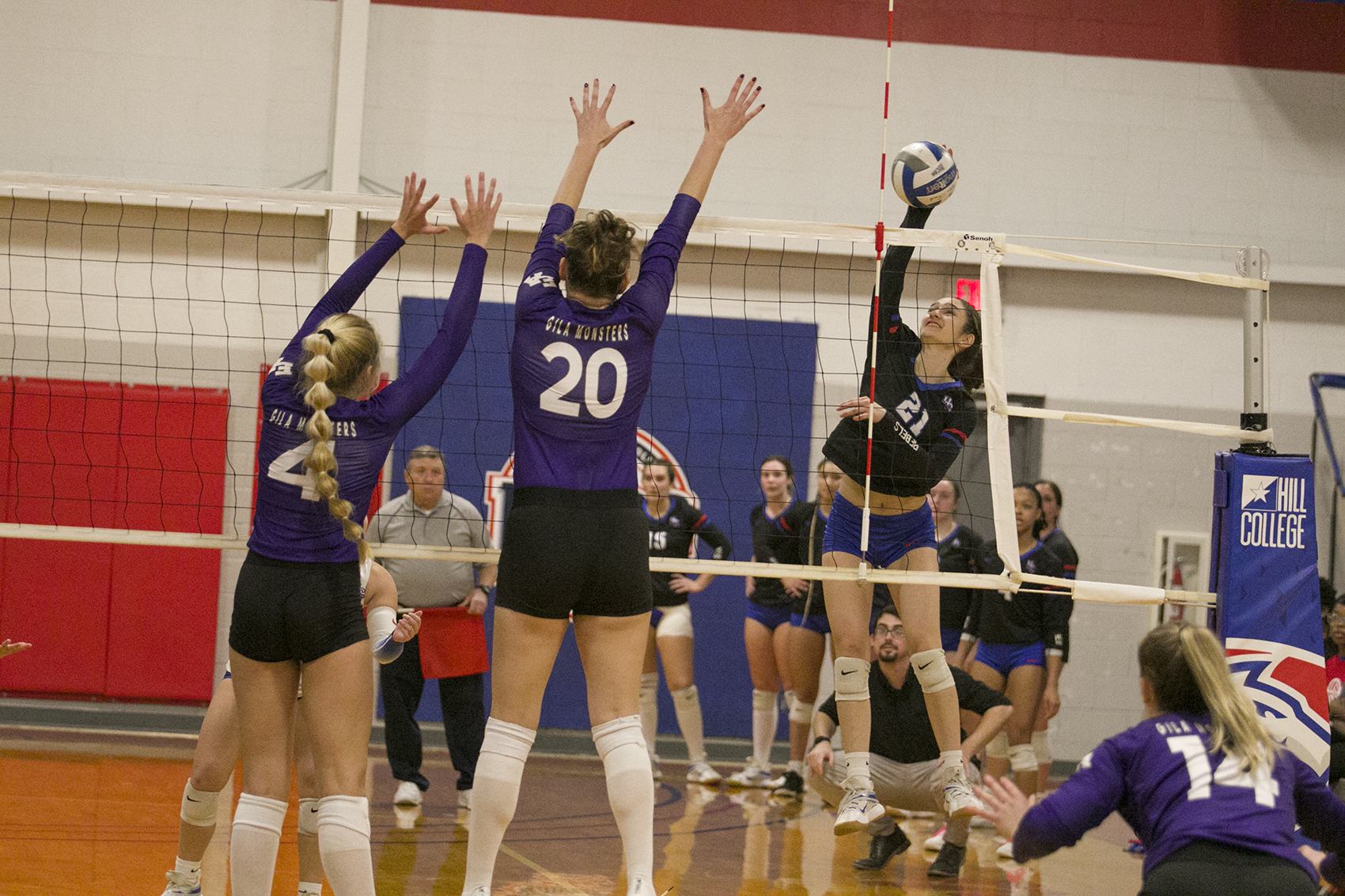 It was another historic season for the Hill College volleyball team – as it was just one game away from a back-to-back national tournament appearance before ending its season in the South District Championship Game.
For the second year in a row, the odds were stacked against this year's team entering into the regional tournament. Hill College fought tooth and nail to overcome its No. 3 tournament seed to eventually winning its 11th consecutive Region 5 North Tournament Championship.
"Going into the Region 5 Tournament, we knew we had work to do coming in as the third seed for the second year in a row," Hill College Head Volleyball Coach Dylan Butler said. "It was familiar territory."
Although Hill College kept knocking on the door toward the top of the conference standings, the team could never quite manage to reach the peak during the season – thanks in part to conference rival North Central Texas College and conference newcomer Weatherford College.
"Acknowledging we had lost to Weatherford College twice during the regular season, and also dropping the ball against NCTC and Temple College, we moved into postseason with a 'blank slate' mindset," Butler added. "In the regional tournament, we came out like a brand new team ready to defend our regional title. Hill College volleyball has a legacy of being on top in Region 5 – and when teams play us, not only are you playing against a very talented team, but you are also playing against athletes who want to defend and grow that legacy."
After defending their Region 5 Championship crown, and what Butler said was "some of the best volleyball the Lady Rebels had played all season," Hill College ended its 2022 campaign against a talented Eastern Arizona College team in the District Championship.
"It was a tough loss," Butler said. "After playing 10 sets in the regional tournament, the two-day turnaround did not leave us much room to recover as well as to reset mentally before going up against a great Eastern Arizona State opponent."
Despite only being one match away from yet another NJCAA D1 Volleyball National Tournament, Butler is excited for what he has in store next season.
"Currently, we have two sophomores committed to play at the next level," he added. "Makenna Gantt will be transferring to Texas Wesleyan University in the spring (a top 25 NAIA team), and Izabella Ceratti has committed to Park University (a two-time NAIA National Championship program located in Parkville, MO). I am excited to see what both athletes will accomplish at their future schools."
Butler also said teammates Autumn Moses, Madison Babers, Manuela Cripa, and Paige Hartsburg all have aspirations of continuing on at the next level and are actively seeking opportunities.
As for 2023, Butler is equally excited about filling in some of the gaps left from the outgoing sophomores.
"The 2023 class is bringing in three very talented outside hitters – Mina Petrovic (Serbia), Josie Rollins (Texas), and Nathalia Portela Freitas (Brazil)," he added. "Both Mina and Josie bring height to the position that we haven't seen since 2020, and all three have great ball control and scoring ability."
Butler also said other key players to watch include Ana Clara Valentim do Vale (Brazil) who brings a great physical presence in the middle, and both Kamryn Phillips (Texas) and Skyla Start (Texas) being the "Great Wall of Hill" towering at 6'3" and 6'2" respectively.
"We have three additional spots on the team that we are close to closing on," Butler said. "Should we get those athletes, we are going to be a force to be reckoned with."
Another key area to Hill College's volleyball success has been assistant coach Shelby Tally, who was a member of the 2021 Hill College team who advanced to the national tournament.
"Shelby has been a godsend," Butler said. "With her being a former player, she knows the level of commitment and drive our athletes need to have in order to be successful. She has done a wonderful job of keeping our team accountable, and her overall dedication to the team and hunger to learn and always be better has made her a great assistant coach. She has a bright future as a coach."
2022 Team Leaders
Izabella Ceratti – Career kills leader with 671, single season kill leader with 353
Paige Hartsburg – Career digs leader with 800, single season digs leader with 464
Daniela Gomez – Surpassed Ceratti as the single season ace leader with 46
Madison Babers – Career block leader with 150, single season block leader with 71
Manuela Cripa – Career assist leader with 1,176
2022 Postseason Awards
Izabella Ceratti – Region 5 North Player of the Year, First Team All-Conference, Region 5 Tournament MVP, All-Region 5 North Team
Daniela Gomez – First Team All-Conference, All Region 5 North Team
Makena Gantt – Second Team All-Conference
Madison Babers – Second Team All-Conference