Hill College Announces the 2023 Annual Boots & Suits Event
  Jessyca Brown
  Monday, February 27, 2023 2:34 PM
  General Events
Hillsboro, TX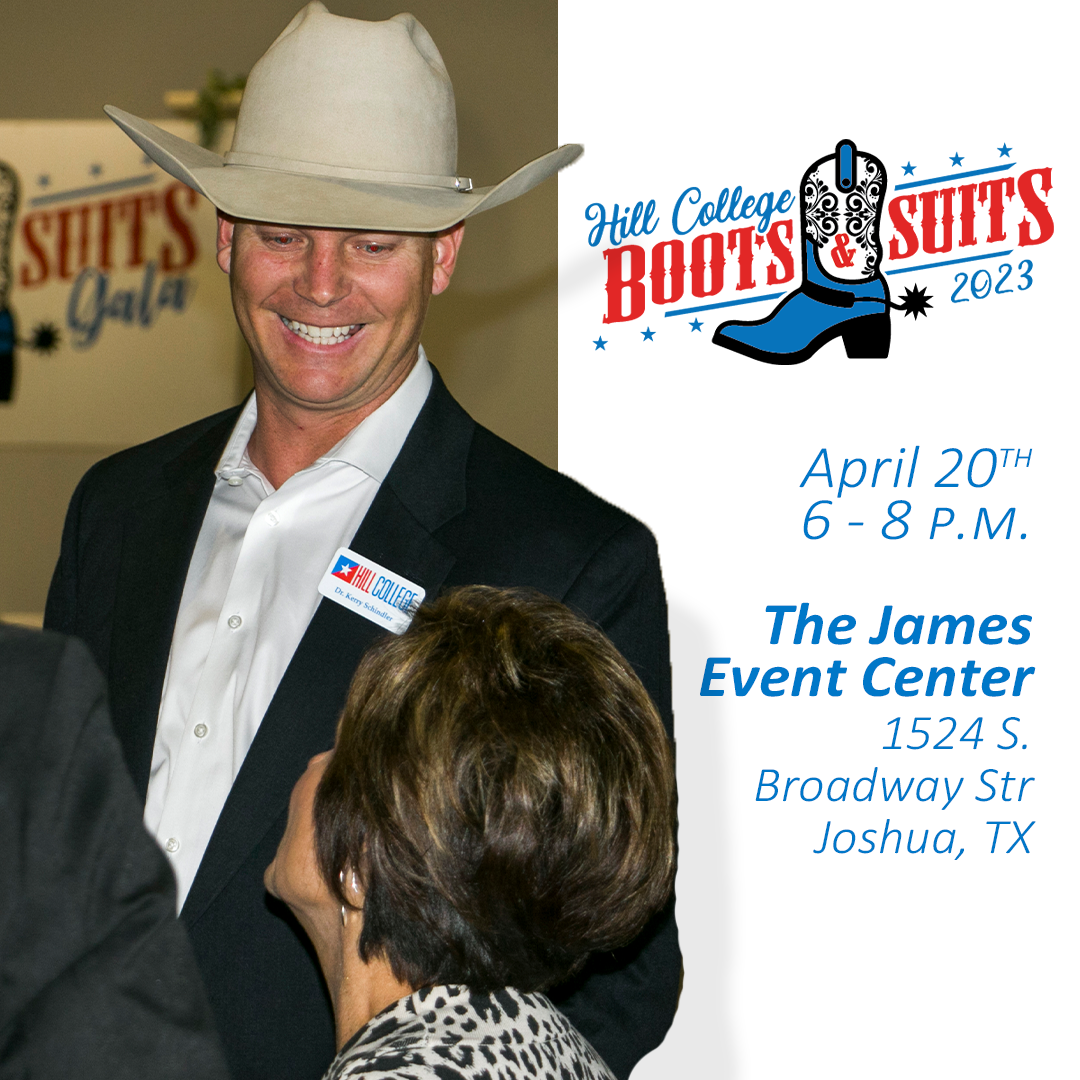 Hill College will host its 18th annual Boots & Suits event April 20, 2023, from 6 to 8 p.m. at the James Event Center in Joshua, Texas. This annual event celebrates and supports higher education locally by raising scholarship funds exclusively for students in the Hill College service area.
"We always look forward to this event. It brings our community together for the benefit of our students," said Hill College Vice President of External Affairs Jessyca Brown. "Without the generous support of our sponsors and guests, many students each year would miss out on the opportunity to receive job training and education that further supports them, their families, and the community."
Community support of Boots & Suits strengthens Hill College's ability to lead students toward success. Each year, Hill College serves over 5,000 students who want to advance their education. Students can focus their education through the four career pathways offered: Arts & Humanities, Business & Industry, Health & Public Service, and STEM (science, technology, engineering, and mathematics). These pathways serve as a tool to help students better align their education with their desired careers and job training.
Businesses, organizations, and individuals interested in sponsoring Boots & Suits have several partnership levels to choose from, including Presenting Partner for $7,000; Gold Partner for $5,000; Silver Partner for $3,000; Bronze Partner for $1,000; and Partner for $500. Individual tickets are also available for $60 per person.
In addition to providing scholarship funds, each sponsorship level offers benefits to sponsors, including special recognition before, during, and after the event.
To support this event or for more information, contact Angela Berntson, Hill College Manager of Events & Community Relations, at 254.659.7813 or aberntson@hillcollege.edu.