Hill College baseball set to begin 2023 season
  Jessyca Brown
  Tuesday, February 7, 2023 8:52 AM
  Athletics
Hillsboro, TX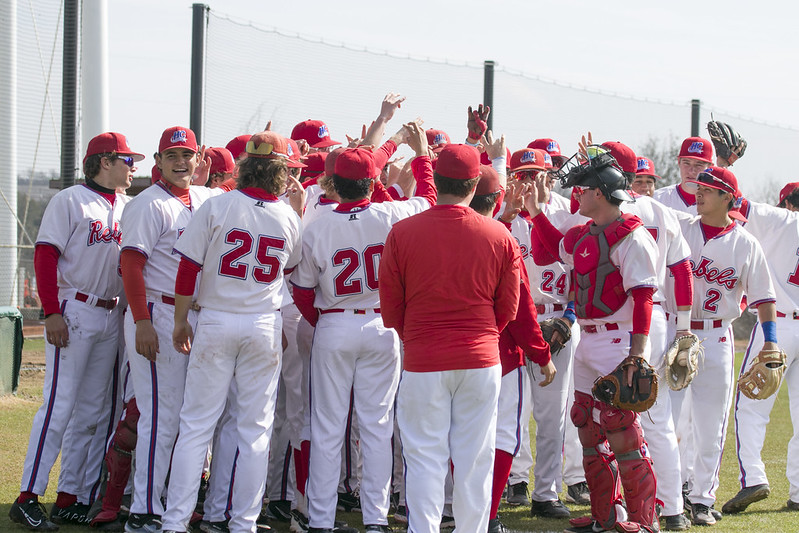 Hill College Head Baseball Coach Chris Rateike has high expectations for his team as the 2023 NJCAA baseball preseason is just around the corner.
Heading up this year's list of core position players – and key returners from last year's team – are Camron Montz, pitcher; Jelle Van der Lelie, pitcher; Hunter Rebando, catcher; Jagger Schattle, first baseman; Cade Sanchez, second baseman; Diego Villescas, shortstop; Eric Garcia, third baseman; and Cristian Garcia, outfielder.
"All eight of these athletes also earned All Region, All Conference, or were voted into the TXNM All-Star Game," Rateike said. "We expect big things from them this season."
Sanchez, a sophomore from Jersey Village in Houston, also was named NJCAA Region 5 First Team All-Region; NTJCAC First Team All-Conference; and NJCAA All-Academic Third Team (3.6-3.79 GPA).
Rateike also said outfielders Tate Joynt and Riley Light have grown a lot in the past year, and he expects them to contribute to the lineup this season.
"On the mound, Trace Blue, Zach Peters, and Isaias Espiritusantos are four-year transfers who we expect to make a tremendous impact on our rotations this year," Rateike added. We also expect Gehrig Schreiber to help out the backside of the staff to close out games."
Other key newcomers for the Hill College baseball team this season include Tristan Boedeker, pitcher; Luis Lopez, pitcher; Ryabn Rauss, pitcher; Kade Douglas, pitcher; Derick Andiarena, outfielder; and Zeke Velazquez, catcher.
Hill College's Opening Day matchup was pushed to Feb. 4 against Alvin Community College because of inclement weather. So far, the team is off to a 3-1 early non-conference action.
2023 Hill College Baseball Roster
1 – Zeke Velazquez, freshman, C (Woodrow Wilson, Dallas)
2 – Cade Sanchez, sophomore, 2B (Jersey Village, Houston)
3 – Lucas Anderson, freshman, OF (Argyle)
4 – Bryce Tabor, freshman, OF (China Spring)
5 – John Bissaillon, sophomore, OF (Taylor, Katy)
6 – Jagger Schattle, sophomore, P/1B (Richardson)
7 – Steven Oliva, freshman, SS (Abraham Lincoln, Guatemala)
8 – Chase Donovan, redshirt freshman, P (Georgetown)
8 – Tait Joynt, sophomore, SS/OF (Westwood, Austin)
9 – Cayden Earnhart, sophomore, C (Denison)
10 – Hunter Rebando, sophomore, C (Lampassas)
11 – Diego Villescas, sophomore, SS (Pharr)
12 – Luke Land, freshman, OF (Christian Heritage, Brenham)
15 – JoJo Grimes, redshirt freshman, P (Peaster)
16 – Miguel Everett, freshman, C (W.B. Ray, Corpus Christi)
17 – Cristian Garcia, sophomore, OF (Cinco Ranch, Katy)
18 – Logan Bosley, freshman, OF (Bryan)
19 – Ethan Adkisson, freshman, C (New Diana)
20 – Dylan Darnall, freshman, SS (Joshua)
21 – Adrian Vallescorbo, freshman, C (El Shaddai Christan Academy, Bayamon, PR)
22 – Luis Lopez, freshman, P (ProBaseball, Salinas, PR)
23 – Jayden Leo, freshman, C (Aviation, Corona, Queens)
24 – Eric Garcia, sophomore, 3B (Grand Prairie)
25 – Wyatt Anderson, redshirt freshman, P (Cochrane, AB)
26 – Carl Sullivan, freshman, OF/P (South Grand Prairie)
27 – Carter Coffin, freshman, P (Weiss, Pflugerville)
28 – Leo Parra, redshirt freshman, SS (Johnson, San Antonio)
29 – Camron Montz, sophomore, P (Marcus, Copper Canyon)
30 – Kade Douglas, sophomore, P (Lakewood, Trinidad, CO)
31 – Ronnie Muirhead, redshirt freshman, P (Dayton)
32 – Lane Snow, freshman, OF (Joshua)
33 – Ben Tate, freshman, 3B/OF (Timber Creek, Keller)
34 – Riley Light, sophomore, OF (St. Joseph's, Melbourne, Victoria, Australia)
35 – Landan Morse, freshman, P (Bells)
36 – Tristan Boedeker, freshman, P (Brock)
37 – Gareth Tobias, sophomore, P (Weiss, Pflugerville)
38 – Jelle Van Der Lelie, sophomore, P (Caland Lyceum, Amsterdam)
39 – Hervey Nunez, freshman, 3B (Samuel Clemens, Saint Hedwig)
40 – Gehrig Schreiber, sophomore, P (Clear Creek, League City)
41 – Jimmy Perez, freshman, SS (HS for the Arts & Business, Elmhurst, NY)
42 – Rafael Castillo, freshman, 3B (HS for CTEA, Queens, NY)
43 – Eric Young, freshman, P (Churchill School and Center, New York, NY)
44 – Zach Peters, sophomore, P (Joshua)
45 – Matthew Foley, freshman, P (Vista Ridge, Cedar Park)
46 – Isaias Espiritusanto, sophomore, P (EBT – Brooklyn, NY)
47 – Ryan Rauss, freshman, P (Mansfield)
48 – Derick Andiarena, freshman, OF (ProBaseball, Anasco, PR)
49 – Amir Chery, freshman, 1B (Abraham Lincoln, Manhattan, NY)
60 – Trace Blue, sophomore, P (Midland Christian, Richmond)
Follow the baseball team on the Hill College website by clicking HERE, or visit the official team's social media pages on Instagram or Twitter.