Softball team looks to build off last year's program, aiming for second consecutive conference tournament appearance
  Jessyca Brown
  Tuesday, February 14, 2023 2:09 PM
  Athletics
Hillsboro, TX
Hill College head softball coach Allora Miller looks to build on the progress her team has been making each of the past few seasons.
Miller, now in her third year as the head coach, led last season's team to an overall 23-35 record as well as its first conference tournament appearance since 2018.
This year's team is currently 2-2-1 overall early in the season and is comprised of seven sophomores and 12 freshmen.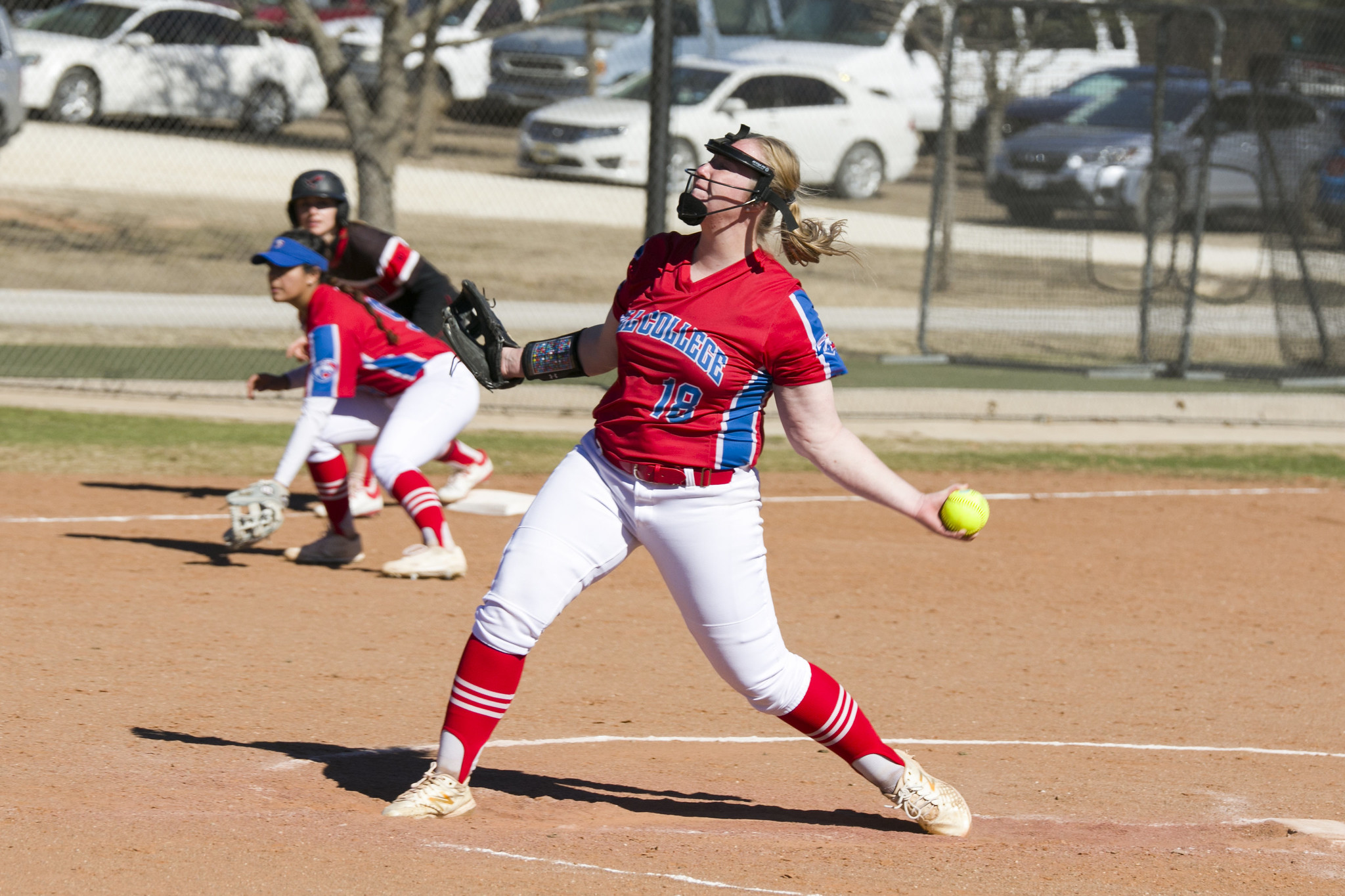 Among this year's returners include pitcher Eileigh Whyte, who received Second Team All-Conference honors last season. Whyte had 13 wins in 29 plate appearances, including 154.2 innings pitched, 137 strikeouts (6.2 per 7-inning average), and an overall 3.71 ERA.
 Kelsey Creech will be returning in the outfield this season. Creech earned Second Team All-Conference honors last season by playing 54 games while amassing 62 hits (including 16 doubles, one triple, and 10 home runs), scoring 39 runs, 46 RBIs, 8 walks, 11 stolen bases, and an overall .390 batting average (including .437 on-base percentage and .692 slugging percentage).
Other notable returners include Mackenzie Duckworth, Victoria Gonzalez, Hannah King, and Jayce Bolin.
 "Duckworth caught approximately 75 percent of last season; Gonzalez had a really standout fall; King stepped into 3B before the start of conference play last year; and Bolin had a really productive summer and fall," Miller said. "Also, we are looking for Chloe Randall and Mallory Stone, both redshirt freshmen, to make major waves this year."
Miller hired assistant coach Kalynn Smith last fall to help the team reach its goal of earning a second conference tournament appearance in as many years.
According to the Pre-Season Coaches Prediction Poll, Hill College is projected to finish in seventh place this season.
"We play three teams currently ranked in the NJCAA Top 25 Preseason Poll," Miller added, "and two of those teams are in our conference."
Conference foes McLennan Community College in Waco is currently ranked No. 2 in the nation; Grayson College is ranked No. 8. San Jacinto, currently ranked No. 20, is also scheduled to play Hill College this season.
Hill College's next home game is scheduled for Feb. 15 against Trinity Valley Community College beginning at 1 p.m.
Conference play begins March 1 when Hill College hosts McLennan Community College beginning at 1 p.m.
Miller said this year's end-of-season conference tournament will be in Waco and hosted by McLennan Community College.
2023 Hill College Softball Roster
1 – Kelsey Creech, sophomore, OF (Hillsboro)
4 – RoseAmber Gloria, freshman, OF (South Grand Prairie)
5 – Tori Fowler, freshman, OF (Red Oak)
6 – Regan Burleson, sophomore, UT (LaVernia)
7 – Karolyn Carter, freshman, UT (Needville)
9 – Mallory Stone, redshirt freshman, MINF (South Grand Prairie)
10 – Chloe Randall, redshirt freshman, P (James Martin, Arlington)
11 – Michelle Marcias, freshman, OF (College Park, The Woodlands)
12 – Bentleigh Inocencio, freshman, SS/OF (Burleson)
13 – Brianna Trevino, freshman, 2B/3B (Burleson)
14 – Jace Bolin, sophomore, UT (Krum)
15 – Regany Trahan, 3B/C (Thorndale)
16 – Hannah King, sophomore, INF (Midlothian)
17 – Victoria Gonzalez, sophomore, INF (Cleburne)
18 – Eileigh Whyte, sophomore, P/1B (Westwood, Round Rock)
19 – Carly Cox, freshman, 1B (Legacy, Mansfield)
20 – Bailey Hernandez, freshman, OF (Mission)
21 – Mackenzie Duckworth, sophomore, C (Allen)
22 – Catalina Sanchez, freshman, 3B/P (Glen Rose)
23 – Celeste Cisneros, freshman, MINF/3B (Johnson, Buda)
24 – McKenna Meadors, sophomore, P/1B (The Woodlands Christian Academy, Montgomery)
28 – Josie Glaze, freshman, C/1B (James Martin, Arlington)
Follow the softball team on the Hill College website, or visit the official team's social media pages on Facebook or Twitter.