32 Hill College student-athletes earn spots on Conference All-Academic Team
  Jessyca Brown
  Tuesday, April 11, 2023 3:53 PM
  Athletics
Hillsboro, TX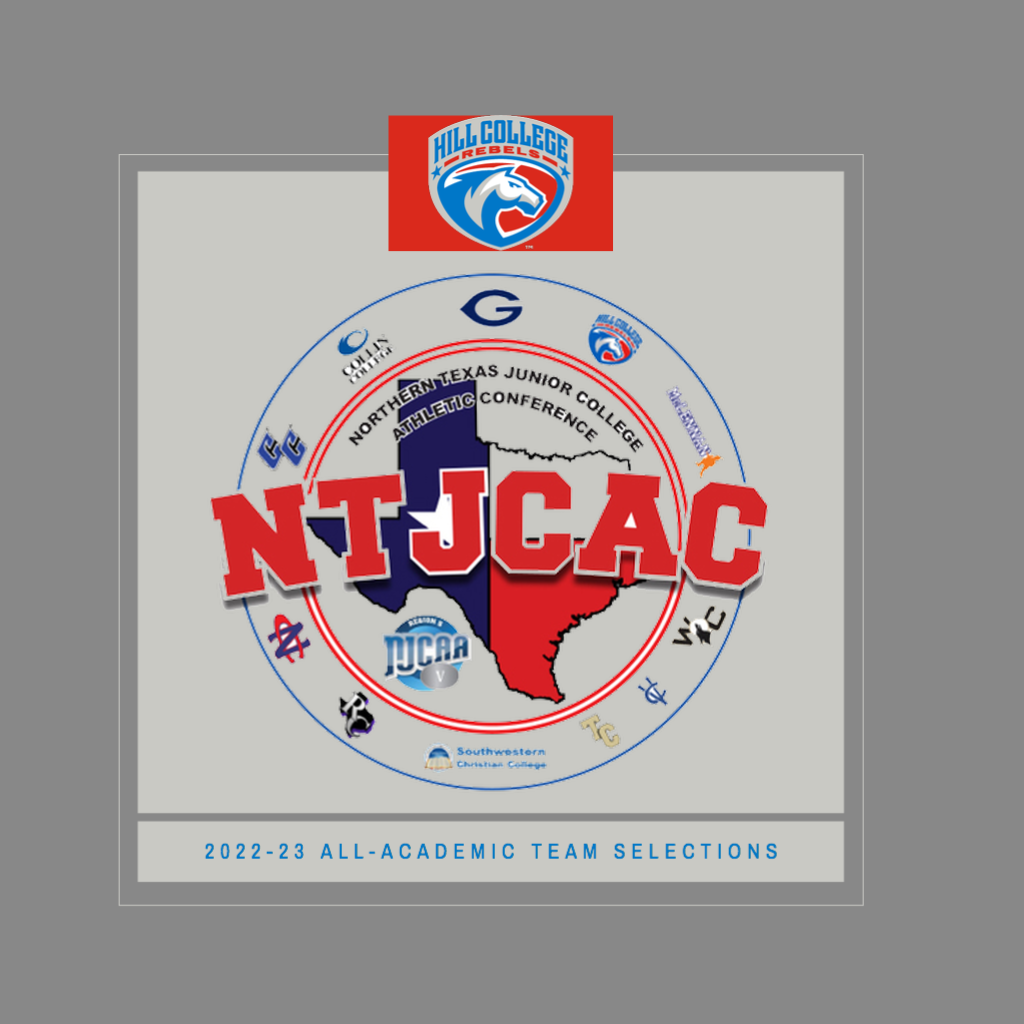 Hill College tied for the most North Texas Junior College Athletic Conference (NTJCAC) All-Academic Team selections with 32 student-athletes making this year's list.
According to the NTJCAC's official press release on April 6, each recipient had to earn a minimum of 36 hours in courses that lead to a degree while also maintaining an overall grade point average of 3.25 or higher. Also, each student-athlete must have participated in at least one season on the varsity level and be lettered in one or more sports.
"I'm very proud of our student-athletes who made this prestigious list," Hill College Athletic Director Paul Brown said. "They took academics just as seriously as the sport they competed in."
The Hill College baseball team had the most All-Academic selections with 10 student-athletes named to the list.
2022-23 Hill College NTJCAC All-Academic Team Selections
Baseball – Christian Garcia, Joseph Grimes, Tait Joynt, Jelle Van Der Lelie, Riley Light, Hunter Rebando, Gehrig Schreiber, Cade Sanchez, Lane Snow, and Diego Villescas
Rodeo – Brighton Bauman, Branna Fischer, Fallon Hanson, Jesse Harris, Kalli McCall, Brice Meyers, Ainslee Morris, and Kaylee Traylor
Soccer (Women) – Marisol Fraga, Jarelly Pacheco, and Sarah Tate
Soccer (Men) – Joseph Abraham, Seal Elad, and Josue Gutierrez
Softball – Jayce Bolin, Kelsey Creech, Mackenzie Duckworth, Hannah King, Chloe Randall, and Eileigh Whyte
Volleyball – Izabella Ceratti and Manuela Cripa