Despite youth, men's basketball program advances to postseason play
  Jessyca Brown
  Thursday, April 6, 2023 9:16 AM
  Athletics
Hillsboro, TX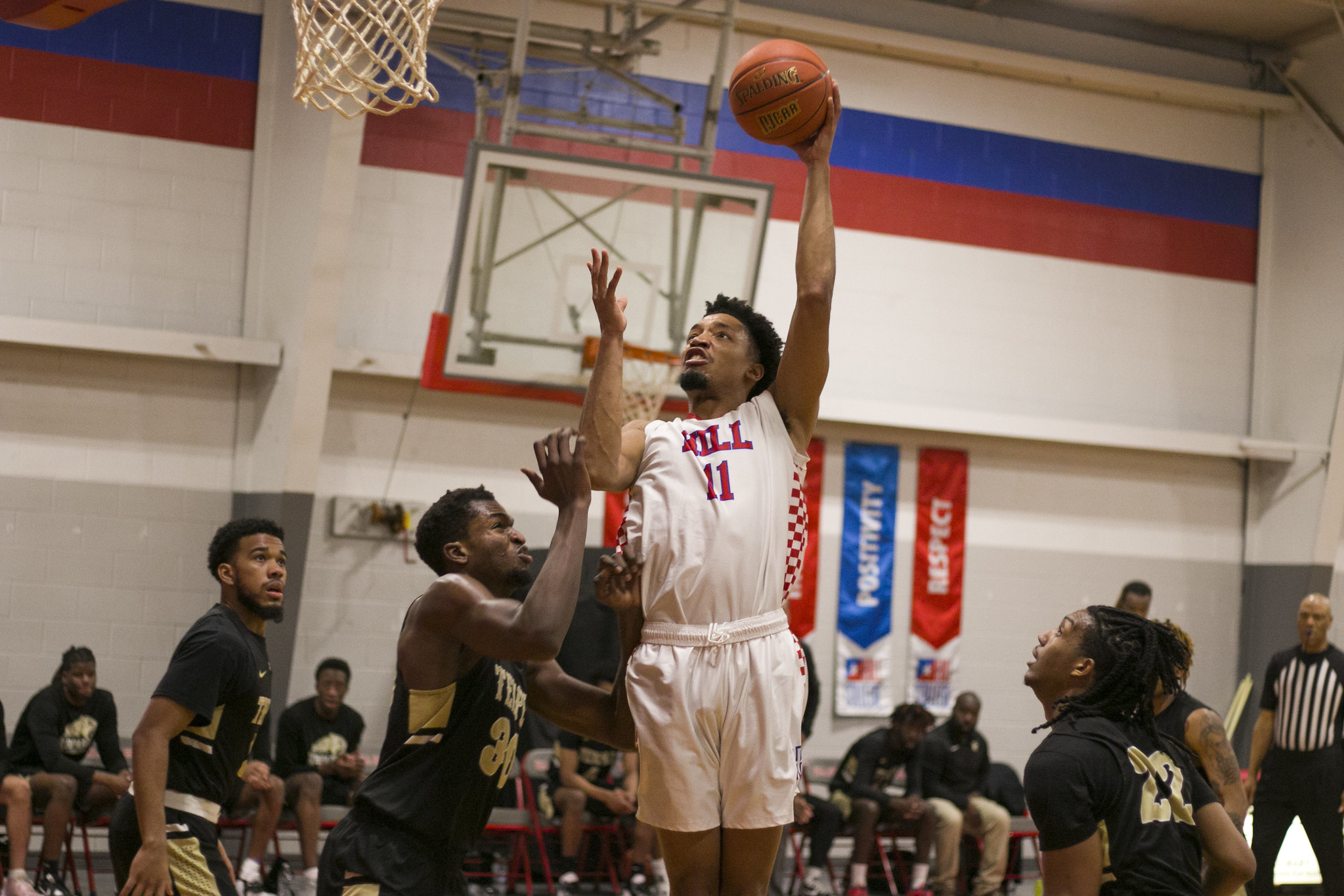 A combination of both youth and talent helped carry the 2022-23 Hill College men's basketball program into another winning season and yet its second consecutive postseason appearance in as many years.
Head Men's Basketball Coach and Assistant Athletic Director Swede Trenkle didn't let an opening-round Region 5 playoff defeat deflate his team's overall success this past season. Hill College just happened to face the No. 3 team in the nation, Odessa College, which advanced all the way to the Elite Eight before losing last week in overtime to Indian Hills (Iowa).
"We are so proud of our group of young men this season," Trenkle said. "Since the first week of school, they have bought into the Hill College culture that we work so hard to build each year."
Hill College finished its 2022-23 regular season tied for third place with Weatherford College in the North Texas Junior College Athletic Conference (NTJCAC) division with an overall record of 17-13 (8-5 in conference).
"We had our ups and downs in games and took some tough losses," Trenkle added, "but the players kept working and bought into everything we were trying to build and achieve. I fully contribute our third-place finish in conference to these 13 young men for never quitting and staying together as a family. "
Although competing in a conference filled with veteran talent, Hill College was a relatively young team with 11 freshmen and only two sophomores. Arguably, the team's best win of the season was a 79-73 overtime victory against McLennan Community College Feb. 8 in Waco.
Julian Williams, a 6-7 freshman from Fayetteville, North Carolina, was named on both the 2023 All Region and All-Conference Teams, and he also recently signed a letter of intent to play at Tarleton State University in Stephenville next season. Also, Trenkle said athletes Mohammed Kante (Manchester, NH) and Anthony Whorton (Milwaukee, Wis.) are expected to sign letters of intent soon.
"We give all the credit to all of these young men," Trenkle added. "They are not only really good players, but more importantly, they are wonderful people. Coach [Chris] Howell and I enjoyed going to practice every day and going to work with them."
2022-23 All-Region, All-Conference Selections
Julian Williams, 6-7 Freshman (Fayetteville, NC)
2022-23 Region 5 Men's Basketball All-Region Team
2022-23 NTJCAC Men's Basketball All-Conference Team
Gob Gob, 6-3, Freshman (Manchester, NH)
2022-23 NTJCAC Men's Basketball First Team All-Conference, Newcomer of the Year
Charles Okafor, 6-7, Freshman (London, UK)
2022-23 NTJCAC Men's Basketball Second Team All-Conference
Isaiah Randolph, 6-4, Freshman (Long Island, NY)
2022-23 NTJCAC Men's Basketball All-Conference Honorable Mention
Muhamed Kante, 6-1, Sophomore (Manchester, NH)
2022-23 NTJCAC Men's Basketball All-Conference Honorable Mention
Solomon Kuol, 6-8, Freshman (Melbourne, Australia)
2022-23 NTJCAC Men's Basketball All-Conference Honorable Mention