Hill College cowboys ready to compete in College National Finals Rodeo
  Jessyca Brown
  Wednesday, June 7, 2023 8:42 AM
  Athletics
Hillsboro, TX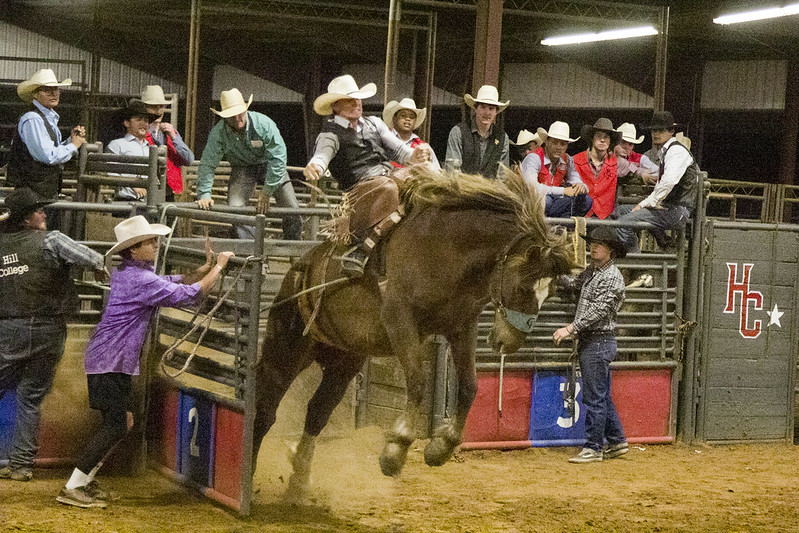 Two student-athletes have qualified and will be representing the Hill College Rodeo Team at this year's College National Finals Rodeo (CNFR) June 11-17 in Casper, Wyoming.
Parker Fleet (Axtell) will be making his third appearance at the CNFR in the saddle bronc division. He was named the CNFR Reserve Champion Saddle Bronc Rider in 2019.
Teammate Cutter Kaylor (Jasper) has advanced to the CNFR for the second time in bull riding.
Both student-athletes will be riding in the special roughstock performance on Sunday before competing in slack June 12-13.
During the week, each student-athlete will compete three times with the top 12 advancing to the Short Go on June 17 where the champions will be determined.
Fleet's third head will be June 13, and Kaylor's is scheduled for June 16.
The event will be covered live on ESPN3, and the short round will be shown on ESPNU in August.
For more information, please visit the official CNFR website at https://cnfr.com.
DID YOU KNOW?
The Hill College Rodeo program has earned a total of nine National Championships – eight in bull riding, and one in calf roping. Also, there have been 10 National Reserve Champions.