Hill College Nursing Program honors graduates in annual pinning ceremony
  Jessyca Brown
  Wednesday, August 9, 2023 7:52 AM
  Academics
Cleburne, TX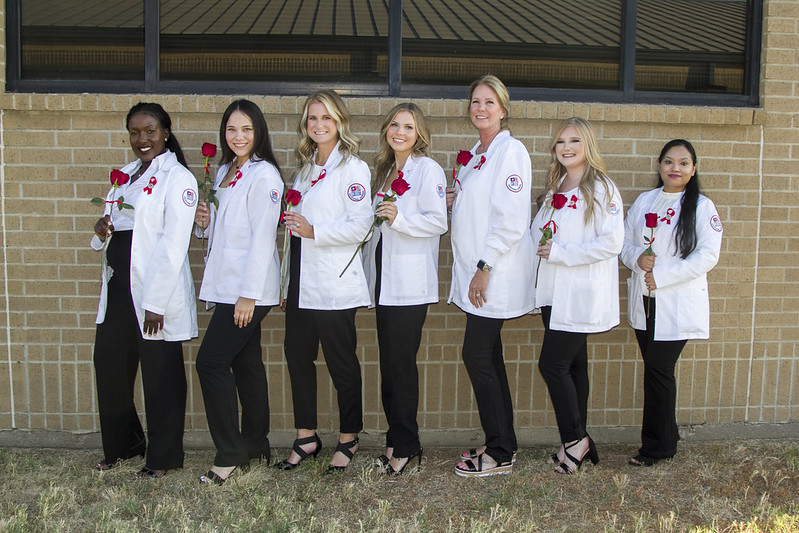 On August 3, 2023, the Hill College Licensed Vocational Nursing (LVN) Program held its pinning ceremony for the class of 2023 at the Johnson County Campus.
This time-honored tradition signifies a student's official initiation into the profession of nursing. The ceremony dates back to the 12th century when Florence Nightingale was awarded the Red Cross of Saint George in recognition for her service during the Crimean War.
This year's graduates included Kimberly Bullard, Katie Hays, Hannah Lane, Sharmila Maharjan, Janet Shikuku, Summer Steinhilber, and Maci Williamson. The presentation of awards and pinning were conducted by Vocational Nursing Program Coordinator Janis Grimland and was followed by students taking the Nightingale Pledge.
"We are extremely proud of this year's LVN graduates and look forward to all they are going to accomplish in their careers. The nursing faculty always cherishes this ceremony for its significance of dedication to our profession and the service our graduates provide to their patients and communities," said Grimland.
The Hill College LVN Program is ranked number 11 in the state by practicalnursing.org. It is a one-year, 47/48 credit-hour degree path that offers students quality, affordable education from one of the top-ranked accredited programs in Texas. The LVN Program prepares students with the skills and knowledge to pass the National Council Licensure Examination with the opportunity to continue on to an associate degree in nursing.
For more information on the Nursing Program, visit www.hillcollege.edu/hps. For more information and general questions about Hill College, visit www.hillcollege.edu or call 254.659.7500.