Hill College volleyball team looks to settle 'Unfinished Business'
  Jessyca Brown
  Monday, August 28, 2023 10:21 AM
  Athletics
Hillsboro, TX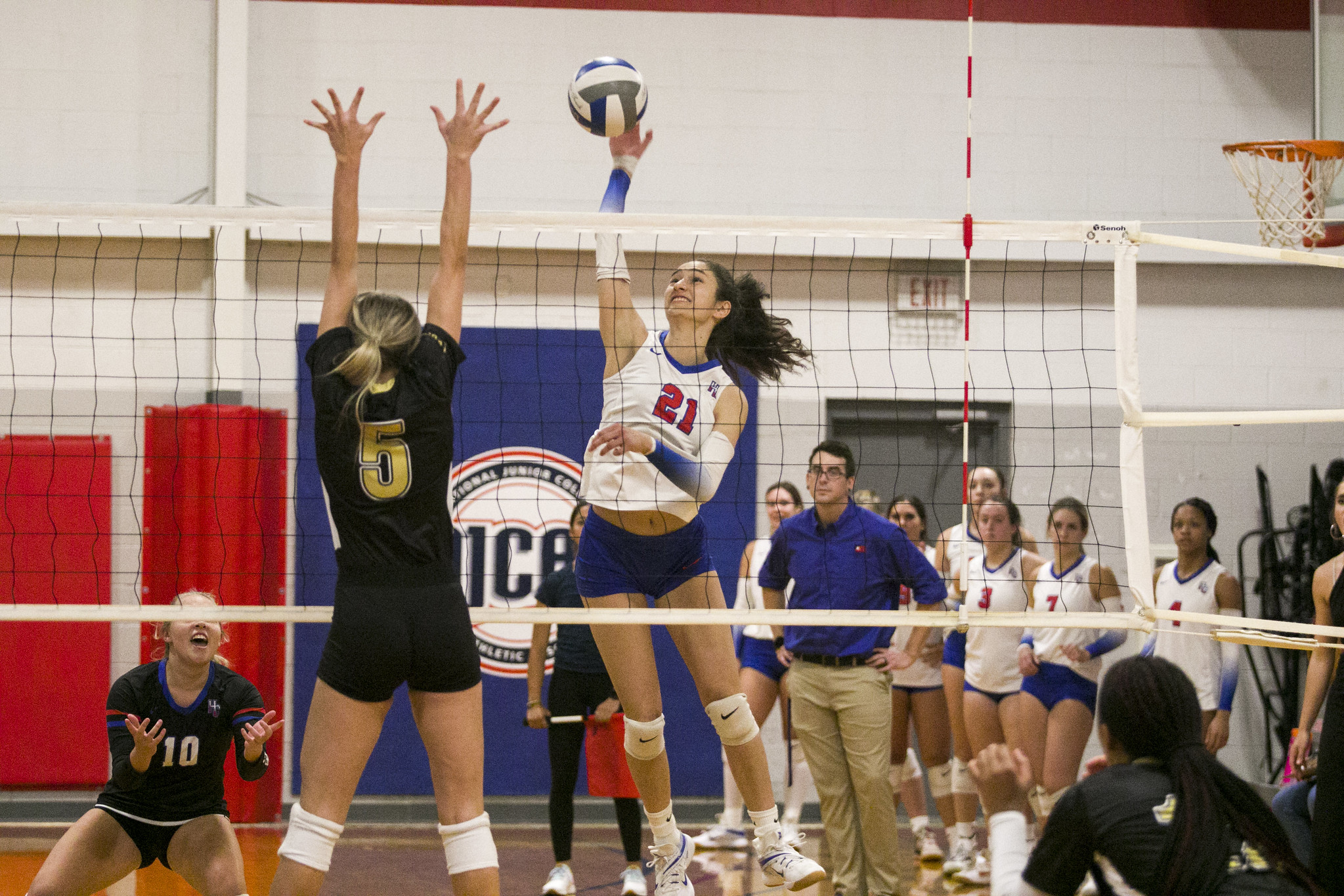 Hill College Head Volleyball Coach Dylan Butler has been waiting months to put his new team on the court following last year's loss to Eastern Arizona in the South District Championship Game.
That loss, which would have sent the Rebels to their second consecutive NJCAA Championship Tournament appearance, has left a bitter taste in the mouths of both coaches and student-athletes since last fall.
"Our theme this season is 'Unfinished Business,'" Butler said. "Our goal is to make it back to the National Championship Tournament, and I am excited to see the team grow through a challenging schedule in pursuit of that goal."
Although Butler lost a lot of talented players from last year's team, he has reloaded and gotten larger – literally – including five freshmen each towering more than 6 feet tall.
"With the size of the freshman class, we can expect a bigger presence at the net defensively than we have been in the past," Butler said. "Offensively, we pack more of a punch through the middle of the court and on both wings."
Butler's team, as in the past, will also continue to have a large international influence with athletes also representing Colombia, Chile, Brazil, Poland, and Serbia.
Newcomers to watch include Josie Rollins, a 5-11 outside hitter from Hardin High School in Cleveland; Kamryn Phillips, a 6-3 opposite hitter from Normangee High School; Klaudia Brzeczkowska, a 6-1 middle blocker from Szamotuly, Poland; Mina Petrovic, a 6-1 outside hitter from Belgrade, Serbia; Ana Clara Valentim do Vale, a 6-1 middle blocker from Sao Paulo, Brazil; and Skyla Start, a 6-2 opposite hitter from Abilene Cooper High School.
"We also have five returners from last year's team," Butler added, "whose experience will play a vital role with our young team."
Returners from last year's Region 5 North Tournament Championship team include outside hitter Daniela Gomez Echeverry (First Team All-Conference), setter Natalie Hildebrand, and middle blocker Alexia Maynes.
Butler will once again be joined by Hill College Assistant Coach Shelby Tally, who is now in her second season with the team. She was also a student-athlete and played for Butler prior to her role in coaching.
"Shelby has developed into a wonderful and caring coach," Butler said. "It has been very special for me to see her grow from a student-athlete into a standout coach. Her dedication to the team is unmatched and we are grateful to have her back this season."
Butler has put together a grueling non-conference schedule that includes eight teams which he said are "Top 20 worthy." These teams include Trinity Valley, Odessa College, Snow College (Utah), Indian Hills (Iowa), Blinn, Central Wyoming, and Navarro. Most of these matches will be played in two upcoming pre-season tournaments: Odessa Tournament (8/22-26); and Blinn Tournament (9/1-9/2). However, Hill College will also be facing Blinn Sept. 9 in Gainesville (North Texas Central College Tournament) and will be hosting Navarro Sept. 28 in Hillsboro.
Key conference home games this season will include Weatherford College on Sept. 23 and NCTC on Oct. 28.
"Our team clicked within the first three practices of the pre-season, and it's starting to look like they've been playing with each other for much longer," Butler said. "Also, our leadership from our returners has been amazing throughout pre-season and will be a large factor in how we progress throughout the season."
2023 Hill College Volleyball Roster
1-Keeley Williams, 5-3, DS/L, FR, Garland High School (Rowlett)
2-Samantha Stahl, 5-8,DS/L, SO, Hebron High School (Lewisville)
3-Klaudia Brzeczkowska, 6-1, MB, FR, (Poland)
5-Mina Petrovic, 6-1, OH, FR, (Serbia)
6-Kamryn Phillips, 6-3, OPP, FR, Normangee High School
7-Natalie Hildebrand, 5-8, S, SO, Marcus High School (Flower Mound)
8-Angelia Rodriguez, 5-8, S, SO, James Madison High School (San Antonio)
9-Kadence Warren, 5-8, DS/L, SO, Northwest High School (Justin)
10-Isabelle Garcia Valencia, 5-7, DS/L, FR, (Colombia)
11-Skyla Stark, 6-2, OPP, FR, Cooper High School (Abilene)
12-Josie Rollins, 5-11, OH, FR, Hardin High School (Cleveland)
13-Ana Clara Valentin do Vale, 6-1, MB, FR, (Brazil)
14-Magdalena Pino Vicencio, 5-7, S, FR, (Chile)
15-Nathalia Portela Freitas, 5-8, OH, FR, (Brazil)
16-Alexis Maynes, 6-1, MB, SO, Whitehouse High School
21-Daniela Gomez Echeverry, 5-7, OH, SO, (Colombia)
Head Coach-Dylan Butler
Assistant Coach-Shelby Tally