Hill College women's soccer program stacked, loaded for another potential national appearance
  Jessyca Brown
  Wednesday, August 9, 2023 8:35 AM
  Athletics
Hillsboro, TX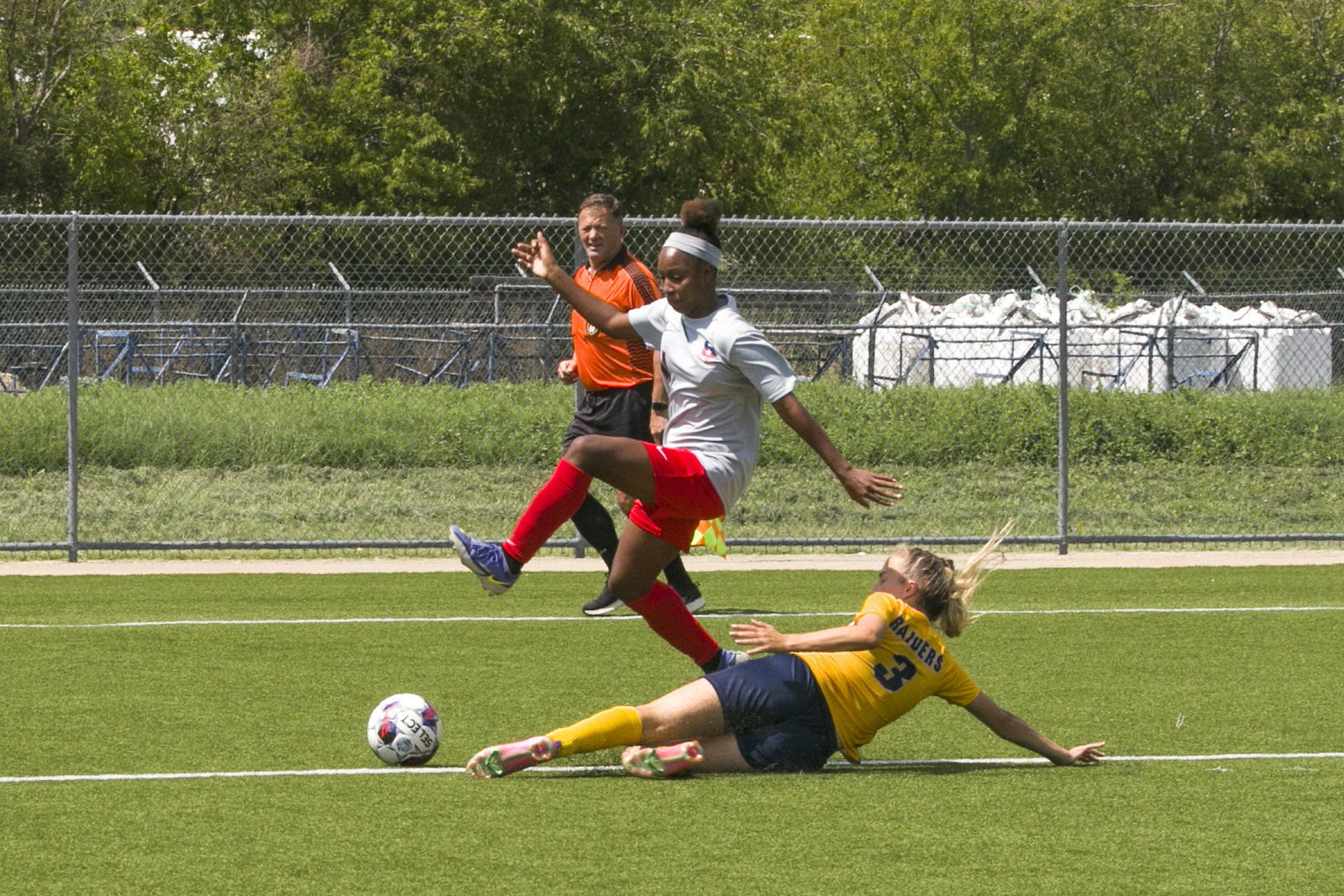 Coming off arguably the best season in Hill College women's soccer history, the Lady Rebels look to build off of last year's incredible fourth-place finish in the NJCAA National Championship Tournament.
Head Coach Paul Davenport said although he's looking for his returners to pick up where they had left off last season, he also expects his newcomers to make immediate impacts to the team as well.
"The team is balanced with good combinations of athleticism and versatility at all positions," Davenport said. "There is a good sense of confidence throughout the team with freshmen and sophomores alike being willing to contribute their individual skills."
Among those players returning this season include Jamaica U20 National Team member Davia Richards, Daisy Altamirano, Kiara Wright, Calli Triggs, Libbie Mayfield, and Gaia Chies – all multiple goal scorers last season.
"The expectations for the women's team have continued to grow each year," Davenport said. "We will first focus on winning the Region 5 regular season in undefeated fashion – as we have done since 2014 – and then focusing on a Region 5 Championship for the 10th year in a row."
"We also expect to be matched up with perennial power Tyler Junior College in the District round," he added, "with the game being at our 'home' site as we aim to qualify for the National Tournament for the fourth time in the past five years."
Davenport said he hopes his team will be able to replicate last year's No. 2 overall seed in the National Tournament – a target he hopes to repeat and then qualify beyond both the Semifinals and National Final rounds.
"We have perhaps the toughest non-conference schedule in recent years," he added, "with potential matchups against Top 20 teams such as Eastern Arizona, Tyler Junior College, Navarro College, and Butler (Kansas). Also, the regional schedule should always be challenging with new coaches bringing positive competition at Cisco and Western Texas."
This season will be a little different for Davenport, as he will not be coaching the Hill College's men's soccer team in conjunction with the women's team. He plans just to focus on the women's program.
"After 12 years managing both programs here at Hill, it has taken a little time for me to transition just to coaching one team," he said. "However, the experience has been really positive, and I believe both teams look strong with two coaches focusing on each group's specialization and team standards."
Ivan Franco, a former men's soccer player at Hill College who went on to excel at Davis and Elkins College (Division II) in West Virginia, was recently hired as assistant coach for both the men's and women's programs.
"Ivan has fit straight into a positive role helping both teams," Davenport said. "As a former player here at Hill College, he understands the mentality players need to achieve on a daily, monthly and season-long basis. His presence each day on each team can be felt as players continue to use his experience for their personal benefit in maintaining and growing their confidence."
Although the Hill College women's soccer team has begun scrimmaging with other colleges, its first home game isn't scheduled until Sept. 29 (note: all home games will continue to be played at Gateway Park, 4327 E. First Street, in Fort Worth).
2023 Hill College Women's Soccer Roster
1-Latae Rodriguez-FR-GK-Mansfield
2-Libbie Mayfield-SO-D-Burleson
3-Jaqueline Cardenas-FR-D-Uvalde
4-Dannique Wilson-FR-D-Jamaica
5-Bella Luis-FR-D-Corpus Christi
6-Sonia Hernandez-FR-D-Dallas
7-Kiara Wright-SO-M-North Richland Hills
8-Aalyse Ward-F-M-Carrolton
10-Davia Richards-SO-F-Jamaica
11-Brailee Burlingame-FR-F-Corpus Christi
12-Cali Triggs-SO-M-Mansfield
13-Natalie Monta-FR-M-Gainesville
15-Trinity Brown-FR-F-Joshua
16-Alex Reyes-FR-M-Irving
17-Ashlynne Newman-FR-M-Mansfield
18-Milan Shakespeare-Simms-FR-D-England
19-Gaia Cheis-SO-M-Italy
20-Kylee Richardson-FR-D-Abilene
21-Daisy Altamirano-SO-F-Duncanville
22-Daniela Cerda-SO-M-Mesquite
23-Harley Ojemann-SO-D-Cypress, TX
28-Caydence Johnston-FR-GK-Benbrook, TX
RS-Samara Sanders-D-Mansfield, TX
Head Coach-Paul Davenport
Assistant Coach-Ivan Franco
Hill College Women's Soccer Team Accolades
Region V Champions 2022, Nationals 4th Place 2022
Region V Champions 2021, Nationals 5th place 2021
Region V Champions 2020
Region V Champions 2019, District Champions 2019, Nationals 5th place 2019
Region V Champions 2018
Region V Champions 2017
Region V Champions 2016
Region V Champions 2015
Region V Champions 2014
Since joining Hill College in 2010, Davenport's women's soccer programs have achieved the following: 13 combined Region V titles, 3 District titles, and 6 trips to the NJCAA National Championship tournament.
For more information on the Hill College Women's Soccer program, please visit the team's website at https://www.hillcollege.edu/Athletics/Soccer-Women/W-Soccer.html.