New coaching staff looks to continue legacy of Hill College men's soccer program
  Jessyca Brown
  Thursday, August 17, 2023 11:41 AM
  Athletics
Hillsboro, TX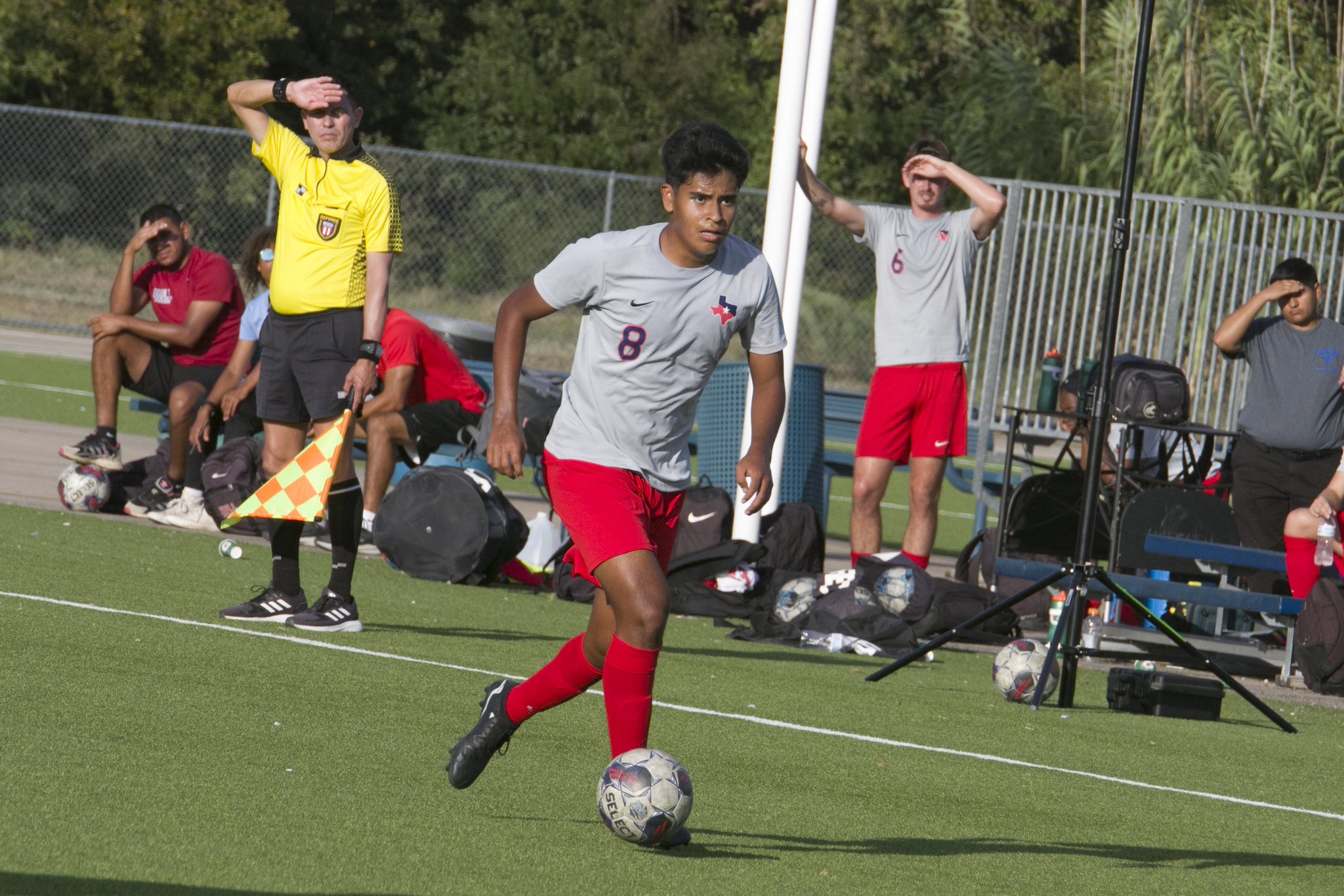 Even though longtime Hill College Head Soccer Coach Paul Davenport has stepped away from the men's soccer program this season – now serving as head coach only for the women's team – he made sure the men's team was in good hands by hiring a protégé as well as a former student-athlete to the coaching staff.
Dejan "Milo" Milosevic, who played professionally for the Dallas Sidekicks following an exceptional college career at both Texas Wesleyan University and Arizona Western College, also previously served as an assistant coach for Davenport for two seasons – helping lead the Hill College women's team to a pair of Region 5 Championships and an appearance in the District Finals in 2018.
"When the opportunity came, my wife and I both said we needed to go back to Texas," Milosevic said. "I do take pride in this program. Hill was the first college-level coaching job I had – and from there it all took off for me. Coach Davenport and I had success in those two years working together in the past, and I am looking forward to working with him again."
Milosevic added that he felt Davenport was an "NJCAA coaching living legend" with numerous titles under his belt over the past 13 years.
"Our expectations this season are to win Region 5, win District and go to Nationals," Milosevic said. "I truly believe we can do it, but it will take a lot of hard work and discipline…but these men have proven so far that they can achieve these goals."
Milosevic said nine student-athletes will be returning to the Hill College men's team this season, and he also believes the entire team will contribute in some form or fashion this season.
"After accepting the position just two months prior to the beginning of the preseason, I had to speed up the recruiting process and bring as much quality as possible," Milosevic said. "We brought in 18 new student-athletes, and the team has done very well so far."
"The men are working very hard, and they are accepting ideas of how we want to look as a team and as a program overall," he added. "We are taking things day by day, game by game…and I believe if we do that, we will be successful. Currently, the entire team is showing signs of unity and wanting to do the best for themselves and for the team."
The last time the Hill College men's team won a Region 5 Championship was 2019, but Milosevic looks to change that outcome. However, he also knows his student-athletes will be facing some great competition this season from conference opponents like Ranger College and Western Texas College.
Also, other powerhouses on this year's schedule include Tyler Junior College and Eastern Oklahoma State College – both making appearances in last year's National Tournament.
"We have a great opportunity to test ourselves versus some top-quality opponents," Milosevic said.
Another new face to the Hill College men's and women's soccer programs this season is assistant coach Ivan Franco.
Franco was a former men's soccer player at Hill College who went on to excel at Davis and Elkins College (Division II) in West Virginia, was recently hired as assistant coach for both the men's and women's programs. He will be floating between both the men's and women's soccer teams this season.
"It's great to have [Ivan] with us," Milosevic said. "He is someone that knows and understands how our programs function, and he has tremendous potential to become a head coach in the near future."
The Hill College men's soccer team will continue to play all of its home games this season at Gateway Park, 4327 E. First Street, in Fort Worth.
2023 Hill College Men's Soccer Roster
1-Hector Lorenzo-FR-GK-Gainesville
2-Cesar Gamez-SO-RB-Rowlett
3-Tom Bailey-SO-D-Reading, England
4-Marlon Takudzwa Meda-FR-D-Harare, Zimbabwe
5-Edward Gallardo-SO-M-Dallas
6-Mavroudes Katsantonis-SO-M/D-Nicosia, Cyprus
7-Juan Yman-SO-F-Dallas
8-Aleksa Vasilijevic-SO-M-Krusevac, Serbia
9-Justin Martinez-FR-S-Pampa
10-Fernando Espinsoza-M-Fort Worth
11-Deion Miller-SO-F-San Jose, Costa Rica
12-Javier Quezada-SO-CDM/RB-Dallas
14-Juan Tibaduiza-FR-M-Bogota, Colombia
15-Federico Confaloni-FR-M/AM/RW-Falerone, Italy
16-Gava Guilherme-SO-CB/RB-Sao Paulo, Brazil
17-Samael Munoz-FR-M-Pampa
19-Francisco Cruz-SO-M
20-Ricardo Lozano-SO-M-Tegucigalpa, Honduras
21-Kenny All Hakazimana-FR-AM-Quebec City, Canada
22-Stafan Radovanovic-FR-M-Medvedja, Serbia
23-Mane Birovljev-F-M-Belgrade, Serbia
24-Ryan Magurno-SO-D
25-Stefan Donovic-S-D-Belgrade, Serbia
26-Daishin Sunaga-SO-GK-Chiba, Japan
27-Jose Mansivais-D-Gainesville
28-Jeffrey Rivera-SO-GK-Dallas
Head Coach-Dejan Milosevic
Assistant Coach-Ivan Franco
Hill College Men's Soccer Team Accolades
Region V Champions 2019
Region V Champions, Plains District Finalists, Nationals 2016
Region V Champions, Plains District Champions, Nationals 2015
Region V Champions, Plains District Champions, Nationals 2014