Hill College cross country program grows to 23 student-athletes
  Jessyca Brown
  Thursday, September 7, 2023 9:05 AM
  Athletics
Hillsboro, TX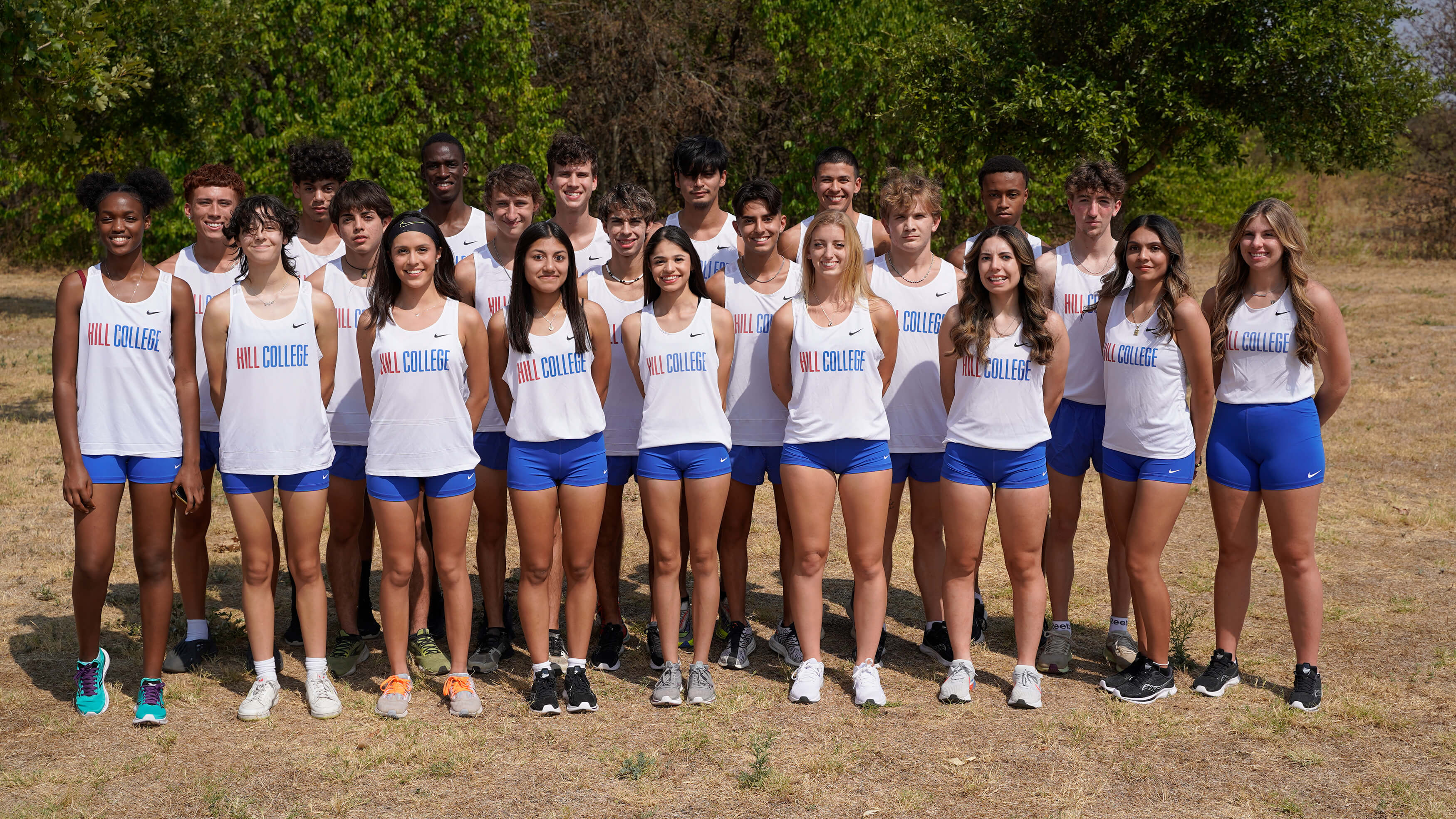 Hill College's cross country program has grown from just three runners in 2021…to 11 in 2022…to 23 student-athletes in 2023.
Head Cross Country and Track Coach Greg Lautenslager said he's delighted to have such a large number of men and women participating this season.
"I walked into the team room for my season-opening address to an audience of runners who filled every chair," Lautenslager said, "and I thought…we're going to need a bigger room."
Lautenslager also said that's a great problem to have – and he's especially excited to field a full women's team this season.
"We only needed a staff car to go to meets the first year," he added, "Now we need a bus. I can't wait until we pile out at our first meet."
Hill College's first cross country meet of the season will be Saturday at the Gerald Richey UTA Invitational at Lynn Creek Park in Grand Prairie.
The men's team, which captured its first-ever NTJCAC title last season, hopes to improve on its 11th-place finish at the 2022 NJCAA Cross Country Championships.
Returners from last year's men's team include Lyndon Orr, who was the team's second runner much of last season; and Adrian Moreno and Jonniel Sanchez, who were the team's sixth and seventh runners, respectively.
Lautenslager said he hopes Josh Gill and Jose Alfonzo will fill the gap left by All-American Jared Lautenslager, who earned a full scholarship to Manhattan College in New York. Gill, a freshman from Nelson, New Zealand, was the 2022 New Zealand Junior Road Race Champion and men's Under 18 bronze medalist at the 2021 New Zealand Cross Country Championships. UT-Arlington transfer Alfonzo boasts a 1,500m track time of 3:55.
Another welcome addition to the men's team includes transfer Kalil Bell from Grapevine, who was Ranger College's top runner at the 2021 NJCAA Cross Country Championships.
Hill also welcomes NCTC transfer Jesus Flores from 2022 State High School Cross Champion Whitesboro, freshmen Faizone Ogendo from Kenya, Sam Falkstein from Allen, Nicholas Sullins from Brownsville, Trenton Pentecost from Aubrey, Enrique Caraveo from Alvarado, Kristian Fontanez from Penelope, and Obed Cruz from Hillsboro.
On the women's team, Kimberly Mata from Alvarado returns after setting school records in the 5,000 meters in cross country and in the 1,500m and 3,000m on the track. Other returners include 800m school-record holder Bridget Boeche from Riesel, Yvette Clarisse from Fort Worth, and Jiylene Santiago from Keene.
Keene's 2022 state high school cross country qualifier Laila Vasquez leads a large cast of freshmen which includes Cassilyn Jaecks from Denton, Analia Menendez and Jazmin Oviedo from Arlington, and Keysha Gil from Alvarado.
Hill College will use Saturday's 5K race in Grand Prairie, the Metroplex Twilight Cross Country Meet in Bedford (Sept. 22), and the DBU Old Glory Gallup at Lynn Creek Park (Oct. 7) as tune ups for the NJCAA Region V Championships in Hobbs, New Mexico, on Oct. 28 and the NJCAA Championships in Huntsville, Alabama, on Nov. 11.
2023 Hill College Men's Cross Country Roster
Jose Alfonzo, SO, Venezuela
Kalil Bell, SO, Grapevine
Enrique Caraveo, FR, Alvarado
Obed Cruz, FR, Hillsboro
Sam Falkstein, FR, Allen
Jesus Flores, SO, Whitesboro
Kristian Fontanez, FR, Hillsboro
Josh Gill, FR, New Zealand
Adrian Moreno, SO, Mesquite
Faizone Ogendo, FR, Kenya
Lyndon Orr, SO, Wylie
Trenton Pentecost, FR, Aubrey
Joenniel Sanchez, SO, Mesquite
Nicholas Sullins, FR, Brownsville
2023 Hill College Women's Cross Country Roster
Bridget Boeche, SO, Riesel
Keysha Gil, FR, Alvarado
Cassilyn Jaecks, FR, Denton
Kimberly Mata, SO, Alvarado
Analia Menendez, FR, Arlington
Jazmin Oviedo, FR, Arlington
Jilyene Santiago, SO, Keene
Laila Vazquez, FR, Keene
Clarisse Yvette, SO, Fort Worth

Head Coach: Greg Lautenslager
Student Manager: Naomi Chavez