Texas Heritage Museum Executive Director and Chief Curator John Versluis receives the Jesse Jones Leadership Award
  Jessyca Brown
  Wednesday, October 11, 2023 8:36 AM
  Texas Heritage Museum
Hillsboro, TX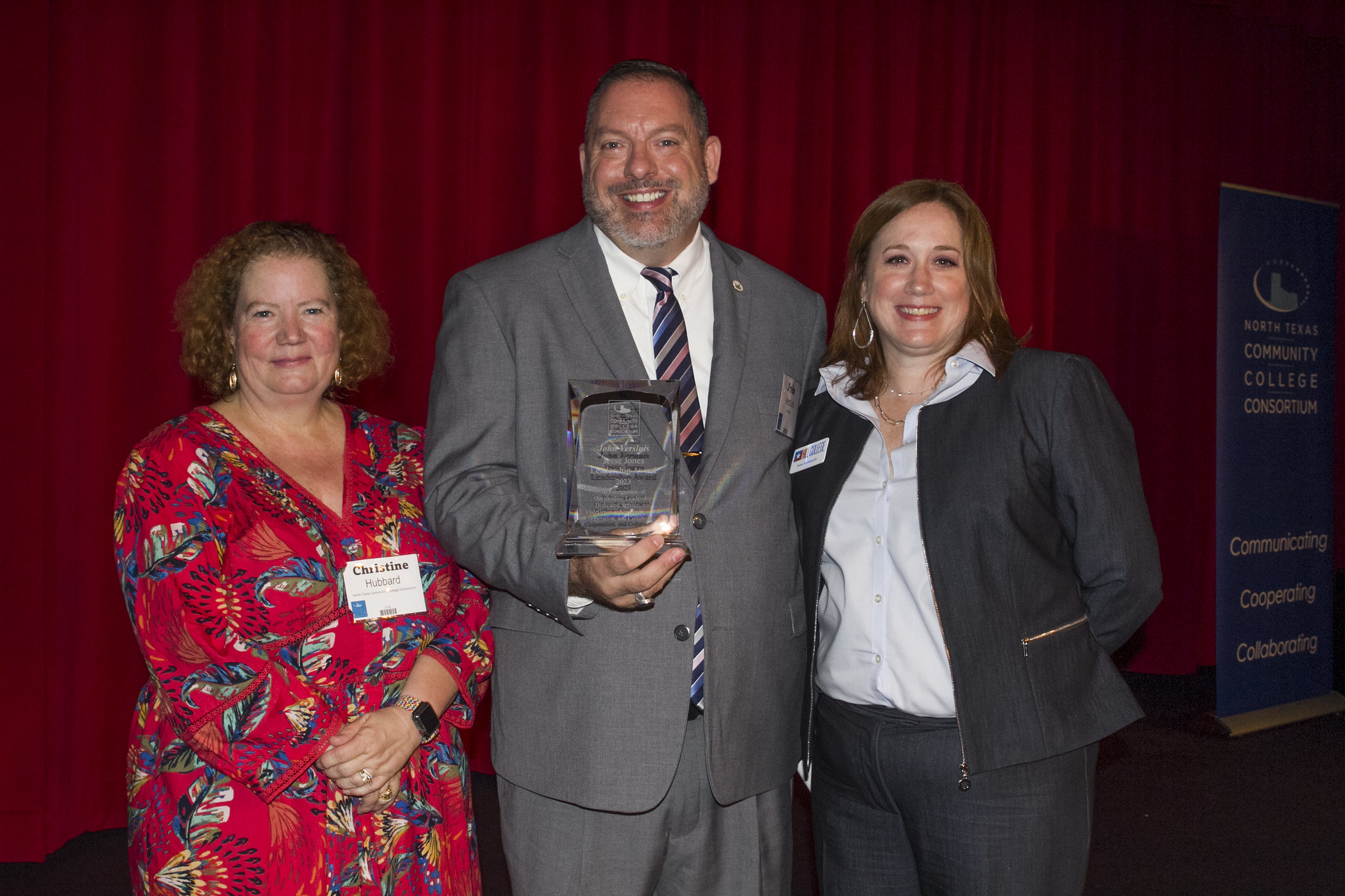 On October 6, 2023, Texas Heritage Museum Executive Director and Chief Curator John Versluis received the North Texas Community College Consortium Jesse Jones Leadership Award.
Each year, the Jesse Jones Leadership Award, the North Texas Community College Consortium's (NTCCC) highest honor, is presented to an individual who has shown the leadership, service, collaboration, and excellence in communication, to the North Texas community colleges they serve.
For 19 years, Versluis has guided the Texas Heritage Museum with dedication and direction, providing an invaluable historical resource to the college and the North Texas region.
Earlier this year, under Versluis's guidance, the museum received accreditation by the American Alliance of Museums, a national recognition to the museum for its commitment to excellence, accountability, high professional standards, and furthering institutional advancement. Accreditation is a very rigorous but highly rewarding process that examines all aspects of a museum's operations.
"We are very happy that John has received this much deserved recognition. Hill College and the Hillsboro community are truly blessed to have him and the abundance of value he adds," said Hill College President Dr. Thomas Mills. 
The Texas Heritage Museum is dedicated to serving an active role in the educational and service missions of Hill College and brings increasing national and international prestige to the college. The museum's mission is to explore Texas and Texans during wartime and how those experiences affect us today.
The museum is comprised of three divisions: the Galleries & Collection, the Historical Research Center, and the Hill College Press. It is also the home of the Official Texas State Medal of Honor Memorial to Native-Born Texans, which honors Audie Murphy, the most decorated soldier of World War II, and Samuel Dealey, the most decorated sailor of World War II, as well as other native Texans who demonstrated courage and character in times of war.
Governed by a Board of Directors made up of a group of leaders from community colleges in the North Texas region, the NTCCC's mission is to provide professional development and growth through seminars, conferences, workshops, forums, and other collegial communications in order to support member colleges in institutional planning, research, and effectiveness. By facilitating collaboration between member colleges, the NTCCC provides high-quality, low-cost professional development to support state, regional, and institutional strategic goals.