Men's Cross Country team finishes 13th in the nation
  Jessyca Brown
  Thursday, November 16, 2023 1:25 PM
  Athletics
Hillsboro, TX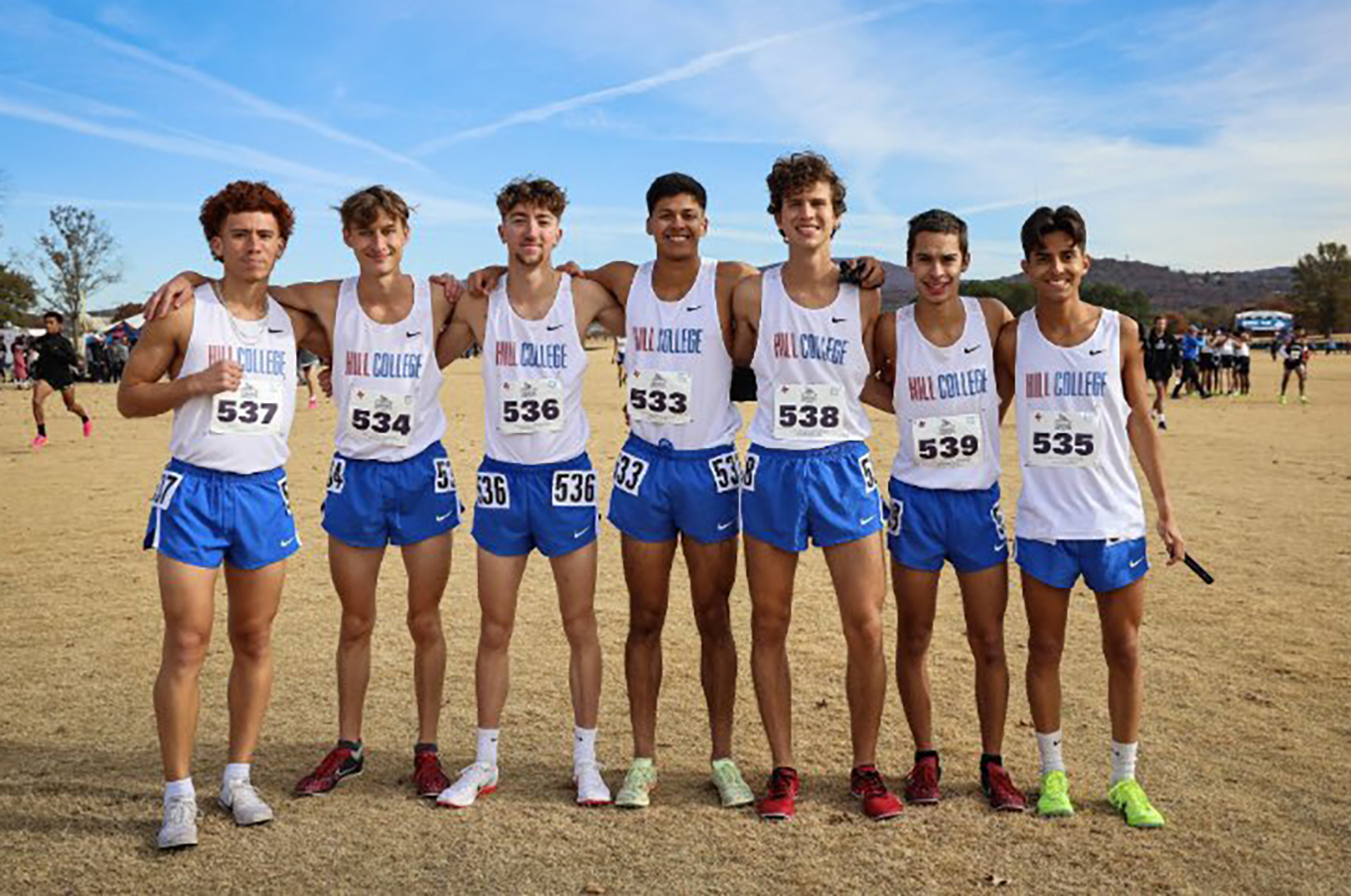 Hill College concluded its 2023 Cross Country season with a 13th place finish at Saturday's Men's Division I 8-kilometer race at the NJCAA Championships in Huntsville, Alabama.
Freshman Joshua Gill (New Zealand) led Hill College with a 27th-place finish and lifetime best time of 24:51 in a field that included 208 runners and 28 teams at John Hunt Park.
Sophomore Jose Alfonzo (Venezuela) followed in 50th place with a time of 25:44; freshman Sam Falkstein (Allen) 89th in 26:48; sophomore Lyndon Orr (Wylie) 122nd in 27:27; sophomore Jesus Flores (Whitesboro) 124th in 27:31, sophomore Adrian Moreno (Mesquite) 126th in 27:35; and freshman Nicholas Sullins (Brownsville) 132nd in 27:43.
Hill College finished with 387 points, first among NTJCAC teams and third among NJCAA Region 5 teams.
Despite not reaching its goal of a top-10 finish, Hill College Coach Greg Lautenslager was pleased with the team's effort.
"Josh ran an amazing race to finish 27th place in his first national junior college race, and Jose and Sam were solid," Coach Lautenslager said. "Even with personal best efforts from our other runners, we would not have finished better than 13th. So, we did the best we could."
The season looked promising for Hill College after sweeping North Central Texas College to win the Metroplex Twilight Cross Country Meet in Bedford on Sept. 22.
Gill won the four-mile race by 26 seconds over Kalil Bell, who ran one of the best races of his career to finish second. Alfonzo, Sullins, Orr, and Falkstein weren't far behind. But Bell suffered a season-ending shin injury following the race and Sullins also was slowed after the DBU Old Glory Gallop Meet on October 7 by a shin problem that plagued him the rest of the season.
"We were looking like a top-five team at nationals until the injuries happened," Lautenslager added. "Fortunately, we were very deep. Sam, Jesus, and Adrian really came through for us."
Hill College won its second straight NTJCAC title and was runner-up to then top-ranked New Mexico Junior College at the NJCAA Region 5 Cross Country Championships in Hobbs, New Mexico on Oct. 28 in only the third year of the program's existence.
Hill College now turns its attention to track season with the first indoor meet scheduled for January.
For more information on the Hill College Men's Cross Country & Track program, please visit https://hillcollegeathletics.com/sports/mxc/index.