Men's Cross Country team wins second straight conference title, places second overall at regional meet
  Jessyca Brown
  Wednesday, November 1, 2023 8:32 AM
  Athletics
Hillsboro, TX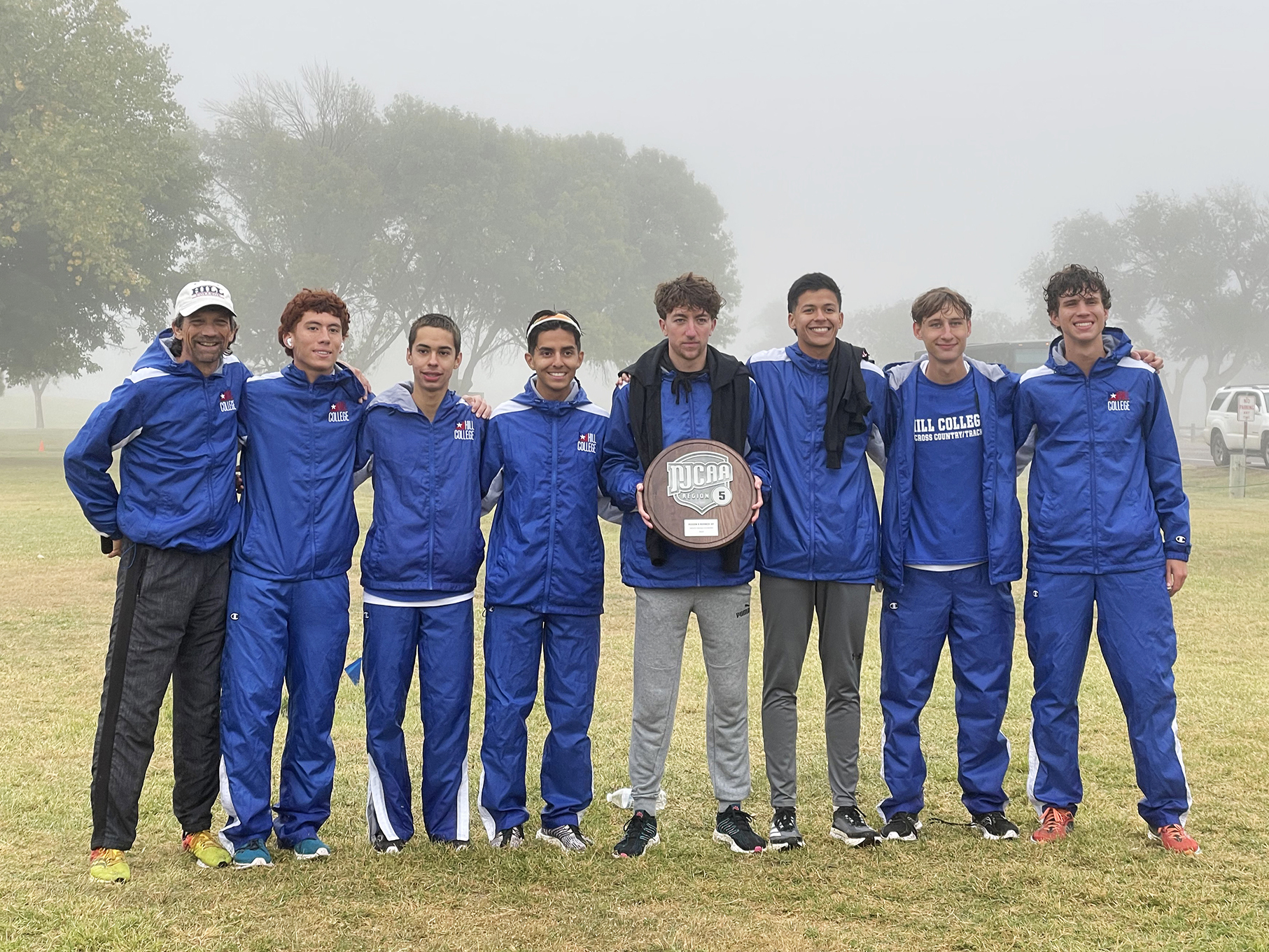 The Hill College Men's Cross Country team won its second straight NTJCAC Title and finished second in the NJCAA Region V Championships Saturday at Harry McAdams Park in Hobbs, New Mexico. The conference and regional races are held together but scored separately.
Head Cross Country Coach Greg Lautenslager said the Hill College men's team was lauded by NJCAA officials as it hoisted the runner up plaque during the awards presentation for its performance in only the third year of the school's cross country program.
Josh Gill, freshman from Nelson, New Zealand, carved through the pack after the first two miles of the 8K race to finish fourth regionally with a time of 24:32 – claiming the conference individual title as well as the best-ever finish in Hill College history.
Gill's teammate Jose Alfonzo, a sophomore from Venezuela, followed in sixth place with a time of 24:53.
Lyndon Orr, a sophomore from Wylie, placed 13th (25:37) overall; freshmen Sam Falkstein from McKinney, 20th (26:12), and Nicholas Sullins of Brownsville, 26th (26:44), rounding out the scoring for the Rebels.
Hill College finished with 69 points in the regional meet. Only New Mexico Junior College, the top-ranked team in the NJCAA, finished better with 32 points. El Paso Community College was third with 72 points and Ranger fourth with 91 points.
In the conference tally, Hill College had 23 points to 33 for Ranger College and 77 for North Central Texas College.
Other non-scorers on the Hill College team were Mesquite sophomore Adrian Moreno in 27th place (26:55) and Whitesboro sophomore Jesus Flores in 30th place (27:10). Hill's number three runner, Kalil Bell from Grapevine, was sidelined with a shin injury.
Hill College will compete in the NJCAA Championships in Huntsville, Alabama on Nov. 11.