Men's soccer team ends 2023 season one game shy of National Tournament appearance
  Jessyca Brown
  Thursday, November 16, 2023 1:29 PM
  Athletics
Hillsboro, TX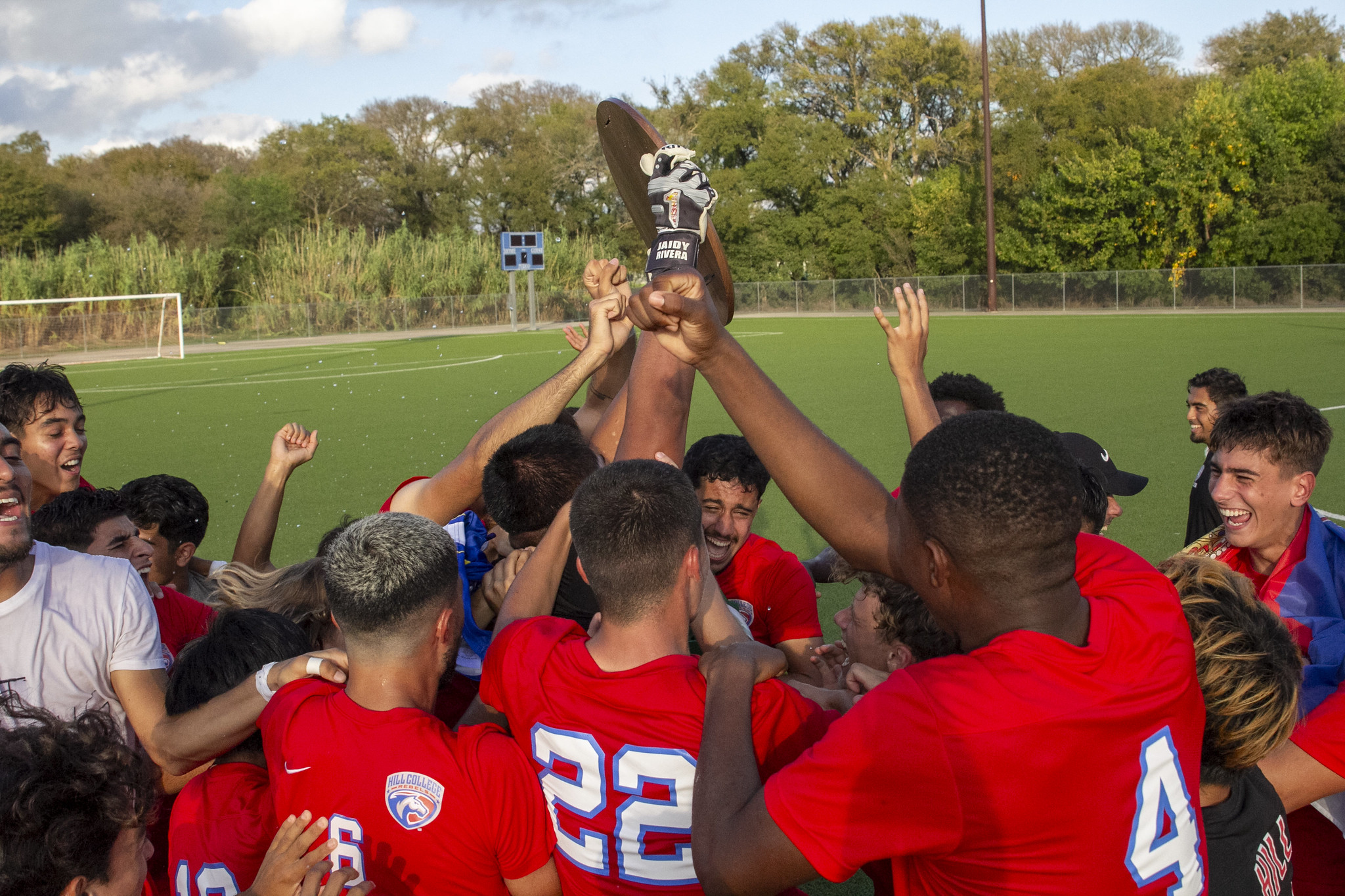 Although the Hill College Men's Soccer team ended its memorable season just two weeks ago in Oklahoma with a tough District loss to Murray State College, Head Coach Dejan "Milo" Milosevic was more than pleased with the overall outcome of the 2023 season.
"It was a very good first season for this group," Milosevic said. "To be honest, we achieved more than I expected considering how much time we had to put this team together."
Milosevic was hired by the college in June and only had months – if not weeks – to put together his team. Following a shaky start to the 2023 season, the team fought its way into the regional tournament, eventually became Region 5 Champions, and were just one win away from an NJCAA Division I National Tournament appearance.
"I am proud of the way our players went about it all season," he added. "The team worked very hard since Day One. We knew that we would have ups and downs all season, but we believed that we would peak at the right time...which actually happened. I am proud of the fact that all of those on the team had their stamp on winning the Regional Championship."
Milosevic said although his team had faced adversity all season – they continued to respond in key moments even when the chips were down.
Hill College was able to defeat Ranger College, 2-0, on Oct. 13 in a "winner advances match" to earn a spot in the Region 5 Championship game where the team faced conference-rival Western Texas College – a team who had beaten the Rebels twice earlier in the season.
Down by one score, Hill College freshman Stefan Radovanovic's (Serbia) unassisted goal at the 75:00 mark eventually sent the game into overtime. The game remained tied through two overtime periods before eventually heading into a shootout where sophomore goalkeeper Jeffrey Rivera (Dallas) denied 2-of-4 attempts by Western Texas College, while Hill College made all four shots on goal to cap off a dramatic Region 5 victory and ending a four-year drought from a regional title for the men's program.
"We used 22 players in that game," Milosevich said, "which is an amazing fact and speaks about us as a team."
Things started well against Murray State College at the Mid-South District Championship Nov. 5 in Tishomingo, Oklahoma, as the Rebels scored first. However, the team went on to lose the contest, 3-1.
"At the District Final, we faced a very well-coached and well-organized Murray State team." Milosevic said. "We were good in first 20 minutes of that game and had the lead, but suddenly the momentum shifted, and we were not able to recover from it. Murray State deserved that win, and they proved it by also defeating No. 2 Eastern Florida at the National Tournament on Sunday."
Milosevic said although the 2023 season is officially over for the men's program, he's already looking forward to next season.
"I am very excited for the next season," he added. "I will have more time to recruit now. All recruits will be carefully selected. We have set a standard and culture this year, so there is limited room for mistakes. Our goals will be to win the Region, win the District [Hill College will be hosting next season] and be one of the top 10 teams in the nation. Some might think it's not realistic, but I truly believe it is...especially after the season we had."
Milosevic is also proud that a few of his players received conference and regional accolades, but reiterated these recognitions are not just the products of the players, but products of the entire team.
All Conference/All-Region players from Hill College are Mane Birovljev, Stefan Radovanovic, Rylan Magurno, and Jose Mansivais. Honorable mentions include Tom Bailey, Marion Meda, Stefan Donovic, Javier Quezada.
"Lastly, I would like to thank our Vice President of The Student Experience Lizza Ross, Interim Athletic Director Randy Graves, Women's Soccer Coach Paul Davenport, my assistant Ivan Franco, our Athletic Trainer Allan Dinsmore and his helpers, Cassandra and Juan, for the support that they have given me and our men's team all season," Milosevic said. "Thank you to my players for believing and trusting in me and my philosophy. I am so proud of them!" And thank you to my beautiful family for all of their support at home! The future is bright for Hill College Men's Soccer."
For more information on the Hill College Men's Soccer program, please visit https://hillcollegeathletics.com/sports/msoc/index.