Volleyball team ends 2023 campaign following postseason play
  Jessyca Brown
  Friday, November 17, 2023 11:50 AM
  Athletics
Hillsboro, TX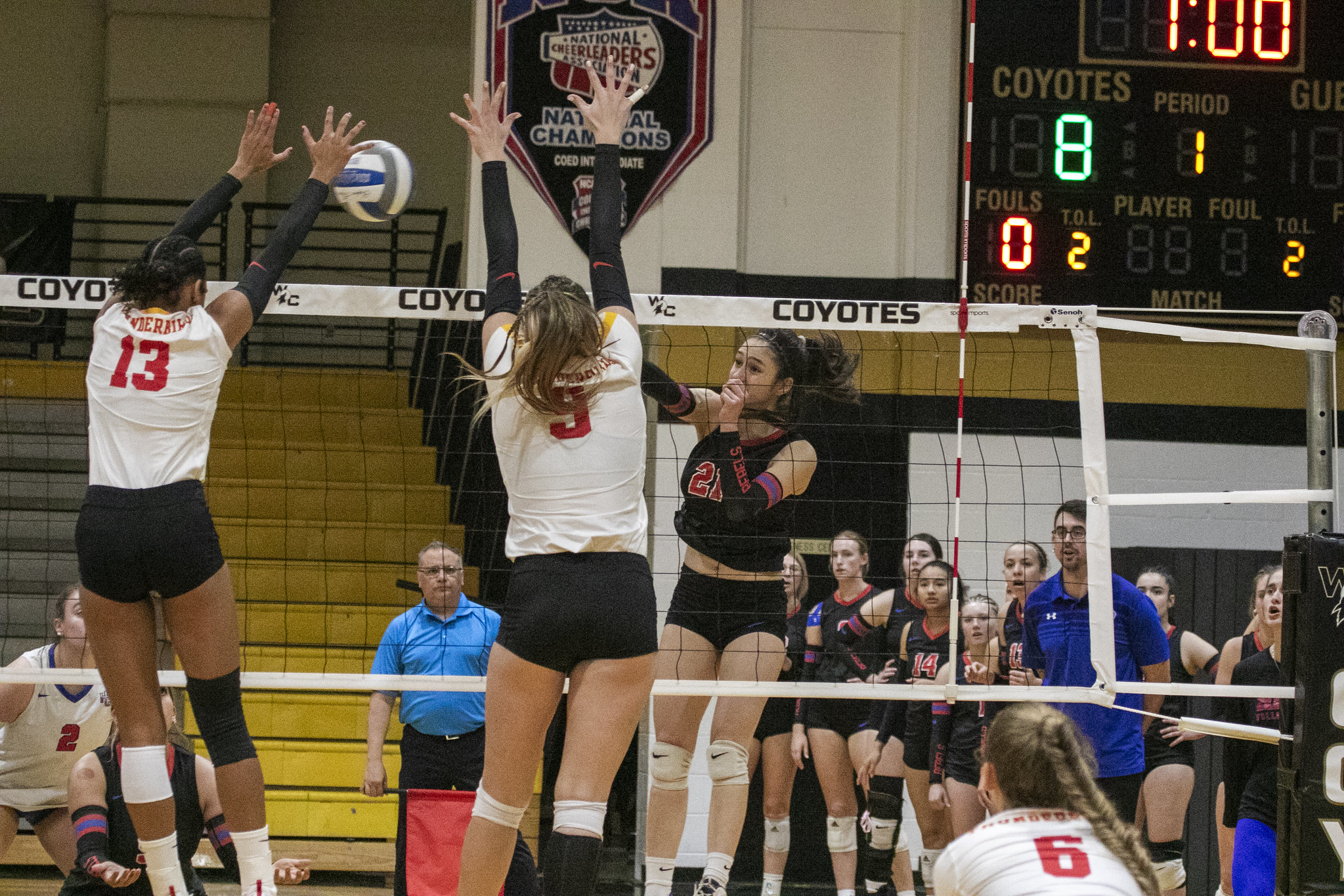 Although Hill College's volleyball team ended its season with a pair of losses at the Region 5 Volleyball Tournament in Weatherford, Head Coach Dylan Butler hopes to take the positive moments during the 2023 season and apply them to next year's group.
The Rebels (16-19, 9-5), who placed third in conference, lost to New Mexico Junior College, 3-1, in the Region 5 Quarterfinal round before also falling to Western Texas College, 3-1, to officially end their season.
"Finishing third in conference was not new territory," Butler said. "The last two seasons, we had gone into postseason as a third seed."
Prior to this season, the volleyball team had won back-to-back Region 5 titles – even though they did not secure conference titles.
"Over the years, we have had some hiccups during conference play," Butler said, "but in our eyes, as a program, the postseason is a clean slate – and all that matters for us is that we learn from those hiccups and do our best to not make those same mistakes again."
"Losses are all opportunities to learn and improve," he added, "and I think the overall season will eventually pay dividends for our freshmen going into next season."
Butler also said this year's team struggled with the grind of a long season condensed into a short time span. The Rebels also faced what Butler called eight "Top 20 worthy" teams throughout the course of the season – including conference champion Weatherford College (ranked No. 12 in the nation) who is still competing this week in the NJCAA Division I National Volleyball Tournament.
"The mental toll of playing several games early in the season hit our game hard following the first half of conference play," Butler said. "We also struggled to stay healthy – as cold and flu season hit us especially hard right before the Region 5 Tournament – but we played beyond my expectations under the cards we were dealt."
A season's worth of hard work and determination paid off as the Rebels landed several student-athletes on the All-Conference list of accolades.
Sophomores Daniela Gomez (Colombia) and Klaudia Brzeczkowska (Poland) were named First Team All-Conference selections; sophomore Natalie Hildebrand (Flower Mound) and freshman Josie Rollins (Cleveland) earned Second Team All-Conference honors; and freshman Mina Petrovic was placed on the NTJCAC Region 5 All-Tournament Team.
As a team, the Rebels finished the season ranked sixth in the nation in total aces, 10th in aces per set, 13th in total digs, 19th in digs per set, 32nd in total kills, 48th in kills per set, 30th in total assists, 42nd in assists per set, 43rd in total blocks, and 53rd in blocks per set.
Individually, Daniela Gomez ranks second as the Hill College All-Time Service ace leader with 110 career aces. She also finished fifth on the Hill College All-Time Kill leader board with 594 kills (70 kills behind last year's NTJCAC Player of the Year Izabella Ceratti).
Sophomore Samantha Stahl (Lewisville) finished as the fifth place Hill College All-Time Service ace leader with 78 career aces.
Butler said many of his sophomore student-athletes are currently weighing their offers and options from four-year universities. However, Gomez already said she will be playing with Ceratti at Park University in Missouri.
"Next year's team will have a large sophomore class who gained a lot of experience from this season," Butler said, "and they are hungry to get back in the gym in February when our spring season begins."
Butler also said although he is still working on solidifying the freshman class of 2024, he's happy with the incoming talent already headed to Hillsboro.
For more information on the Hill College Volleyball program, please visit https://hillcollegeathletics.com/sports/wvball/index.