Automotive students rebuilt 1953 Packard Patrician engine 
  Jabria Washington
  Wednesday, June 5, 2019 3:57 PM
  Academics
Hillsboro, TX
Automotive students rebuilt 1953 Packard Patrician engine 
For immediate release
Date: June 3, 2019
Contact: Robin DeMott, Director of Communications, rdemott@hillcollege.edu, O: 254-659-7771, M: 309-368-7786
CLEBURNE, TEXAS–The spring semester Engine Repair class over hauled a 1953 engine for a Packard Patrician. This car was donated to the Auto Program five years ago and it never ran well. Two years ago we took the engine apart and found that several hydraulic lifters collapsed and a crack in the number one cylinder. 
 "We finally managed to get the budget to allow us to do this and had the engine repaired so it could be rebuilt," said Dr. Jerry Hampton, automotive instructor/program coordinator. "These students will likely never see another one of these engines in their lifetime unless they specialize in restoration."
 The students replaced pistons, rings, bearings, valves, and valve springs and prepared the cylinders for the rebuild procedure. The proof of any rebuild is that the engine runs and on May 6, the engine finally started and ran. 
 What made this such an unusual hands-on learning and teaching experience was that this engine is no longer made. Packard went out of business in 1956 and most other automobile manufacturers stopped building this type of engine prior to 1954.
 This is called a "flat-head" engine since all the valves and springs are located in the engine instead of the cylinder head as all engines are today. 
 To learn about the automotive program at Hill College, contact Hampton at 817.760.5552 or jhampton@hillcollege.edu or visit the website at https://www.hillcollege.edu/academics/Business-Industry/AutoTech.html. 
###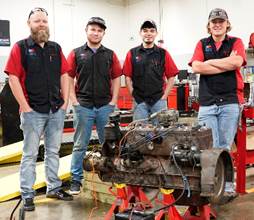 L to R: Hill College automotive students: Joe Daniels, Godley; Kaden Fields, Muenster; Omar Gonzalez, Cleburne; and Dylan Reed, Burleson.