Hill College awards students and Phi Theta Kappa Honor Society inductees at annual Spring Fling Award Ceremony
  Jessyca Brown
  Monday, May 15, 2023 10:22 AM
  Student Activities, Academics
Hillsboro, TX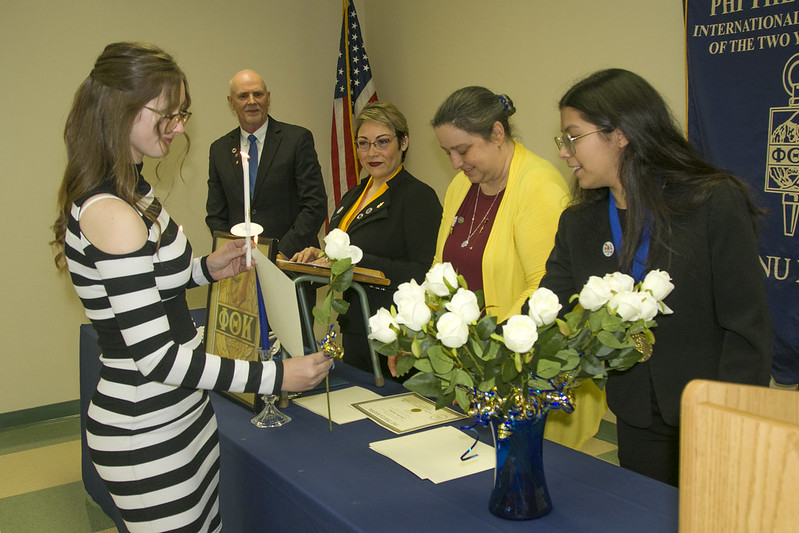 In April, Hill College celebrated student achievements at the annual Spring Fling Awards, including academic awards and Phi Theta Kappa (PTK) Honor Society induction, at both the Hill County and Johnson County Campuses.
All students who received an academic award were nominated by faculty members as individuals who achieved academic excellence during the 2022–2023 school year.
Phi Theta Kappa is an international honorary scholarship society for community and technical colleges whose mission is to recognize the academic achievement of college students. The Hill College chapter, Nu Xi, was established in 1964. Requirements for inductees include a minimum of 12 hours of college-level coursework completed at Hill College with a cumulative GPA of 3.5 and who are currently enrolled at Hill College.
Hill College President Dr. Thomas Mills congratulated the students for their academic achievements. "It was an honor for us to, once again, recognize our students this spring for their outstanding academic achievements. Recognizing the effort that went into making these students successful is certainly one of our favorite activities each year," said Mills.
Academic award nominees at the Hill County Campus—Madison Babers, Madison Bailey, Kelee Bednar, Addison Benson, Michele Billings, William Blanton, Jayce Bolin, Mark Boson, Hannah Brackin, Kaeleb Calk, Joseph Carmona, Gaia Chies, Ainsleigh Craig, Manuela Cripa Nasser, Hillery Duncan, Daniel Evans, Carlea Farnsley, Matthew Foley, Russell Flournoy, Marisol Fraga, Guilherme Gava Campos Rodrigues, Alexis Golleher, Edward Gonzalez Gaspar, Taylor Gore, Hannah Hagle, Samuel Hagle, Ariel Hancock, Jesse Harris, Natalie Hildebrand, Samantha Hopkins, Annabelle Hoyler, Patrice Kimbrell, Elsa Landeros, Hannah Lane, Jared Lautenslager, Katherine Lewis, Madyson Lewis, Kayd Brennan Lightsey, Lainelys Lopez Quintana, Tatenda Machirori, Angel Martinez, Eli Mendoza, Larissa Mendoza, Zack Meunier-Gorman, Ainslee Morris, Kelsy Murillo, Blane Mynarcik, Perla Nabor, Amy Newkirk, Mason Nome, Lyndon Orr, Jarelly Pacheco, Emily Palomo, Clare Parkhill, Leonel Parra Montoya, Jimmy Perez, Brian Peters, Camden Petty, Magdalena Pino Vicencio, Trena Pustejovsky, Ximena Quinones, Chloe Randall, Natalie Raschke, Carolina Reyes, Robyn Reyna, Adam Roberts, Crayton Rogers, Hannah Roznowski, Catalina Sanchez, Emma Schulte, Kathryn Seely, Janet Shikuku, Winston Smith, Benjamin Tate, Kory Terrell, Mallory Todd, Kaylee Traylor, Jada Valentine, Jelle Van Der Lelie, Evelyn Virrueta Aleman, Kadence Warren, Phineas Warren, Abby Weaver, Joseph Weil, Sophie Weiss, Blake Welch, Deandra West, Evan Whisenhunt, Devin Wilson, Jayla Wilson, Elanna Yates
Academic award nominees at the Johnson County Campus—Dustin Abbott, Abigail Alcala, Amaya Allen, Harry Alsfine, Marnette Andrade, Ethan Babbage, Christian Bersuch, Terra Campbell, Jess Casazza, Jeni Chappell, Kaleigh Cobb, Elontinique Coleman, Ethan Deck, Nathan Dodson, Preston Dutschke, Samantha Engels, Jasmine English, Branna Fischer, Houston Fisher, Elliot Fraire, Derek Gonzalez, Donnie Gonzalez, Julie Gonzalez, Grady Gregg, Autumn Johnson, Christie Kellam, Brittany Kellum, Dane Kirk, Bryn Lain, Steve Leonard, Kara Lewis, Jacqueline Lopez, Jennifer Luna, Gage McClure, Bryan Mendoza, Olivia Monrose, Ainslee Morris, Samira Murillo, Maegan Muse, Nico Ohayon-Wilkinson, Stephanie Orozco, Ethan Page, Prem Patel, Justin Pinkerton, Faith Rimmer, Braden Snider, Hope Summers, Bailey Swaim, Jacob Uzee, Diego Villescas, Levi Waite, Chelsea Walker, Anna Walraven, Alyson Whalen, Laikyn York, Tyler Zopp
Phi Theta Kappa Honor Society fall 2022 and spring 2023 inductees for Hill College
 Fall inductees—Sheilla Amporful, Lillian Boatwright, Jessica Lynn Casazza, Madison Chadwick, Danyalle Delagarza, Stephanie Elizalde, Samantha Engels, Russell Dale Flournoy Jr., Rachel Foley, Melissa Gillin, Elizabeth Godwin, Emily Hadley, Catherine Heiner, Kara Lewis, Ainslee Morris, Perla Nabor, Taylor Pambamrung, Brian Peters, Tiffany Rendon, Robyn Reyna, Aubrey Suazo, Kayla Tanzini, Ayden Thao, Caitlin Williamson, Anna Zumpano
Spring inductees—Raylee Bowling, Estephanie Castaneda, Summer Chen, Madeline Cowan, Neal Flippin, Joseph Grimes, Elsa Landeros, Erika Grace Markham, Brie Presley, Charles Rubel, Christina Sulak, Hope Summers, Kaitlyn Tyk, Jaycie Walpole, Addison Willingham