Hill College hosts annual Teen Forum event honoring 10 local high school students
  Jessyca Brown
  Wednesday, May 10, 2023 8:03 AM
  Enrollment Management, Academics
Hillsboro, TX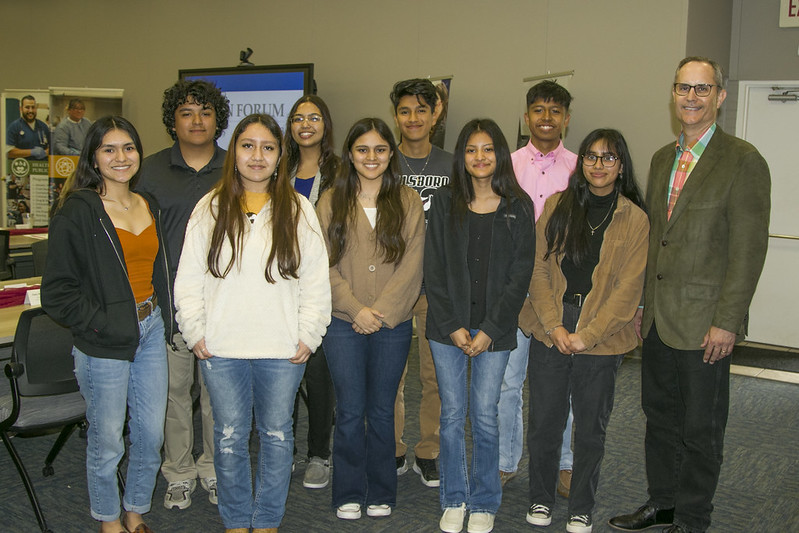 On Friday, April 28, 2023, Hill College awarded $10,000 in scholarships to 10 Hillsboro ISD (HISD) seniors as part of the college's annual Teen Forum scholarship program.
The program, which was started by Hill College in collaboration with Hillsboro ISD in 2005, is designed for high school seniors to develop and enhance their knowledge in pursuit of their post-secondary education at Hill College.
Each year, Hillsboro ISD seniors who are interested in attending Hill College are given the opportunity to participate in the Teen Forum program. Ten seniors are selected based on the recommendations of their teachers, counselors, and program applications.
Hill College hosts this annual event every spring to honor these students with a campus tour, lunch, and an open forum question-and-answer session with Hill College faculty and staff. The event better prepares students for the next steps in furthering their education and generates excitement about the opportunities available to them.
"Being on the Hill College campus helps the students feel more comfortable and familiar with the college and application process," said Hillsboro ISD's tenth and eleventh-grade counselor Karen Schroeder. "They also share with their friends and classmates their experience on campus, which in turn helps encourage others to attend as well."
"This is a long-standing program that connects high school graduates to programs, services, and personnel at Hill College to help jumpstart their college experience," she said. "Learning about the college's many programs and services in a small group format helps students be prepared and ready for classes to begin in the fall."
At the end of the event, Hill College President Dr. Thomas Mills presented each candidate with a $1,000 Teen Forum scholarship to attend Hill College full-time in the fall 2023 semester.
"It is great to have ten of our seniors receive scholarships to Hill College," Schroeder said. "We are so excited for these students and their futures. Thank you, Hill College and Dr. Mills, for your continued generosity year after year."
This year's Teen Forum scholarship recipients are Karen Almazan-Compean, Dacy Garcia, Johnny Hernandez, Delta Johnson, Lenin Ocana, Jennifer Quiros, Clarissa Ramos, Jennifer Salvador, Erika Serrano, and Milton Soto.
"Hill College is excited for the 10 Hillsboro ISD seniors selected for this year's Teen Forum and to have the opportunity to present them with a $1,000 scholarship for the 2023–2024 academic year. The Hill College and HISD partnership is a long-standing relationship and continues to present educational opportunities to local students and further higher education in the community," said Vice President of Student Services Lizza Ross.