Four Hill College faculty awarded research study grants
  Four Hill College faculty awarded research study grants
  Friday, September 7, 2018 2:05 PM
  General Events
Hillsboro, TX
Four Hill College faculty members were selected to receive research study grants last spring, which were to be used to fund continuing research in their fields of study over the summer. The faculty members selected were: Jackie Armstrong, computer science instructor; Kyle May, criminal justice program coordinator and instructor; Lauri Heintz, biology instructor; and Tom Sale, art instructor. The grant winners presented their findings during Hill College All-Staff Day in August.
Armstrong attended the 22nd Colloquium for Information Systems Security Education in New Orleans, La. She used the networking, paper presentations, keynote speakers and industry/governmental briefings regarding the latest in Cybersecurity Education to create the Hill College Networking and Cybersecurity pathway. There are currently more than 5.5 million unfilled jobs in the U.S. and Cybersecurity job openings are forecasted to grow by over 50 percent in the next two years. 
May traveled to Philadelphia, Pa., and New York, N.Y. to learn about criminal justice in America and the American structure of government. During the trip, May visited the Eastern State Penitentiary Historic Site, the National Constitution Center, Independence Hall, the National September 11 Memorial & Museum and the Ellis Island Immigration Center. 
Heintz researched plant and animal wildlife at the Grand Canyon. While there she studied the California Condor, a bird that went extinct in the 1980s. She also researched the flora and fauna of the region and fossil finds in the Canyon. She filmed a brief lecture at the Canyon to be used in the classroom for discussion on the geologic time scale. 
Sale has been working with the nonprofit group for autistic adults, Austen's Autistic Adventures (AAA), on a Vehicle and Transportation Pageant. Sale used the grant to learn how to use a CNC laser cutter at Maker's Edge Makerspace in Waco, which he used to create templates for small cardboard vehicles that were put together with the group. The pageant will be part variety show, part theatrical production and part fashion show, showcasing creative ideas by some of the AAA member and other kids and performers from the community. Sale will integrate the CNC laser cutting into prototype designs in his 3D design class. 3D printing and laser cutting will also be added into his art appreciation classes, in which students will be given a demo and the possibility of creating something for a class project.  
Read more about Mr. May's and Ms. Heintz's research on the following blog: https://hill-college-rebels.blogspot.com.
###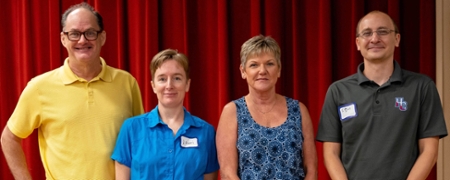 Photo cutline from L-R: Tom Sale, art instructor; Lauri Heintz, biology instructor; Jackie Armstrong, computer science instructor; Kyle May, criminal justice program coordinator and instructor