Hill College Dual Credit Team visits service area ISDs
  Hill College
  Monday, October 15, 2018 10:54 AM
  General Events
Hillsboro, TX
Hill College Director of Dual Credit Regina Paneitz, Recruitment Coordinator Emily Jessup, an academic advisor and a member of the Student Information Services department make up a team which is visiting service area ISDs to work with dual credit students. So far, the team has visited five schools, and has another 11 school visits scheduled. The team is helping students to apply and enroll in Hill College courses, as well as award them with 15 Forward shirts. 15 Forward is named for the major achievement of completing the first 15 semester credit hours at Hill College.
"We want to make sure our dual credit students know they are a part of the Hill College family," said Paneitz.
Dual credit is a process by which a high school student enrolls in a college course and receives simultaneous academic credit for the course from both the college and the high school. While dual credit courses are often taught on the secondary school campus to high school students only, a high school student can also take a course on the college campus or online and receive both high school and college credit.
For more information about dual credit, please visit www.hillcollege.edu/dualcredit, or contact Regina Paneitz at rpaneitz@hillcollege.edu or 254.659.7620.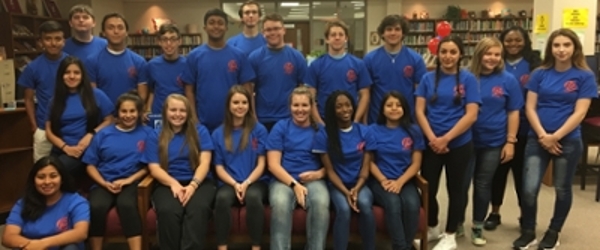 Students at Hillsboro High School were recently awarded their 15 Forward shirts.