Hill College Holistic Wellness Pathway approved by International Consortium for Health and Wellness Coaching
  Hill College
  Thursday, January 24, 2019 8:22 AM
  Academics
Hillsboro, TX
Hill College is proud to announce that the Hill College Holistic Wellness Pathway is now an approved Health and Wellness Coach Training & Education Program by the International Consortium for Health and Wellness Coaching (ICHWC), and is currently one of only three schools in the nation be able to make this claim. 
When Dr. Lori Rose, biology instructor, first starting designing the Hill College Holistic Wellness Pathway, her goal was to create a regionally accredited school that would be both affordable and thorough, including national board requirements for all three tiers of the holistic health world: nutrition, clinical herbalism, and wellness coaching. Nationally accredited holistic schools can accept financial aid, but only regionally accredited schools can transfer classes to other four-year public colleges. To date, no other regionally-accredited college has met these criteria; especially no college as affordable as Hill College. After obtaining designation as an approved Holistic Nutrition Program by the holistic nutrition board (NANP), the last tier of the trifecta was the same designation from the holistic wellness coaching board (ICHWC).
What's the difference between a holistic nutritionist and a holistic wellness coach, and why is it so important that the Hill College Holistic Wellness Pathway trains students in both? The scope of practice for a nutritionist is to use knowledge of the effect of food on anatomy and physiology to create nutrition and supplement-based protocols designed to help clients address health issues. There is heavy training on biochemistry and supplements, some general herbal supplement training, some general lab assessment training, with a minor focus on lifestyle and stress management. There is little to no focus on goal setting strategies, and sessions are generally the nutritionist providing a detailed protocol for you to implement on your own between sessions.
Contrary to nutritionists, health coaches at coaching-only schools do not learn a great deal about biochemistry, anatomy and physiology, or nutrition. Instead, health coaches focus heavily on learning how to conduct client-led coaching sessions by asking high-mileage questions. These questions help clients identify their own personal strengths, and assist clients in using those strengths to achieve their self-decided lifestyle goals. This may or may not involve changes in food choices, and if it does the choice and implementation method comes from the client's own ideas as opposed to long protocols developed by the coach.  Health coaches are not trained to identify lab patterns, or recommend supplements or herbs.
Thanks to the Holistic Wellness Pathway, students at Hill College learn both, in addition to clinical herbalism, obtaining the most thorough training available in order to truly help their clients create lasting, healthy changes.  Students can take just the six credit-based holistic wellness courses alone or part of another degree in a different field, or they can take the courses as part of a degree path to obtain an Associate of Science that can lead to more advanced nutrition certifications or be used to pursue additional fields of study. 
Local students can take the program in person and work with our partner four-year college upon completion, and distance students can take the entire program online.
The Hill College Holistic Wellness Pathway is so unique because students will be trained under all three holistic paradigms and will be equipped to help clients nutritionally and herbally, and know how to help them successfully reach their wellness goals through the health coaching skills they learn, all at an affordable price.
Clients who come to students of the Hill College Holistic Wellness Pathway won't have to pay for 3 different holistic health professionals, because graduates of the program will be three professionals in one.
The program includes both the educational and clinical requirements for herbalism, as well as herbal medicine making and permaculture organic veggie and herb growing.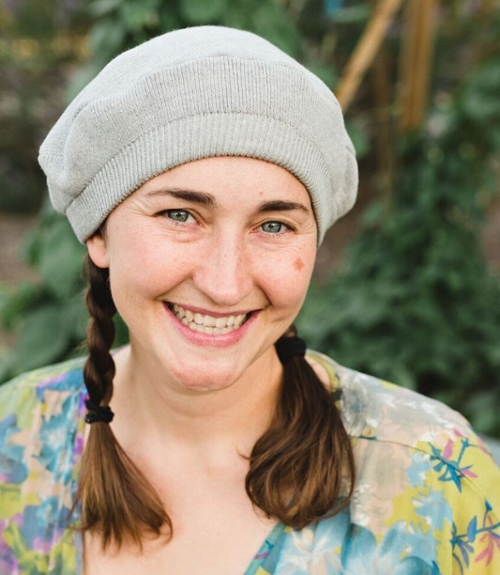 Photo cutline: Dr. Lori Rose