Historical "Falling Leaves" quilt donated to Texas Heritage Museum
  Robin DeMott
  Tuesday, April 23, 2019 12:00 PM
  Texas Heritage Museum
Hillsboro, TX
The Texas Heritage Museum has received a donation of a 200-year-old quilt called "Falling Leaves," from David and Roberta Skelton of Hillsboro and Bill and Maria Skelton of Hawaii. 
The bedspread was woven by a slave on a plantation in South Carolina, owned by William James and Lavinia Pringle Fullwood in the 1820s. It was woven on a 14 ½ foot hand loom in three sections, which are pieced together to make an eight-foot by eight-foot bedspread. This used a standard size four shaft loom, typical of the time. The pattern is found from the Carolinas to Canada, and is probably of Scottish origin. It is called many different names in different places: Turkey Tracks in Ontario, Canada and Double Bowknot in Kentucky. The Skelton's family from South Carolina called it, "Falling Leaves." 
The bedspread was woven out of the Fullwood's cotton and wool from their sheep, dyed brown using walnut shells. It has been passed down from mother to daughter for nearly 200 years. Only twice has it been passed from mother to son; it passed from the Fullwoods to the Boyds to the Purifoys to the Skeltons. 
The Fullwoods moved to South Carolina, near Charleston, prior to the Revolutionary War. Captain William Fullwood fought in skirmishes and provided food such as cattle and sheep for the patriots. They owned a barony of land in Sumter, Clarendon, and Salem Counties. William James Fullwood married Lavinia Pringle on May 8, 1824. 
The Fullwood's family lost most of their land and possessions during the Civil War. Their son, James Alexander, brought the bedspread with the family as they immigrated to Texas in 1873 and bought 320 acres near Eureka, Texas, just east of Corsicana. 
Upon first seeing the quilt in the display case at the Texas Heritage Museum, Roberta immediately commented, "I'm so pleased how it is displayed. Jeannette would be so thrilled with how it is laid out." 
Nora Jeannette Purifoy Skelton, the mother of Bill and David Skelton, lived the last eight years of her life in Hillsboro. She passed away in 2016. She brought the bedspread to David and Roberta's home to put on display when their house was on the Heritage Homes Tour in 1983. The family decided to donate the quilt because, "It is such a historical piece and such a significant place where the community at-large could be able to appreciate it."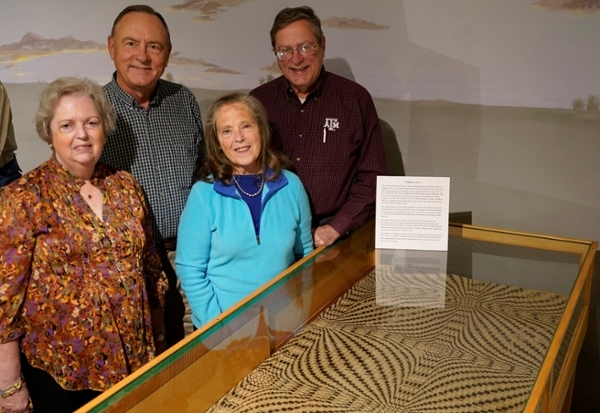 Photo cutline L-R:
Maria and Bill Shelton and Roberta and David Shelton pictured with "Falling Leaves" quilt, which the families donated to the Texas Heritage Museum.