Alumni Spotlight: Former Lady Rebel Haylee Williams
  Jessyca Brown
  Friday, November 13, 2020 10:20 AM
  General Events
Hillsboro, TX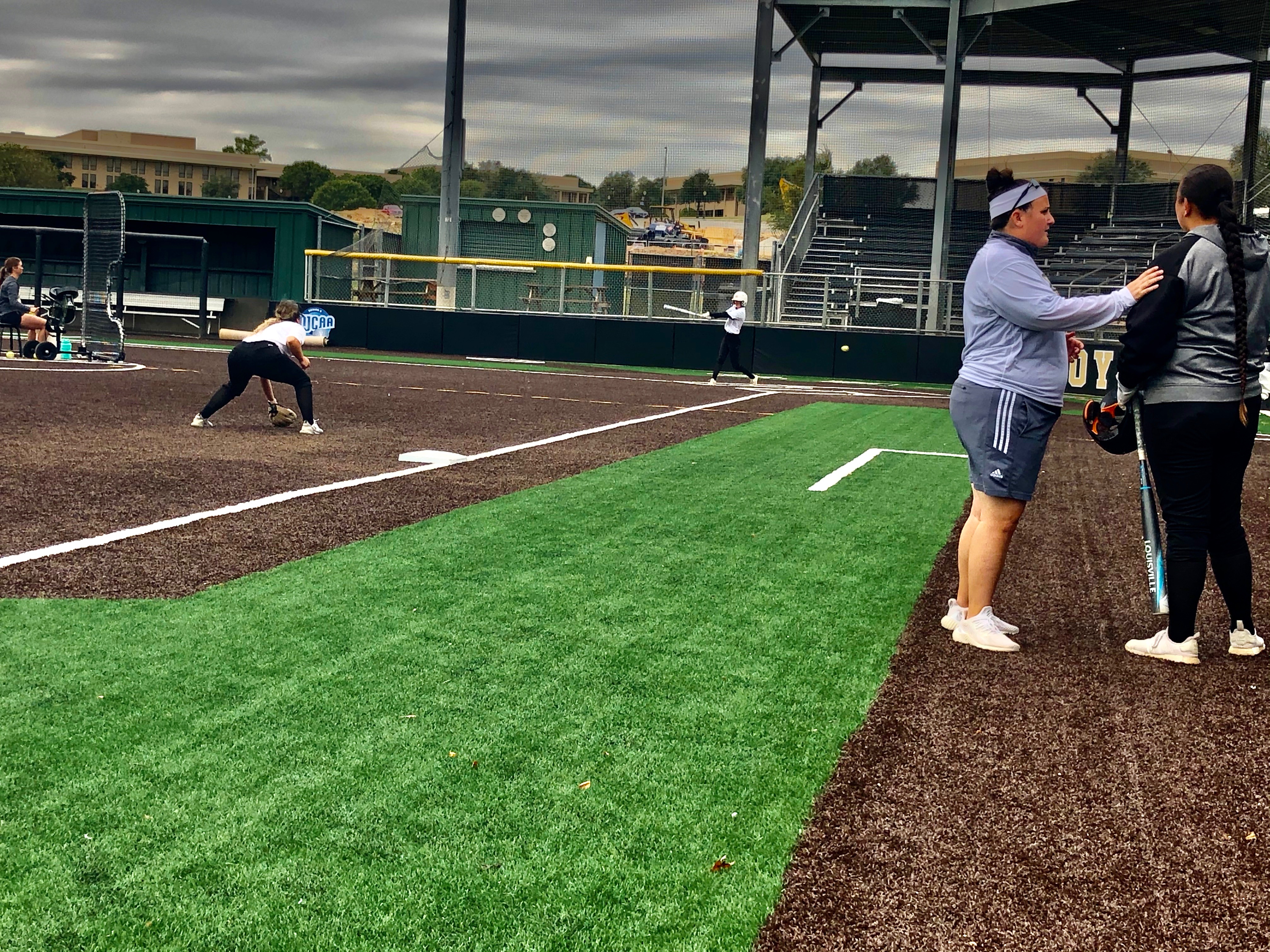 As a homeschooled high school graduate who moved to Texas from Georgia in the middle of her senior year, Haylee Williams was certain she didn't have a shot at making the 2004-05 Lady Rebels softball team. And at the time, she didn't even consider it.
Williams enrolled in courses at the Hill College Johnson County Campus (JCC) in the fall of 2003. In her spring semester, her weight training teacher, then volleyball coach Nicole Smith, made a suggestion that forever changed Williams' life.
"Coach Smith asked me if I played sports and told me to get in touch with Hill College's softball coach, Leigh Ebner," Williams said. "I hadn't played softball in a year. I couldn't believe it when Coach Ebner willingly let me try out."
Williams was equally surprised when Ebner offered her a two-year scholarship that summer to play second base for the Lady Rebels.
"I was working every day and going to school, and here was Ebner saying Hill College would pay for me to play for them," Williams recalled. "I couldn't turn it down. I missed playing and being part of a team."
The 'Hill' Experience
Williams continued pursuing her Associate of Arts degree—now as a student-athlete at the Hill County Campus—in fall 2004 and moved into the residence halls with her teammates.
Academically, her upbringing wasn't a traditional one in comparison to her peers, but Williams said the structure and discipline her mom provided in her homeschooling taught her how to be a student, and Hill College was the ideal transition into her collegiate life.
"Going to Hill was a bridge for me between homeschool and a four-year school," she said. "I hadn't been in a public classroom since the third grade, and I probably would have been pretty overwhelmed with university class sizes."
 Instructors like MaryAnn Dietiker and Kathy Hilbert, who still teach English at the college today, gave Williams the support and encouragement she needed to be successful.
"At Hill, you could talk to your professors whenever you needed anything," she said. "Everyone was always so helpful. Mrs. Dietiker and Mrs. Hilbert were two of my favorite teachers ever. They gave me the confidence I needed to be a college student."
But it wasn't all class and practice for Williams and the Lady Rebels. Williams' favorite memory was her senior year when the team went deep in the regional tournament.
"We had the underdog mentality at Hill," said Williams. "And that year we went into the tournament as the last seed, so no one thought we had a chance. But we just kept winning. We played hard and had great team chemistry."
After claiming it was Ebner's birthday at every restaurant the team ate at throughout the tournament, a sombrero birthday hat became one of several props in the dugout during games—and happens to still hang in Ebner's office today.
"Every game was a blast," Williams laughed. "I would go back in an instant."
Williams earned All-Star and All-Conference honors her senior year. Her hard work and dedication to her studies paid off, as she also earned her associate's degree from Hill College and a full scholarship to play third base at Henderson State University in Arkadelphia, Arkansas in fall 2006.
Rebel Moving On
Feeling apprehensive about moving five hours from her family, Williams said it was Ebner's continued support that helped her step outside of her comfort zone.
"She told me it was okay to leave," said Williams. "I don't think I would've gone if she hadn't been there to tell me this was good for me, I could do it, and I was going to be fine. She shaped the rest of my life."
Williams' academic experiences at Hill College also prepared her for her move to Henderson State and provided her with the habits she needed to continue to be a successful student-athlete.
"Hill taught me how to be adaptable and get the most out of what I was doing at the time," she said.
At Henderson State, Williams earned All-Gulf South Conference honors, as well as Academic All-American status, and received her bachelor's in Sports Management in 2008. Williams stayed on with the program as a graduate assistant while working on her master's degree in Sports Administration and helped coach the top defense in the Gulf South Conference and the 13th-ranked defense in the country.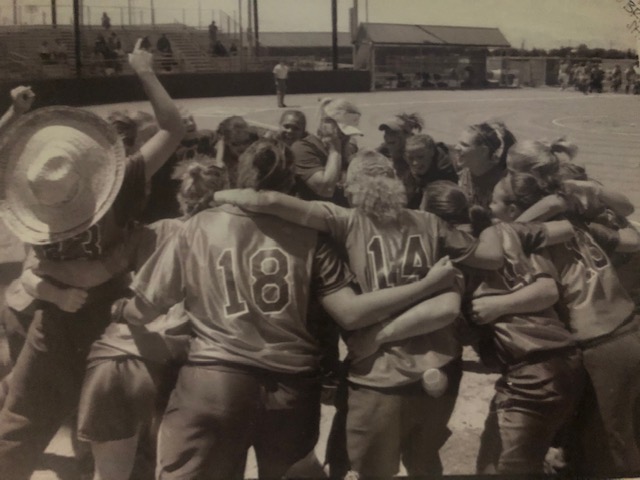 From Player to Coach
In spring 2011, Williams had her first shot at a full-time coaching position. She was offered the assistant position at Weatherford College in Texas. It was Ebner who recommended her for the job.
"She's been pretty fundamental in a lot of aspects of my life," said Williams. "I owe her a lot."
Weatherford had just started its softball program and didn't have a full team yet, so Williams was able to help build the program from the start. The Coyotes had their first official season in spring 2012 after which the head coach was let go.
With only one season as an assistant coach under her belt, Williams stepped into the interim head coaching role in spring 2013 and led her young team to 50 wins, conference and regional championships, and the fourth round in the national tournament. The instant success turned her interim head coaching position into a full-time one.
"Looking back now, I didn't have any idea what I was doing," she said. "I planned on being an assistant coach for a while because I didn't have a lot of knowledge or experience yet. I was just piecing it together."
Her head coaching record says otherwise. Through the 2019 season, Williams' teams are 268-111 overall including seven postseason berths, two conference championships and a national tournament berth. In 2017, the coaches of the Northern Texas Junior College Athletic Conference (NTJCAC) awarded Williams with the conference's first-ever Coach of the Year award.
"It's nice to have validation from the people who you respect the most in your field," she said. "It motivates me to get better every day."
For Ebner, she saw a former athlete come full circle when Williams stepped into her head coaching role.
"To see someone you coached grow and build a program like she has and have the success she has had is an amazing feeling," Ebner said. "I am so proud of what she has accomplished and of what she has yet to accomplish. It has been one of the most rewarding experiences in my professional career."
Williams said she wouldn't be where she is today without Ebner.
"When I played for her, she always let us be ourselves, have fun, and encouraged us to go do bigger and better," said Williams. "I always felt like she cared about me as an individual and that I mattered more to her than what I could do for her on the softball field. And that was a big deal to me."
Now, Williams uses her own experiences as a Lady Rebel and lessons learned from Ebner and others along the way to help guide her own players and coaching philosophy. One of her messages to her players is to take care of their grades.
"Softball is great, but I remind them that they have to be here for the right reason, which is to get that diploma," said Williams. "No one is going to care what their batting average is when they apply for a job. They have to take care of their grades and go to class."
Her other message? She has their back.
"The best thing I can do as a coach is build relationships with my kids so that they have the capacity to believe in themselves, each other and me and know that I have their back and so do their teammates," said Williams. "I love being a coach more than I love softball because I love my kids."