Community Leader Spotlight: Hill County Judge Justin Lewis
  Jessyca Brown
  Friday, November 13, 2020 10:12 AM
  General Events
Hillsboro, TX
Read November 2020 | Issue 1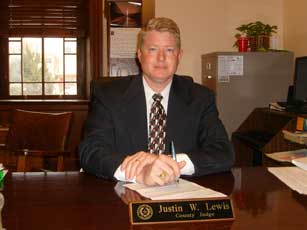 Justin Lewis never expected to become Hill County's sitting judge for 14 years.
Lewis, born and raised in Kingsbury, moved to the Hill County area in December 1999 after graduating from Texas A&M University with a degree in Agricultural Development to run the northern division of his family's farm, which primarily consisted of raising turkeys.
Not long after he started working on the farm, Lewis and his wife Courtney decided they needed to learn Spanish so they could better communicate with their staff. So, they enrolled in a night class at Hill College.
"Hill College made us feel welcome and like we were going to learn something there," Lewis said. "It was a wonderful opportunity for my wife and I to meet some people around the county, as well as to have a serious learning experience as non-traditional students."
Lewis served as a trustee and secretary of the Aquilla Independent School District Board of Trustees during this time and was surprised when he was approached in the fall of 2005 about running for county judge. In addition to thinking he was too young, Lewis also didn't have the financial means to support a political campaign.
But regular 80-hour work weeks—that at times only allowed him to see his wife and young daughter an hour or two a day—made getting out of the turkey business seem like a practical option. So, he and Courtney sat down to consider it.
"We crunched some numbers and looked at some trends, and we thought we maybe had a chance at pulling this off," he said. "So, we ran."
In 2006, Lewis, with Courtney by his side, beat out a long-term incumbent on a platform that promised change through increased economic development and transparency of the local government.
"It's all too often that our kids from Hill County grow up, go off and don't have something they can come back to, and we wanted to change that," said Lewis.
Lewis said he quickly learned that legal questions are a daily part of county government. And although county judges aren't required to have a law degree, his ongoing need to consult with the county's attorney for answers led him to pursue one at Texas Wesleyan School of Law in Fort Worth, now Texas A&M School of Law, in 2008.
"I realized I didn't have the judicial knowledge I thought I needed to do the job properly so I could best serve the people of Hill County," said Lewis. "So, for four years—nights, weekends and summers—we went back to school. And I say we because it was a family effort."
By the time he graduated with his law degree in 2012, Lewis and Courtney had added two more daughters—and a farm—to their family.
Lewis' knowledge of the law helped him work toward his goal of improving transparency throughout Hill County's court systems by making information about the courts more accessible to Hill County citizens through the county's website and the state's e-filing system.
"Getting people to understand how the court system works and how it operates in Hill County and then making that information easily available is important," he said. "We don't want people to spend their time and money appealing cases because they didn't have the information they needed to settle their case right away."
Lewis and his staff from other county offices have also revamped the court's old case filing systems and implemented a data management system for the Commissioner's Court that has proven to be invaluable in securing grant monies and guiding financial decisions. In the last 14 years, Lewis said the county has brought in a little more than $25 million in various grants.
"We've had quite a few presidentially declared disasters, and working with the Office of Emergency Management, we were able to successfully apply for those grant monies to get our county back to where it should be because we were able to keep track of the daily data," he said.
In terms of achieving economic development goals, Lewis said Hill College has made significant contributions to the area and is a huge asset to the community.
"Hill College is a bunch of folks with a can-do attitude who really do care about this community and making this part of central Texas a better place to live," he said. "They always meet the educational needs of our community by finding out what it is that we need whether that's finding new businesses or sustaining existing ones. Hill College has no problem stepping up and is continuously producing quality professionals from its programs."
Lewis attributes the progress his office, in partnership with other county offices, has made over the last 14 years to communication efforts.
"We have spent much of our time opening lines of communication not only with commissioners and elected officials, but other governments around us, state and local, senators, everybody you can think of," Lewis said. "It's important because we don't accomplish anything if we don't work together, and we can't work together if we don't understand each other."
In addition to serving as Hill County's judge, Lewis also serves as president of the Rural Planning Commission, Texas Association of Regional Councils and is the past president of the Heart of Texas Council of Governments. He is also the Chief Elected Official for Workforce Solutions for the Heart of Texas in Waco and a member of several other boards including Heart of Texas MHMR, Heart of Texas Economic Development District, and the Judicial Education Advisory Committee for the Texas Association of Counties. Lewis previously helped support the citizen driven outreach known as the Hill County Leadership Forum, which provides a larger voice for Hill County in Austin and Washington D.C.
"I love this job," Lewis said. "There's some satisfaction knowing at the end of the day that you accomplished something, you helped somebody, you helped your community be a little bit better. And I'm really thankful to the people of Hill County who let me do it."
JudgeLewis.jpg Cutline:
Hill County Judge Justin Lewis