Alumni Newsletter Community Spotlight: David Murdoch, Chisholm Trail Outdoor Museum CEO & Chairman
  Jessyca Brown
  Friday, April 16, 2021 8:52 AM
  Academics
Hillsboro, TX
When someone helps build something as grand as Cleburne's Chisholm Trail Outdoor Museum, one might think it was a realization of a lifelong dream. And although history is a love of the museum's charter president David Murdoch, he just happened upon what will undoubtedly become a great part of his legacy.
"There were two other gentlemen involved, and they had just moved the courthouse there," said Murdoch of the beginning of his involvement with the museum. "My ranch is right around the corner from there, so I just stopped by to see what they were doing, got to know them, and it became obvious pretty quick that they needed a quarterback. So, I just started to help them."
That was in 2003. Pretty soon, Murdoch was dressing in chaps saddled with ropes and six-shooters as one of a handful of cowboys for the museum's first annual event, Pioneer Days.
"The first time we had Pioneer Days, my wife walked past me three times asking people where I was. She didn't even recognize me because I had on my 10-gallon hat and my chaps," Murdoch laughed.
Murdoch's John Wayne attire may have been a disguise during that first event, but after 17 years of Pioneer Days, it eventually became a staple look for the museum's current CEO and chairman.
"I think you just have to love people, and you have to like history," Murdoch said. "And when you see these little kids' faces light up when you're standing there with all your stuff on and they come up and ask if they can hold your hand or take a picture with you, it pulls at your heart strings."
In March 2005, Murdoch helped incorporate the museum as a 501(c)(3) corporation, and donations have been coming in ever since, increasing the museum's attractions from Wardville's original log courthouse, three teepees and a pavilion to its current 23 exhibits.
Funding goes directly to maintenance, restoring existing artifacts and reproducing period structures, since the museum is an all-volunteer operation. So, Murdoch works hard to find discounted—preferably free if you ask him—services and materials to maintenance and improvements. Some of those services come by way of Hill College staff and students.
The Wardville jail cell exhibit, for example, features the jailhouse's original doors and bars, and Murdoch needed two prisoners for the wooden bunks he had made to complete the look. The mannequins he ordered arrived from New York in pristine condition, so he needed help making them look more like wild west prisoners than modern retail window dressers.
"I knew that wasn't going to work, so I called Hill College and asked if they had an art department," Murdoch said. "They sent Tom Sale, head of the department at the time, and he spent three hours out there putting dirt under their fingernails and giving them black eyes. Now they look like they belong in there."
The Terry Home Dog Run House that doubles as the Terry Texas Rangers headquarters and a law enforcement room was added in 2019, and students from the Hill College welding program built a wheelchair ramp and rails, as well as stairs in the building's back stairwell. Welding students also built and assembled the extensive framework of the museum's double-faced, v-shaped billboard.
"I got a quote from a sign company for $27,000 to make that sign, and money out of pocket for us ended up being $700," Murdoch said.
"I think it's a win-win thing," he added of Hill College staff and students helping with museum projects. "The welding department needs projects to do, and it saves us a lot of money. We furnish the materials, and they provide the labor."
Other museum attractions include a mule barn, blacksmith shop, schoolhouse, restored stagecoach, stage station and saloon, Wardville cemetery, and the Big Bear Native American Museum, all which Murdoch has helped stock full of authentic artifacts and memorabilia. Murdoch has also made the museum a place the community can frequent all year long by adding events such as the Texas Independence Day Alamo reenactment and gun fight skits, pow wows, monthly bluegrass concerts, Cowboy Christmas on the Trail, and school field trips.
"David has been totally instrumental in getting all of these events going because he knows everybody and everybody knows him," said Carrie Reynolds, the museum's on-site director. "He has volunteers and people instrumental in building things and bringing it to life. He's orchestrated the largest metal silhouette of a cattle drive in the nation. He's always inviting everybody out and making it worth the time to come out there and see it."
Continuous improvements and exhibit additions have increased the museum's tourism and recognition. Culturetrip.com, an online travel, food and art publication, took note in 2016 by ranking the museum among Texas' Top 10 outdoor museums, which Reynolds attributes to Murdoch.
"You really have to work at maintaining the museum, and keeping us at number one," she said. "David pretty much keeps all of us grounded. He's very focused, puts everything in perspective and keeps us all focused on the end goal. What he says is what he does. Nothing rattles him."
Murdoch's contributions to the community do not begin or end with being a cowboy who brings Johnson County's history to life for its citizens.
As a pastor of a small church in his hometown of Baytown, Texas more than 50 years ago, Murdoch found his calling early on to serve and counsel others, which has helped him in his role as a volunteer chaplain for the Johnson County Sheriff's Office (JCSO) for the last four years. He's on call 24/7 and can be found in his JCSO office on Tuesday and Thursday mornings.
"Chaplains are invited to the weekly staff meetings, and the sheriff takes up prayer requests each week. It's amazing," Murdoch said. "A lot of these people see things in a week that an average person doesn't see in a lifetime. So sometimes there are tears and sleepless nights, and I help them work through it."
His early start in ministry also inspired a lifetime of studying and researching the Bible, authoring four published Christian books, and overall servant leadership. For Murdoch, he can't help but be of service to others.
"There are three different stages in a person's life, according to the Bible," Murdoch said. "The first 30 years is a time of learning—you learn, get an education, experience life. From 30-60, it's a time of working and acquiring. And then from 60 on, it's a time of giving back. You learn, you acquire, and then you give back, and I think that fulfills the biblical definition of what a person does with their life. And that's part of it for me."
Since he and his late wife Martha moved to Cleburne in 1976, Murdoch has owned local businesses including Murdoch Enterprises, Inc., Rocaille Ranch and M & H Cattle Co. He has served as president of the Johnson County Habitat for Humanity, board member of the Cleburne Chamber of Commerce, and member of the Pinnacle 50 and Ag Breakfast clubs. He's the recipient of the 2009 Cleburne Rotary Club Service Above Self award, 2009 Cleburne Times Review Man of the Year award, 2015 Cleburne Chamber of Commerce Citizen of the Year award and 2019 East Cleburne Community Center Lifetime Service Award. He's currently a member of the Shepherd's Chapel church, Tuesday Forum, Cleburne Rotary Club and Johnson County Historical Commission.
Between his ranch, the museum and sheriff's office, writing a book now and then, being a father to his three children and a grandfather to his four grandchildren and great granddaughter, there isn't a lot of free time for Murdoch. And that's exactly how he likes it.
"I intentionally overload my donkey every day," Murdoch laughed. "I try to stay busy every day. I'm a firm believer that if you don't use it, you lose it."
David Murdoch at his surprise 80th birthday party at the Chisholm Trail Outdoor Museum last August.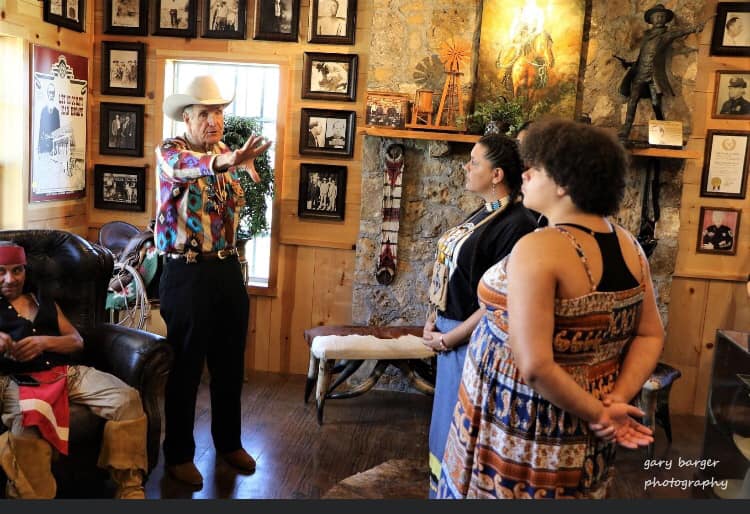 David Murdoch (left, standing) giving a tour of the Big Bear Native American Museum and the Chisholm Trail Outdoor Museum.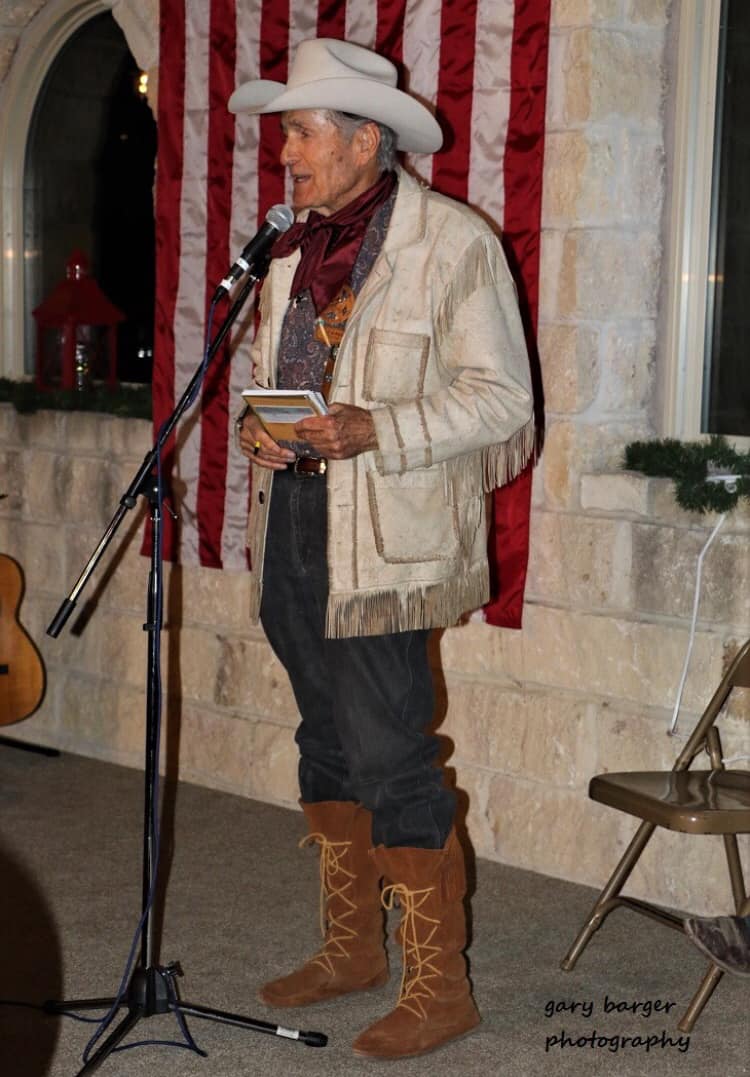 David Murdoch speaking at the 17th annual Pioneer Days in November.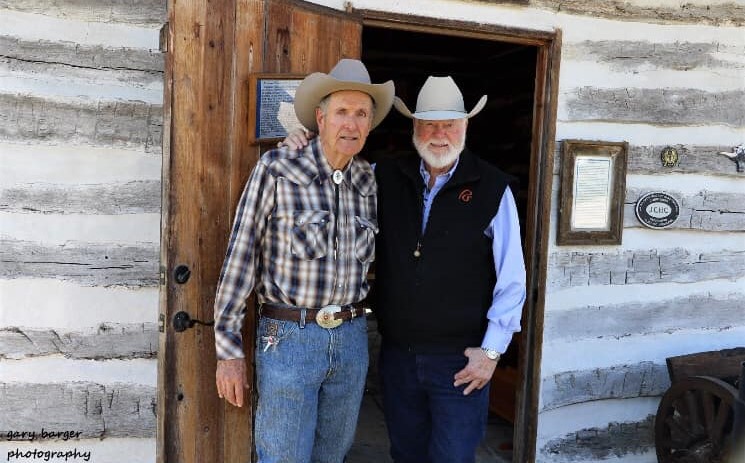 David Murdoch (left) with singer, poet, radio personality, and host of RFD TV show Somewhere West of Wall Street, Red Steagall, at the Chisholm Trail Outdoor Museum.