Hill College alumna sings and dances her third graders to math success
  Jessyca Brown
  Tuesday, March 8, 2022 1:03 PM
  Academics
Hillsboro, TX
Hill College 2014 graduate Pretti Bell-Love has always loved teaching. But the moment she really knew she wanted to become a teacher was when she was in the fourth grade.
"The summer before that, my birth mom had passed away. When I met my fourth-grade teacher, she was so loving and understanding. She was just everything," Bell-Love recalled. "I remember thinking that I wanted to be that for someone. I wanted to be just like her."
Bell-Love was raised by her aunt and uncle in Cleburne where she attended Adams Elementary, Cleburne Intermediate, and Cleburne Middle schools before graduating from Cleburne High School in 2011. Her aunt, Latishia Cassanova, who she calls mom, created a strong family bond for Bell-Love that made her want to stay close to home when it was time to go to college. So, she chose Hill College's Hill County campus.
"I knew I wanted to go to college, and I knew I wanted to go to the University of North Texas (UNT), but I was kind of a homebody and wanted to stay close to family," said Bell-Love. "My family does everything together. So, I went to the Hillsboro campus because it was far enough away where I could have my own space but close enough that if I wanted to go home I could."
Bell-Love, who currently teaches third-grade math at International Scholarship of Texas (ILTexas), Keller K-8 in Fort Worth, began her journey to becoming a teacher by majoring in academic studies. She quickly became involved in campus life and academic organizations at Hill College, but not without the encouragement of some staff and professors.
"All of the professors were very personable and down to earth," she said. "You could talk to them because they were patient and kind. I really loved that."
Linda Kennemore, Hill College's resident life coordinator and student government advisor at the time, gave Bell-Love the confidence to pursue campus leadership positions such as Resident Advisor (RA) of the girls' dorms and president of the Student Government Association (SGA), two positions she held both years she attended Hill College.
"Linda Kennemore was part of my drive to be at Hill College," Bell-Love said. "She inspired me to be a dorm resident, and she encouraged me to come to SGA meetings and to run for president. I was nervous at first, but she would tell me I could do it. And I ended up loving it. Being able to be there for other students was fun, and I loved being able to serve the campus as SGA president."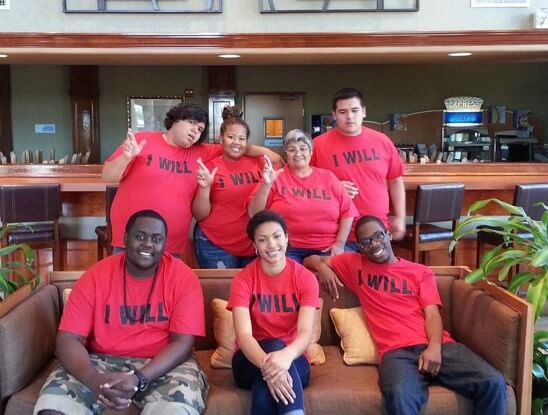 As SGA president, Bell-Love would listen to her fellow students' opinions about what they wanted their college life to be like and help implement those ideas on campus. Bell-Love also used that role to plan activities, including pool tournaments, dances, parties, pink out night for breast care awareness, and caroling at nursing homes, to name a few. Bell-Love said those are her fondest memories of her time at Hill College.
"Planning events was so much fun," she said. "It would get the kids out of their dorm. It's already scary enough being at college. So, it was fun to get them out so they could meet people and have fun."
Bell-Love's interest in music and involvement in trio, band, choir, and choir ensemble connected her with two people who would become some of her favorite instructors at Hill College, Larry McCord, and Shirley Erickson.
"Pretti was a dedicated student who brought great energy and expression to her performances with the Concert Choir and Vocal Ensemble during her tenure at Hill College," McCord, who still teaches music at Hill College, recalled of Love's time in his classroom.
Erickson, who retired as Hill College's choir director in 2019, echoed McCord's sentiment of Bell-Love.
"Pretti came to Hill College with the mission to become a teacher," said Erickson. "Music and singing had previously become a huge part of her life and she wanted to continue while achieving her dream of teaching. It was a joy to watch Pretti as she embraced every opportunity to learn, become involved, make new friends and lead. Her caring attitude and energy were evident to everyone who touched her life. I'm privileged to be just one of those people. Her students—past, present and future—are fortunate to be touched by her life."
During her time at Hill College, Bell-Love was also a member of Phi Theta Kappa, served as secretary of the Texas Junior College Student Government Association (TJCSGA) regional advisory board for two terms, and received the 2014 Hillsboro Chamber of Commerce Student Citizen of the Year award.
Bell-Love continued her journey to become a teacher at UNT in Denton where she earned her bachelor's degree in Interdisciplinary Studies and Special Education in 2017 and her master's in Administration and Educational Leadership in 2021. She said her experience at Hill College helped prepare her for the real world and become who she is today.
"I have always been a person who loves to talk in front of people, but I was always a little bit shy at first," said Bell-Love. "Hill College helped me come out of my shell even more because now I can just walk in a room and go for it. Even though I was a little scared then, Hill College has helped me to realize this is the person I am."
As a teacher, Bell-Love enjoys making math fun for her students by using hands-on and engaging ways to help them learn and remember various methods for solving problems.
"I want kids to love math and have fun," she said. "My kids are up and moving every day. We sing, and we dance. I teach them sign language to help them remember what I'm teaching but also to make it fun."
It is Bell-Love's fun-loving and engaging style of teaching that has made her a young stand-out among her ILTexas peers. Last year, when they had the chance to vote on who should be the school's third through fifth grade Teacher of the Year, Bell-Love was who they chose.
"We all work hard," Bell-Love said of her colleagues. "Our school is K-8, and we have a lot of teachers here. So, for them to vote on me for teacher of the year was really eye opening for me."
Assistant Principal Shawna Farrar said she couldn't think of a more deserving educator for the award.
"Ms. Bell-Love is an excellent teacher that I am honored to have on our campus educating our students and is a positive light on our campus," said Farrar. "She has found a way to make learning math fun by building relationships with her students, incorporating singing and movement, and encouraging everyone to do their best. She is someone that students and teachers alike know they can go to for words of encouragement or just a smile to improve their day."
Bell-Love has been on third grade level lead Wanda Marx's team for a couple of years, and Marx said Bell-Love is always willing to go the extra mile for her team and her students.
"As a colleague, Pretti is supportive, funny, caring, and understanding," she said. "Most importantly, she goes above and beyond for her students. Pretti has impacted our grade level by thinking outside the box and by believing that every student has the ability to learn and succeed. If you were to walk into her classroom, you would see different types of flex seating. She believes students learn best when they are comfortable. Her biggest impact is advocating for students that require extra academic, social or emotional support."
Before the pandemic, Bell-Love had the opportunity to write math curriculum for her district, which is something she hopes to continue to do so she can help other teachers make math fun and engaging. She is also considering going back to school to get her doctorate in special education. In her free time, she loves spending time with her family, which includes her older sister Biunca Love, her younger brother Derrick Dockens, and her fur baby Bruno.