Alumni Spotlight: A family affair
  Jessyca Brown
  Thursday, June 16, 2022 9:21 AM
  Academics
Hillsboro, TX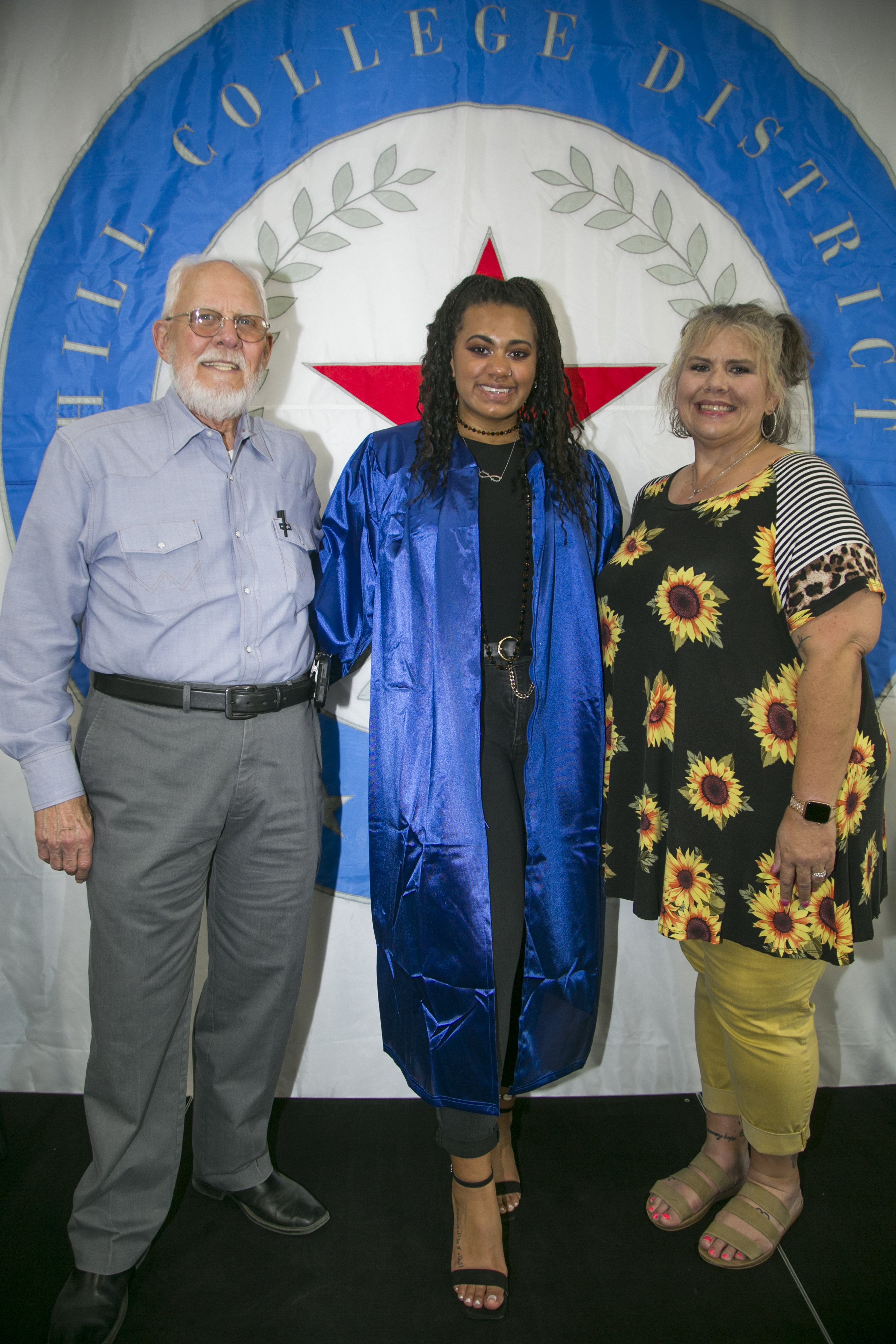 In May, Keylin Hargrave Roberts became the third member of her family to graduate from Hill College.
Roberts, who graduated with a liberal arts degree, follows in her mother's and her grandfather's footsteps.
"It's an amazing accomplishment to me," Roberts said of her graduation from Hill College. "My family has always been my biggest support system, and knowing that I followed in their footsteps means something to me."
Roberts plans to pursue a church membership and enroll in ministry school, which she says Hill College helped her prepare to do.
"I had instructors who went beyond what they were supposed to teach and actually made the material meaningful and applicable," she said. "I got a lot of great advice from my instructors."
Roberts' grandfather, Tom Hargrave, started the family of Hill College graduates when he decided to transfer there from Navarro College. Hargrave earned his associate's degree in law enforcement from Hill College in 1988 and ended up teaching some law enforcement classes there for two semesters. He served as sergeant of the Cleburne Police Department's (PD) criminal investigative division (CID) and co-wrote the initial grant for the STOP Narcotics Task Force, for which he served as both a charter member and commander of for a short time.
Hargrave was promoted to lieutenant in the early 90s and was invited to attend the National FBI Academy in Quantico in 1997. He completed his 25-year career with Cleburne PD overseeing the criminal investigative, records and communications divisions. After retiring, Hargrave worked at the Johnson County Sheriff's Office as a STOP agent first and then as the office's training coordinator. He currently serves as the chief investigator for the Johnson County attorney's office and is in his 47th year as a Texas peace officer.
Roberts' mother, Brandi Boley, didn't have a typical college experience, much like many other Hill College students. She was a single mom more than a decade out of high school with a couple of college attempts under her belt who was looking for a career change.
It wasn't until 2008 when she began working at Hill College's Johnson County Campus as the business office cashier and enrollment management specialist, a job Hargrave told her about, that Boley was finally able to give college another—more successful—shot.
"My dad telling me about the job opening is probably the only reason that I completed my degree at all," Boley said. "I don't know that I would have ever returned to school and completed my associate's degree, much less my bachelor's, if I had not come to work for Hill College. My original plans in life were vastly different, but looking back, I've accomplished far more than I could have ever imagined because of Hill College."
Boley earned an associate's degree in criminal justice in 2009 from Hill College. She went on to complete her bachelor's degree in criminal justice at Midwestern State University in 2012 before taking drug and alcohol abuse counseling program coursework back at Hill College. Boley became Hill College's graduation coordinator in 2012, and in 2015, she was hired as the academic advisor and enrollment services representative at the Burleson Center.
"My mom is the best advisor there," said Roberts.
For Boley, her own life experiences are a guiding influence in her current role.
"I have an opportunity to share my story with both traditional and non-traditional students who are struggling and help them reach their goals," she said. "I have watched students come out of their shells."
"Hill College provided me an opportunity to spread my wings and challenge myself," Boley added. "I was a tutor, I cultivated friendships that I still hold dear today, and I've participated in events as both a student and staff member. Hill College is part of my DNA now."