Dr. Thomas Mills celebrates 90 days as Hill College president
  Jessyca Brown
  Thursday, November 10, 2022 12:28 PM
  General Events
Hillsboro, TX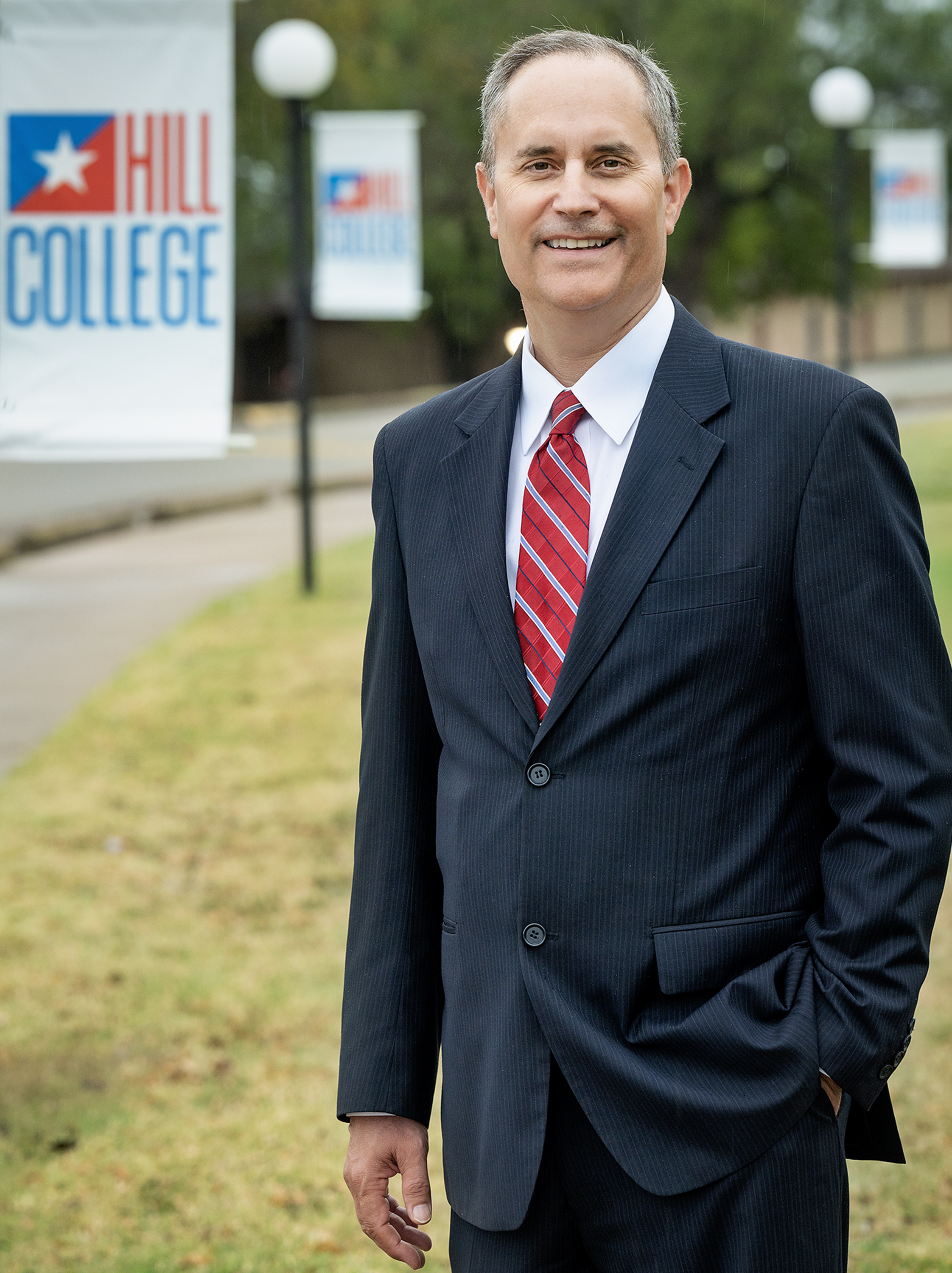 On November 1, 2022, President Mills celebrated 90 days at Hill College. He joined Hill on August 1, 2022. Prior to that he was Vice President of Academic Affairs at Tarrant County College (TCC). He spent the early part of his career as a basketball coach and biology faculty at both Rose State College and Seminole State College in Oklahoma, advancing to Athletic Director and then Dean of Instructional Compliance at Seminole. He then went on to become Vice President of Academic Affairs at Seminole before moving to TCC.
It was during his transition from athletic director to dean that Dr. Mills set the goal to be president of a community college. "I feel like I've been preparing for this role my entire career," he stated.
"Hill checked all the boxes," Mills stated, "the community, the position, the proximity to lakes, and proximity to the Metroplex. I know I'm in the right spot."
During the first three months of his tenure, Dr. Mills has spent time building relationships with the staff, board, and student body. He credits Hill College with great people to work with, "this definitely feels like home; I'm here for the long run." He has also immersed himself in the community, becoming a Lions Club Member, meeting with civic leaders, and attending college sports events. "My wife, Yvonne, and I are committed to all of the communities we serve and the surrounding areas; we want to develop roots and be a visible part of our communities.
As 2023 approaches, goals are set for increasing enrollment and focusing on his "four pillars," the basis of Dr. Mills' belief system in education—student success, growing enrollment and programming, community outreach, and making Hill College a great place to work. He is also a proponent of Hill College's guided pathways. Our four career pathways are geared toward degree paths that enable students to focus on their interests. Students may choose from programs in Arts and Humanities; Business and Industry; Health and Public Service; and Science, Technology, Engineering, and Mathematics (STEM). "They are a great place to not only start your career, but to build your career mobility."
Dr. Mills wants to build a focus on the student experience and how that can foster success; how to build enrollment and retention, including bringing back former students to further their education; building community relationships with the chambers, municipalities, and economic development in the community; overall staff and student wellness, and creating a "sense of belonging" for all students.
In addition to the importance of academics, Dr. Mills is a believer in the impact of extracurricular activities. "They offer profound, life-changing moments. Sports and other extracurricular activities, like performing arts, give students an opportunity they may not have had otherwise."
He is also a big proponent of the Texas Heritage Museum, located on the Hill County Campus. "It's a treasure and a huge asset for the college."
According to Dr. Mills, the student body needs to be at the center of the college's outreach. "We need the community on campus and the college in the community. My goal is to make this a place to celebrate our differences and life experiences. We all come from different walks of life, and it is our varied backgrounds that makes us stronger," Mills stated.
Board President David Teel commented, "The Hill College Board of Regents recently selected Dr. Thomas Mills to lead our college from a field of very qualified applicants. After several months of observing and working with Dr. Mills, the board feels very confident with our selection. Dr. Mills has quickly proven himself to be a man with a diligent work ethic, strong leadership qualities and a positive vision for our college, and yet he is very approachable and respectful of all his employees at every level. The board looks forward to working with Dr. Mills for many years to continue Hill College's mission of providing excellent educational opportunities for all of our community."