The Texas Heritage Museum at Hill College announces the upcoming exhibit "Currency During Wartime as Art & as Artifacts"
  Jessyca Brown
  Monday, March 20, 2023 10:40 AM
  Academics, Texas Heritage Museum
Hillsboro, TX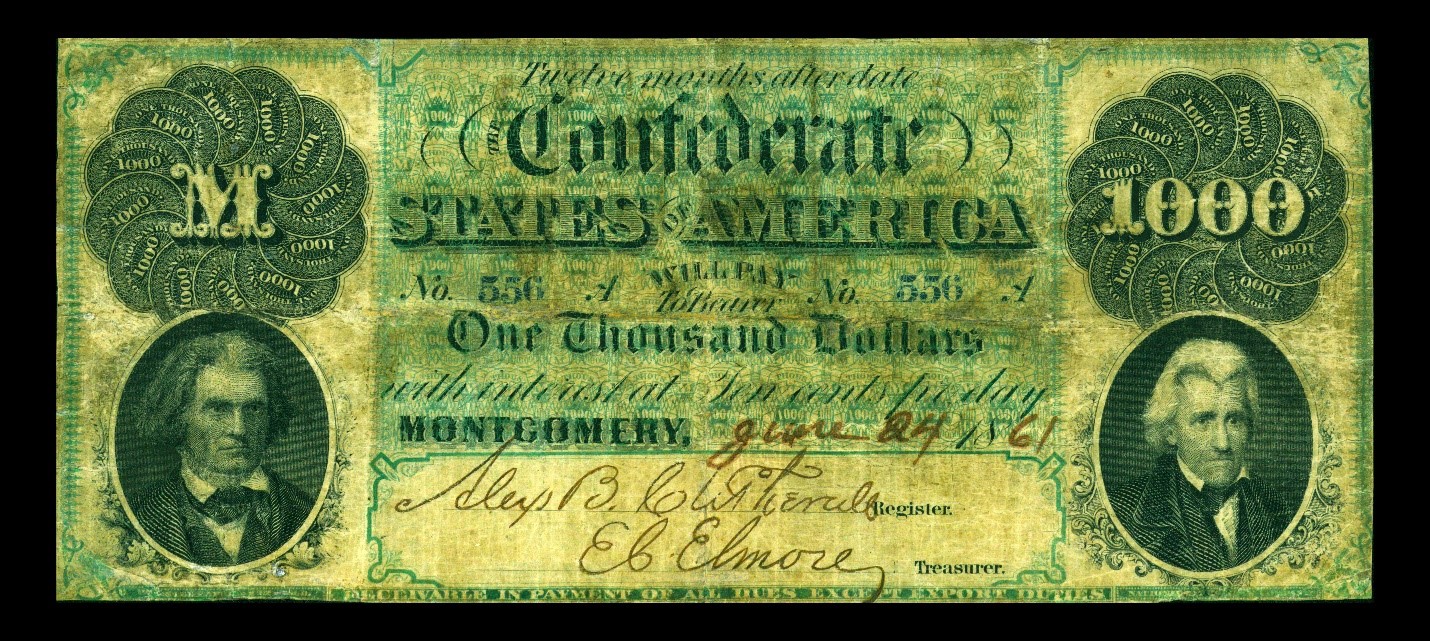 The Texas Heritage Museum at Hill College presents the exhibit "Currency During Wartime as Art & as Artifacts," opening March 27, 2023. The exhibit will run through May 18, 2023, in connection with the college's student financial literacy awareness month, which will be held in April.
"Currency During Wartime as Art & as Artifacts" features representations of currency from the mid-19th through mid-20th centuries. Topics addressed include inflation and the changing imagery of currency.
The currency represented in the exhibit not only illustrate the changing face of American currency, but also show incredible artistry. Depictions of Jefferson Davis, President of the Confederate States; President Andrew Jackson; portraits of Lucy Holcombe Pickens, First Lady of South Carolina; and George Washington, the first President of the United States, are some of the subjects. Other currency features vignettes of sailors, images of naval ships and steam locomotives, confederate soldiers and statesmen, among allegorical figures, and a rare note of $1,000 from 1861.
Dean of the Texas Heritage Museum John Versluis commented, "This exhibit not only showcases an important part of the museum's collection, but also pays tribute to longtime patron and donor, John C. Silvey, who continued to donate to the museum, particularly his currency collection, until his death in 2012. Through his estate, he also donated the remainder of his currency collection to the museum. Silvey's gift was an extraordinary contribution to the museum, one for which the institution and college are very grateful."
As part of the outreach to students and the financial literacy initiative, the museum is providing educational materials on inflation to teach students about the changing value of money. In addition to an informative section of the exhibit with examples of inflation, the museum will host a scavenger hunt for students to participate in during one of April's events, including how to recognize counterfeit notes versus legitimate notes.
Another featured artifact in the exhibit is an American flag donated by another patron of the museum, Allen Grady Hatley Jr., a geologist who traveled extensively throughout his career. He donated an American flag used by the 51st Division in defense of Bataan in 1942 and captured Japanese currency from Philippine Guerrilla Forces during World War II.
The museum's exhibit viewing hours are Monday through Thursday, 8 a.m. to 4 p.m., and Fridays 8 a.m. to 3:30 p.m. To become a member of the museum, visit hillcollege.edu/museum.