Hill College honors veterans at brick ceremony
  Jessyca Brown
  Friday, May 5, 2023 8:01 AM
  Texas Heritage Museum, General Events
Hillsboro, TX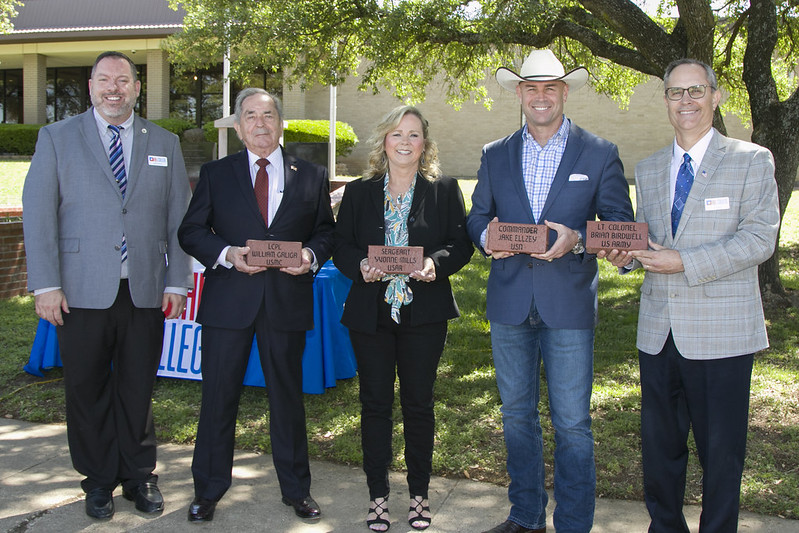 On May 1, 2023, Hill College held a Medal of Honor Memorial Brick Ceremony at the Texas Heritage Museum on the Hill County Campus in recognition of the service of Congressman Jake Ellzey, Senator Brian Birdwell, Mr. William Galiga, and Mrs. Yvonne Mills.
Congressman Jake Ellzey graduated from the naval academy and served 20 years as a pilot in the U.S. Navy. He concluded his service as air boss while stationed on the USS Ronald Regan. Over his career, he was deployed nine times, five of which were combat tours, including a ground tour with Seal Team 5 in Iraq, where he earned the rank of Commander.
Senator Brian Birdwell was an officer in the U.S. Army for 20 years and served in Desert Shield/Desert Storm where he was awarded the bronze star. He was serving in the Department of Army staff at the Pentagon on 911 and was critically wounded but made a miraculous recovery and later earned the rank of Lieutenant Colonel. Senator Birdwell was unable to attend the ceremony in person due to the 88th Texas Legislature's regular session.
William Galiga served in the United States Marine Corps from 1958 to 1962 as a jet engine mechanic and as a member of the ground crew on F4 jets. He spent a year in Japan, earning the rank of Lance Corporal. Mr. Galiga currently serves as a member of the Hill College Board of Regents.
Yvonne Mills joined the U.S. Army Reserves in 1982 and served until 1989 as a field medic and set up combat support hospitals stateside during combat training. She earned the rank of Sargent E5.
During the ceremony, Hill College President Dr. Thomas Mills thanked the four honorees and all those who have served this country. "Thanks to an anonymous gift, we are grateful to be able to honor these individuals and hope to make this an annual event," said Dr. Mills.
The Texas Medal of Honor Memorial was erected in 2008 and is a living memorial honoring native-born Texas veterans, including Audie Murphy, the most decorated soldier of World War II, and Samuel Dealey, the most decorated sailor of World War II.
"America is indebted to the families and friends of the servicemen who stood, and continue to stand, behind our country's heroes. The bricks presented today continue that commitment of gratitude and the museum is grateful not only for the service today's honorees gave to this country but also for preserving the memory of all of those who have served in the past and those who continue to serve," said John Versluis, Dean of the Texas Heritage Museum.
If you are interested in sponsoring a brick in honor of a loved one, please contact the museum at 254.659.7750 or visit www.hillcollege.edu/museum/join-give.
[Photo: From left to right: Dean John Versluis, William Galiga, Yvonne Mills, Congressman Ellzey, and Dr. Thomas Mills]