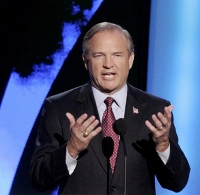 Chet Edwards
President, Edwards Communications Incorporated
Thursday, February 16, 2012 7:30 PM
Former Congressman Chet Edwards (D-Waco) will be speaking on the Hill College campus Thurs., Feb. 16, at 7:30 p.m., as part of the Alden J. Blanar Smith Speaker Series.
Edwards was first elected to the U.S. House of Representatives in 1990, and served until Jan. 2011. Through the years, the districts changed, but Edwards' office remained in Waco, Texas. Before serving in the federal government, Edwards served in the Texas Senate from 1983-1990, representing District 9.
While a member of Congress, Edwards served on the Committee on the Budget and the Committee on Appropriations. He also served on the Subcommittee on Energy and Water Development, the Subcommittee on Financial Services and General Government, and Subcommittee on Military Construction, Veteran Affairs, and Related Agencies (chairman).
Edwards earned a bachelor's degree in economics from Texas A&M University in 1974, and an MBA from Harvard Business School in 1981. He was recently named the W.R. Poage Distinguished Chair for Public Service at Baylor University and will be in residence there for two weeks each semester as he splits his time between commitments in Waco and Washington, D.C.
This speaker series began in 2009, and is named after beloved Hill College Professor Alden J. Blanar Smith who passed away in November 2001. Smith began teaching at Hill in 1965, as a government/history professor and retired in 2000, after 35 years in the classroom. Smith was active in the Texas Community College Teachers Association, was chosen as a National Institute for Staff & Organizational Development (NISOD) recipient in 1994, was very active in The Immaculate Heart of Mary Church in Abbott, traveled to his beloved Czech Republic many times and presented many programs on the communist takeover of the Czech Republic. Smith received his bachelor's degree from Texas A&M University and his master's degree from Midwestern State University. Edwards is the third speaker for this series after NASA astronaut Story Musgrave and Judge Kenneth Winston Starr, president of Baylor University.
"We are extremely happy to have Chet Edwards as this year's Alden J. Blanar Smith speaker," Phillip Lowe, Hill College coordinator or visual and performing arts, said. "I know Alden would have been very happy to have Chet speak for the series that carries his name as he was a huge Chet Edwards supporter during his years in Congress." The speaker series is free and open to the public. Immediately following the presentation, a reception will be held in PAC-South for all who would like to attend.
For more information, contact Phillip Lowe, Hill College coordinator of visual and performing arts, at (254) 659-7882.
---