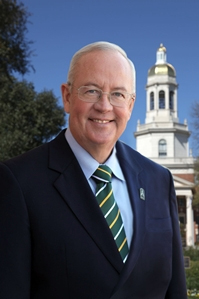 Judge Kenneth Winston Starr
Baylor University President
Thursday, January 20, 2011 1:30 PM / 7:30 PM
Kenneth Winston Starr Baylor University President, 2010-

On June 1, 2010, Kenneth Winston Starr became the 14th President of Baylor University. Judge Starr has enjoyed a distinguished career in academia, the law and public service.

Prior to his unanimous election by the Baylor Board of Regents, he served as the Duane and Kelly Roberts Dean and Professor of Law at Pepperdine University from 2004 -2010. He was Of Counsel and a Partner at Kirkland & Ellis LLP from 1993-2010, specializing in appellate work, antitrust, federal courts, and constitutional law. He practiced law with Gibson, Dunn & Crutcher LLP from 1974-1981. Elected to the firm's partnership in 1980, he resigned effective January 20, 1981 to become Counselor and Chief of Staff to U.S. Attorney General William French Smith.

Judge Starr served as United States Circuit Judge for the D.C. Circuit from 1983-1989 and as Solicitor General of the United States from 1989 -1993. He has argued 36 cases before the U.S. Supreme Court. He was a law clerk to both Chief Justice Warren E. Burger from 1975-77 and to Fifth Circuit Judge David W. Dyer from 1973-1974. He was appointed Independent Counsel for five investigations, including Whitewater, from 1994-1999.

Judge Starr taught Constitutional Law as an adjunct professor at NYU School of Law for 13 years and was a distinguished visiting professor at George Mason University School of Law and Chapman Law School. A graduate of San Antonio's Sam Houston High School, he earned his B.A. from George Washington University in 1968, his M.A. from Brown University in 1969 and his J.D. degree from Duke University Law School in 1973. He is admitted to practice in California, the District of Columbia, Virginia and the U.S. Supreme Court. He has Honorary Doctor of Laws degrees from Hampton-Sydney College, Pepperdine University and Shenandoah University.

Judge Starr has authored more than 25 publications, and his book, First Among Equals: The Supreme Court in American Life, was published in 2002. He has received many significant honors and awards, including the Edmund Randolph Award for Outstanding Service in the Department of Justice, the Capitol Book Award, the Jefferson Cup award from the FBI, and the Attorney General's Award for Distinguished Service.

Judge Starr was born on July 21, 1946, in Vernon, Texas, and was raised in San Antonio. He married Alice Mendell in August of 1970. They have three children - Carolyn, Randall, and Cynthia - and four grandchildren. He has volunteered many hours improving the administration of justice in the federal courts, teaching in the inner city of Washington, D.C., and assisting at-risk students with internships and after-school programs.
---