Congratulations to the United Way Student Leaders , who held their 4th Annual Run for Shelter 5k, an event that raises funds for the two local homeless shelters in Johnson County. They raised over $500 in cash and donations for the two shelters. There were around 25 runners. The Cosmetology and Massage departments donated amazing prizes for the runners, and the student leaders obtained donations from over 30 local businesses in the community for prizes as well. They worked really hard and had a great, cold, and wet Saturday morning.
Join the new Hill College student group:
The United Way Student Leaders!
The United Way Student Leaders are a Hill College student group on the Johnson County campus.  Their mission is '"To promote leadership by raising funds to benefit the community, while increasing awareness of socioeconomic issues that affect the people of Johnson County.'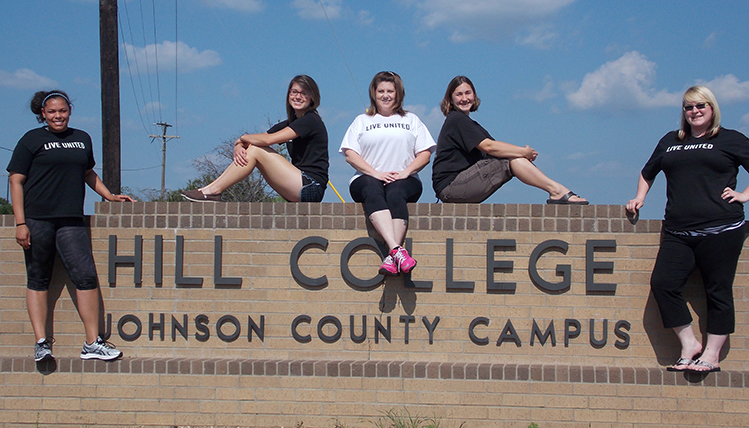 Past activities have included silent auctions, a fossil dig booth at Spring Fest, selling Ducky Derby tickets, and more.  If you are interested in holding leadership positions to gain leadership skills, working with faculty and other students, or helping your local community, contact Dr. Lori Rose at lrose@hillcollege.edu. 
Reasons to join our group:
You would like to make a difference in your community
You would like teamwork and leadership experience
You would like to beef up your resume before applying to transfer schools
Previous sponsors include: 
Charter Communications, Chicken Express, CiCi's Pizza, Cinemark Cinema 6, Hill College Cosmetology, Community Opportunities, Inc., Alpha Kappa Delta, Turner Museum of History, Lawn Tech, Charter, Royal Pizza, Family Nutrition Center, West End Grill, GNC, Mobile Art Dept., Awards by Mastercraft, HEB, Grumps, Starbucks, Friend or Follow,and T-Shirt Factory.
The United Way Student Leaders have raised over $3000 and awarded funds to the Johnson County Christian Lodge, Family Crisis Center, Meals on Wheels, Adam's Elementary, The Great What If Project, Head Start, and others.
---