---
Program Summary
This transition program is an upward educational mobility option for LVN's currently licensed in the State of Texas who maintain good standing with the Texas Board of Nursing (LVN) or the Texas Department of State Health Services (Paramedic) and meets all the selection criteria as defined by the Hill College Professional Nursing Program.

The first course, RNSG 1327 Transition from Vocational to Professional Nursing, is a 5-6 week nursing course designed to evaluate the selected LVN's theory base in nursing content and skills as well as introduce nursing theory not presented in the traditional vocational nursing curricula. Successful of this first course progresses the student to the next semester of student in this integrated curricula for ADN Transition students.

The second semester contains content and clinical learning experiences associated with comprehensive nursing care of diverse clients/patients across the life span with complex health care needs including childhood/adolescent diseases, complicated perinatal care, acute mental illness, complex perioperative care, serious adult health medical issues and health concerns related to aging.

The third semester provides content and clinical learning experiences to prepare the student to apply client assessment skills, critical thinking skills and independent nursing interventions to care for diverse clients/families throughout the life span whose health care needs may be difficult to predict. Topics include nursing leadership skills, client/patient management skills, trends in nursing and health care issues, legal and ethical concerns and the significance of continued professional development.
Program locations:

Hill County Campus (Odd Year Entry)
Johnson County Campus (Even Year Entry)



---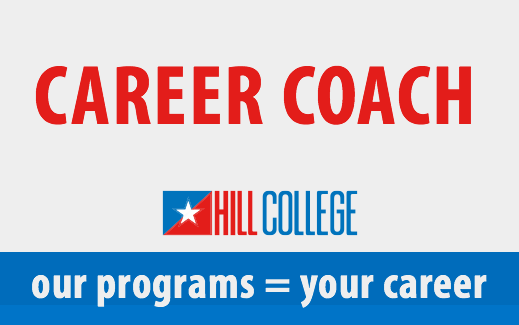 ---

Hill College uses College Central Network as its official resume and job posting service.  Local employers post jobs exclusively to our school via the CCN site.  Students and alumni create your account profile at www.collegecentral.com/hillcollege to:
Easily search and apply to local and national Full-time, Part-time, Internship/Co-op job opportunities
Create and upload your resume and career portfolio to make available to employers
Access event announcements, career advice documents, podcasts, videos and articles.
---
For students in this course who may have a criminal background, please be advised that the background could keep you from being licensed by the State of Texas. If you have a question about your background and licensure, please speak with your faculty member or the department chair. You also have the right to request a criminal history evaluation letter from the applicable licensing agency.
---
Nursing Application
The courses listed below must be completed and/or in-progress by the posted deadline date of the program of choice with a "B or better unless noted otherwise.
*BIOL 2401 Anatomy and Physiology I
*BIOL 2402 Anatomy and Physiology II
ENGL 1301 English Composition I
MATH 1314 College Algebra
PSYC 2314 Life Span Growth and Development
Additional Courses - not required for selection but are part of the ADN degree plan:
*BIOL 2420 Microbiology for Non Science Majors

Language/Arts Core elective

*Lab Science courses must be within 5 years by the posted deadline date.
BIOL 2401, BIOL 2402 must be completed within 5 years of the posted deadline date.
BIOL 2420/2421 must be within 5 years to be considered for the program.
         Hill County Campus - Summer Entry 2021
Important deadline date
Application and supporting documents:  March 21, 2021
Entrance testing:  TEAS Test must be completed by Noon March 20, 2021.


Program Location:
         Johnson County Campus - Summer Entry 2022
Important deadline date
Application and supporting documents:  March 23, 2022
Entrance testing:  TEAS Test must be completed by Noon March 20, 2022
TEAS test minimum passing (all required sections must meet the minimum passing)
Required:  Overall 66.1%; Reading 72.8%; Math 68.8%; Science 58.0%
Optional:  English 66.8%
Teas test cost:  $77.00.  Schedule and pay at
www.atitesting.com
.  
After you have scheduled your test date you will need present a photo ID at the Hill College Testing Center on the day of your test.
Prices are subject to change

Hard Copy study guide - $40-$50.00
2 practice tests - $35-46.00
Study Guide with 2 practice test $115.00
Test Prep package $209.00
2 MMR's or positive serological titer
            Varicella 2 injection series or positive serological titer
            HEP B 3 injection series or positive serological titer
            Tetanus (within last 10 years)
            Tdap (once as an adult)
            Seasonal Influenza
CPR – American Heart Association BLS for Health Care Provider.  No other CPR card accepted.  No exceptions. 
NOTE:  AFTER selection the student will be required to submit a physical (on the Health and Community Services approved form) and a negative 2 step TB results. 
Candidates must be aware that clinical facilities may have other requirements than those listed above.
Board of Nursing requirement (High School Graduates OR GED)
Official High School Transcript with a date of graduation/completion or GED scores (Mandatory for ALL applicants).
Out of Country High School Transcripts must be translated into English by a certified translator. The original document must be also be submitted. 
 TOEFL Procedure Demonstrate English proficiency as an admission requirement.
This may be demonstrated by:
       2 years of High School in the United States and its territories.
Or
       Submission of acceptable scores from the Test of English as a Foreign Language Test (TOEFL)            within two years of the posted deadline date of program application.
 TOEFL minimum passing: Internet score of 80 or a computer-based TOEFL score of 250 or a paper/pencil test score of 600.  Scores will not be considered if they are more than two years old. TOEFL Test score reports must be sent directly to the Health Science Department from the testing center. Information about the TOEFL may be obtained from the web site: www.ets.org/toefl or by calling 1-800-468-6335.
TOEFL Waiver (RN applicants only) The student can request a TOEFL waiver form from the Health Science department if they meet the following criteria:  completion with a "B" or better of 4 different college level English courses and 1 college level communication course; from an accredited US college/university.  


---