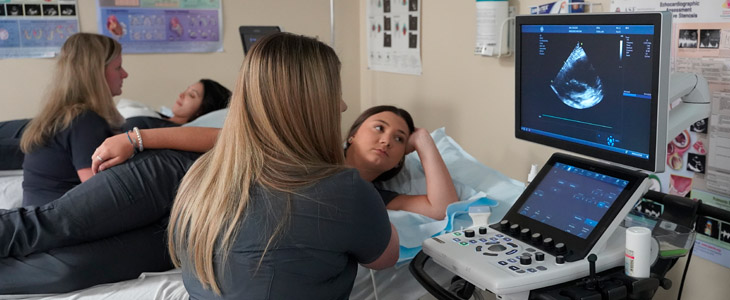 ---
Program Summary
Echocardiography
The Hill College Echocardiography Program is a two-year course of study leading to an Associate of Applied Science degree in Echocardiography Technology. It prepares a student to enter the workforce as an echocardiography technician producing echocardiograms.
An echocardiogram is a painless, noninvasive procedure using ultrasound waves to create pictures and take measurements of the inside of a person's heart.
The Hill College program is comprehensive through the teaching of scanning skills, pathophysiology, cardiovascular pharmacology and all the skills and knowledge necessary to become a registered cardiac sonographer.
The program also includes more than 900 hours of clinical work performed at hospitals and clinics.
Vascular Technology
The Hill College Vascular Technology Enhanced Skills Certificate is an upward educational mobility option for candidates who have an AAS in Diagnostic Medical Sonography or Diagnostic Medical Sonography/Echocardiography and meet all the selection criteria as defined by the Hill College Vascular Technology Program. It prepares a student to enter the workforce as a vascular technician producing vascular studies.
The Vascular Technology program is an enhancement of the skills of the sonographer and or the Echocardiographer by adding teaching of principles of vascular technology, vascular technology applications, advanced non-invasive vascular technology, and all the skills and knowledge to become a registered vascular technician. The program also includes 320 hours of clinical work performed at hospitals and clinics which may require extensive travel.
The student needs to be aware that the Vascular Technology Program is a specialized enrollment program that requires the student to complete an application process for selection. All candidates need to contact the Health and Public Services Department for information to apply for the Vascular Technology Program.
---
---
---
---
Lab science courses- Lab science courses must be within 5 years of the posted deadline date. No exceptions.
---
Vascular Application Requirements
Must be registered in Echocardiography and/or Diagnostic Medical Sonography
Must have an Associate of Applied Science Degree
Evidence of TSI completion
Criminal Background Check from Verified Credentials
CPR-American Heart Association BLS Health Care Provider
Drug Screen
Complete Physical Exam
Documentation of the following immunizations: current and up to date
2 MMR'S, 2 Varicella(chicken pox), Tdap, Seasonal influenza, Tetanus within the last 10 years, Hep B series, Covid 19
2 Professional References
Vascular Technology Essay Questionnaire
Veteran status - extra points
---
Program Location
Program Location:  Cleburne  
Next program entry: Fall 2023
Application/document submission timeline:  pending
Professional Reference Form
Applicants must submit 2 professional references (Academic preferred)
---
As part of the application all students need to submit the following immunizations:
       2 MMR's or positive serological titer
       2 Varicella injection series or positive serological titer
       3 HEP B injection series or positive serological titer
       Tetanus (within last 10 years)
       Tdap (once as an adult)
       Seasonal Influenza
---
CPR – American Heart Association BLS for Health Care Provider.  No other CPR card accepted.  No exceptions. 

---
Criminal Background requirement
Applicants need to complete the Verified Credentials background check by the posted deadline date using the following link:  www.verifiedcredentials.com. Program Code: BBKPC 26727

For students in this course who may have a criminal background, please be advised that the background could keep you from being licensed by the State of Texas.  If you have a question about your background and licensure, please speak with your faculty member or the department chair.  You also have the right to request a criminal history evaluation letter from the applicable licensing agency.
---
AFTER selection the student will be required to submit a physical (on the Health and Community Services approved form) and a negative 2 step TB results. 
Candidates must be aware that clinical facilities may have other requirements than those listed above.
Ten Marketable Skills
Types of skills that this program will teach.

| | |
| --- | --- |
| Communication | the process of transmitting information and ideas from one individual or group to another, verbally or through writing. |
| Critical Thinking | the intellectually disciplined process of actively and skillfully conceptualizing, applying, analyzing, synthesizing, and/or evaluating information gathered from, or generated by, observation, experience, reflection, reasoning, or communication, as a guide to belief and action. |
| Teamwork | willingness to be a part of a group of persons in a cooperative or coordinated effort in the interests of a common cause. |
| Adaptability | the ability to be flexible and adapt to changing conditions. |
| Work Ethic | a set of values centered on the importance of doing work and reflected especially in a desire or determination to work hard. |
| Continued Learning | the ability to continually develop and improve one's skills and knowledge in order to perform effectively. |
| Social Skills | skills used to communicate and interact with other people, both individually and in groups, verbally and non-verbally, through gestures, body language and our personal appearance. |
| Time Management | the process of organizing and planning how to divide your time between specific activities. |
| Analytical Thinking | the ability to solve problems quickly and effectively through a methodical step-by-step approach that breaks down complex problems into single and manageable components. |
| Cultural Competency | the ability to understand, communicate with, and effectively interact with people across cultures. |

Hill College uses College Central Network as its official resume and job posting service.  Local employers post jobs exclusively to our school via the CCN site.  Students and alumni create your account profile at www.collegecentral.com/hillcollege to:
Easily search and apply to local and national Full-time, Part-time, Internship/Co-op job opportunities
Create and upload your resume and career portfolio to make available to employers
Access event announcements, career advice documents, podcasts, videos and articles.
---
Echocardiography CAAHEP Program Accreditation
Pass Rate on National Credentialing Exam
Year
Pass Rate
Retention
Positive Placement
2017
100%
100%
89%
2018
100%
100%
90%
2019
*84%
91.67%
90.91%
2020
100%
85%
94.12%
2021
90.9%
92.31%
91.67%
 * COVID closures created testing difficulties for students.
---