---
Program Summary
Hill College's Drug and Alcohol Abuse Counseling (DAAC) program prepares students for a career in substance abuse counseling. This field is projected to grow much faster than average, according to the U.S. Department of Labor.
Through a comprehensive experience, our program equips graduates with the knowledge and ability to provide specialized counseling services to individuals and families experiencing the impact of chemical dependency.
DAAC provides students with the educational and practicum experience required by the Texas Department of State Health Services to qualify for licensure as a chemical dependency counselor. Instruction is provided by qualified professionals in the field, and the college partners with local agencies to provide practical experience, ensuring that students are prepared for a career as a licensed chemical dependency counselor.
---
---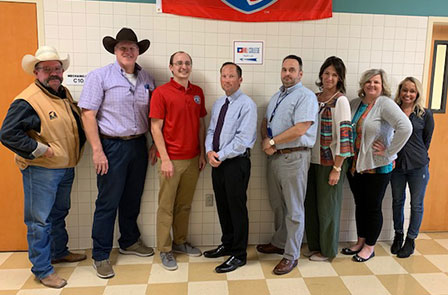 From Left to Right:
John Roof (committee chair), Matt Wylie (committee member), Kyle May (Hill College), Kason Mobley (committee vice-chair), Neal Sandlin (committee member), Pamala Preston (committee member), Tina Lincoln (committee member), and Lindsey Fiore (committee member). Not Pictured: Pam Crumpton (committee member)
---
---
---