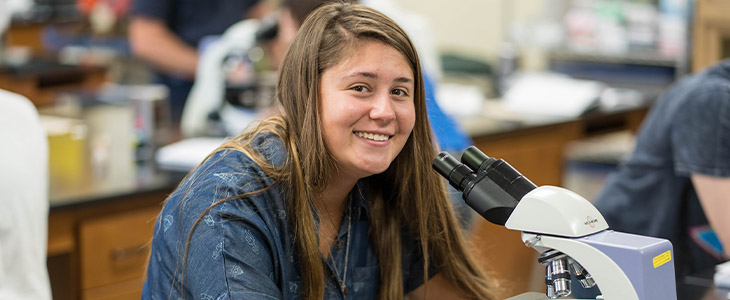 ---
Program Summary
An Associate Degree in Chemistry/Physics prepares students to pursue a Bachelor's Degree in a science-related field. With qualified faculty, laboratory facilities and flexible hours, Hill College helps to shape young minds of the future.
---
Ten Marketable Skills
| | |
| --- | --- |
| Communication | the process of transmitting information and ideas from one individual or group to another, verbally or through writing. |
| Critical Thinking | the intellectually disciplined process of actively and skillfully conceptualizing, applying, analyzing, synthesizing, and/or evaluating information gathered from, or generated by, observation, experience, reflection, reasoning, or communication, as a guide to belief and action. |
| Teamwork | willingness to be a part of a group of persons in a cooperative or coordinated effort in the interests of a common cause. |
| Adaptability | the ability to be flexible and adapt to changing conditions. |
| Work Ethic | a set of values centered on the importance of doing work and reflected especially in a desire or determination to work hard. |
| Continued Learning | the ability to continually develop and improve one's skills and knowledge in order to perform effectively. |
| Social Skills | skills used to communicate and interact with other people, both individually and in groups, verbally and non-verbally, through gestures, body language and our personal appearance. |
| Time Management | the process of organizing and planning how to divide your time between specific activities. |
| Analytical Thinking | the ability to solve problems quickly and effectively through a methodical step-by-step approach that breaks down complex problems into single and manageable components. |
| Cultural Competency | the ability to understand, communicate with, and effectively interact with people across cultures. |
Biochemistry
Forensic Chemistry
Geophysics
Nanotechnology
Toxicology
Many more...
---